Since when did one of my all-time favorite snack foods, crunchy granola, turn into a lifestyle designation?
From a Google search I recently did on "crunchy granola":
"Slang of the Week: crunchy-granola (adjective)
"Example: Janet knew John was crunchy-granola when he came to pick her up in a rainbow-colored 1974 VW Microbus.
"...crunchy-granola students (named for the food they ate) could be easily identified because they were the only ones wearing Birkenstock sandals. Nowadays, lots of people wear Birkenstocks, but it's still pretty easy to spot crunchy-granola types. Also called earthy-crunchy, they wear natural fabrics (especially hemp) and long hair, sometimes in dreadlocks. They tend to be vegetarians, shop at the Whole Foods market and give money to Greenpeace." 
Well, there's no more satisfying snack than a handful of this just-sweet-enough, crunchy-nutty-oaty, maple- and vanilla-scented granola. Add it to yogurt; make trail bars with it; eat it with milk (or cream... oo-la-la!), and bake, pack, wrap, and give it as Christmas gifts.
Try doing all THAT with a bowl of oatmeal.
Come to think of it, perhaps the use of crunchy granola to describe an erstwhile hippie derives from the fact granola is an over-the-top riff on oatmeal. Just as a "crunchy granola" is an over-the-top riff  on... well, Joe the Plumber.
Kinda like putting Mick Jagger and Pat Boone side by side, eh?
I know which one I'd pick.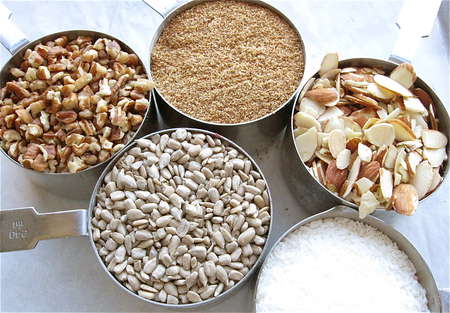 The hardest thing about making your own granola is simply gathering the ingredients. Let's start with the dry stuff. Clockwise from left, you see diced pecans, stabilized wheat germ, sliced almonds, unsweetened coconut, and sunflower seeds. You can probably pick this stuff up at a market that sells in bulk out of bins. Or you can certainly find it all here.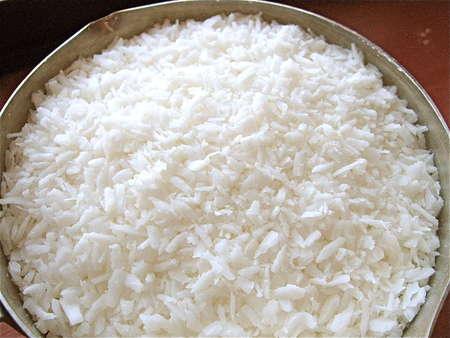 Here's a better view of the coconut. It's nicer than regular supermarket coconut—finer cut, and not gooey-sweet.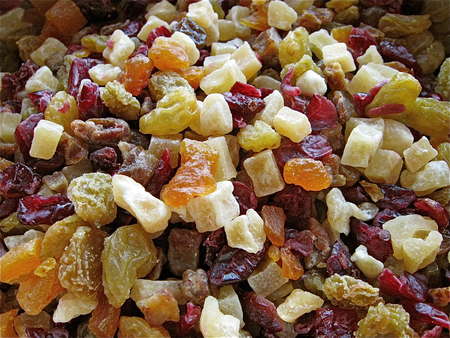 And here's my favorite all-around dried fruit mix: our combination of apricots, golden raisins, pineapple, dates, and cranberries. I love this in cookies, muffins... and granola, where it really shines.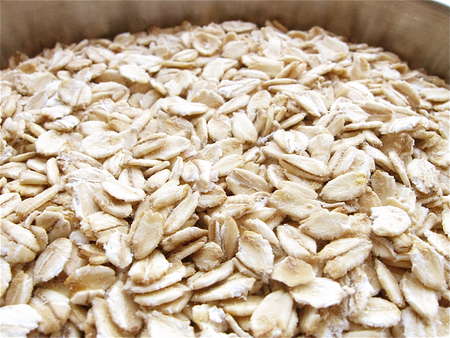 And here's the bulk of your granola: oats. Use old-fashioned, rather than quick oats.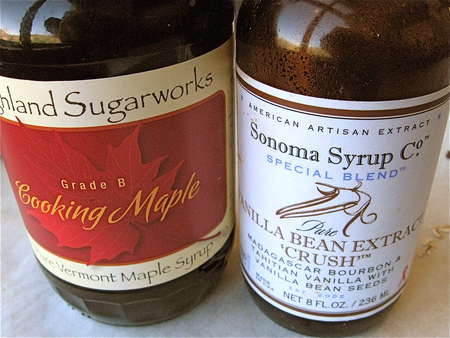 Maple syrup and vanilla give this granola over-the-top flavor.  For the syrup, I use Grade B cooking maple, a dark, assertively maple syrup. If you use store-bought pancake syrup, increase the amount by about half to reach the same level of sweetness. And, you'll be missing the maple flavor. This syrup is expensive; but if you can afford it, as an indulgence, it's so worth it.
As for the Vanilla Bean Crush—aromatic, flavorful, laced with vanilla bean seeds and crushed bean. Superb.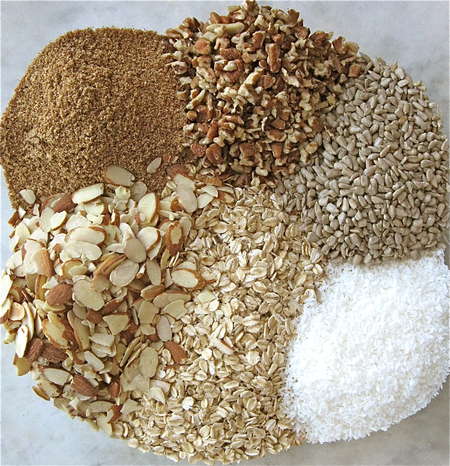 So, let's get all of our dry ingredients into a big bowl. You probably can't see that these ingredients aren't floating in thin air, but are in fact in our big styrene mixing bowl, which I use for pie filling, fruitcake, and other big mixing jobs, like granola.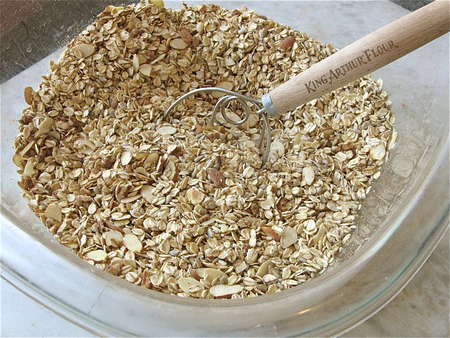 Mix to combine. A dough whisk works well here.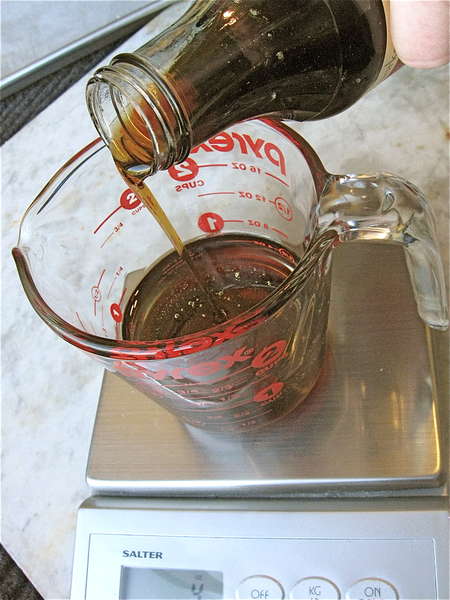 Next, measure the maple syrup and vegetable oil. Since I'm pouring into a measuring cup I don't really need the scale, but I just automatically weigh everything, since it's fast and easy.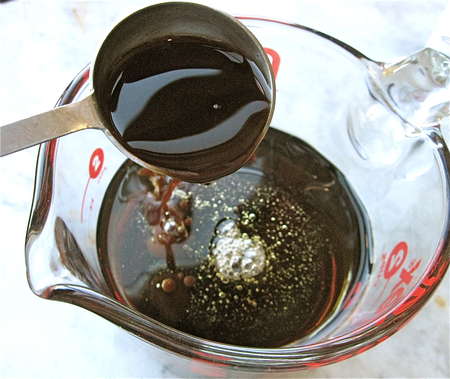 Stir in the vanilla.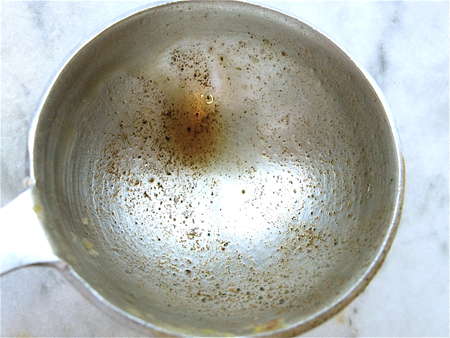 See the crushed vanilla pods and seeds?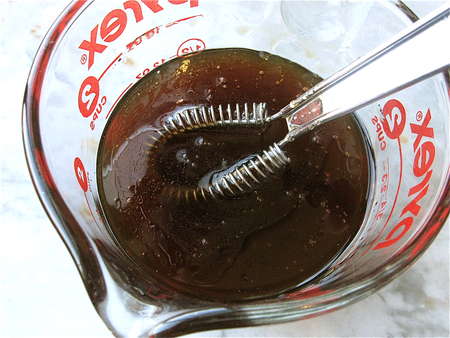 Whisk together...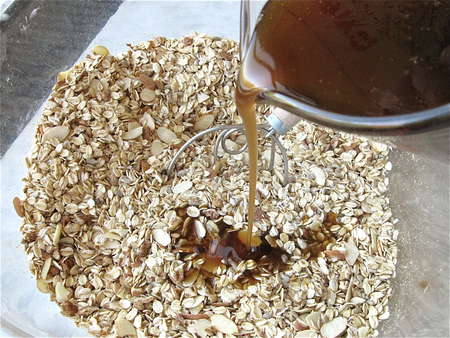 ...and pour over the dry ingredients.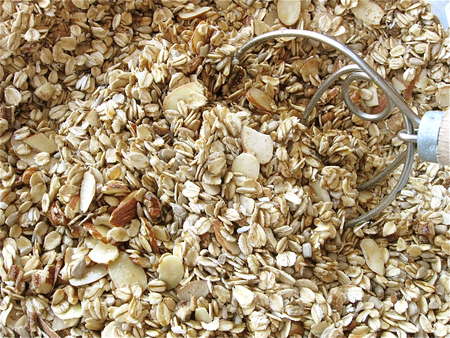 Mix to combine.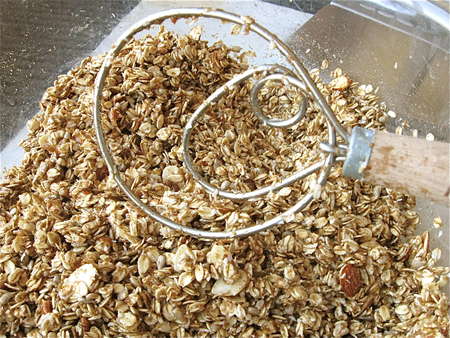 Nothing sticks to the whisk.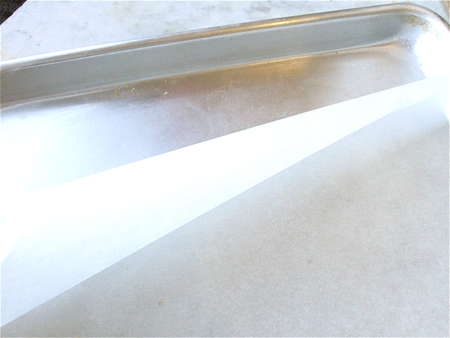 Line two half-sheet pans with parchment.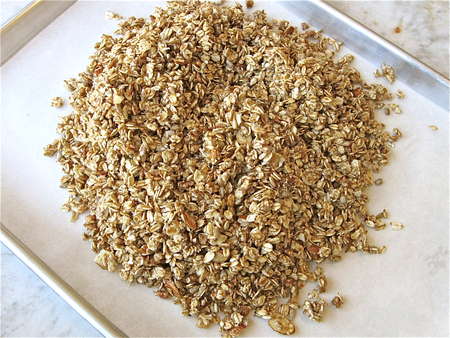 Divide the granola between the two pans.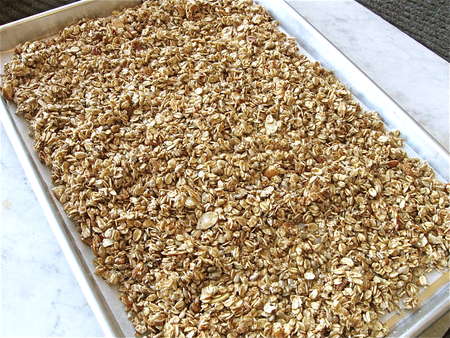 Spread it right to the edge.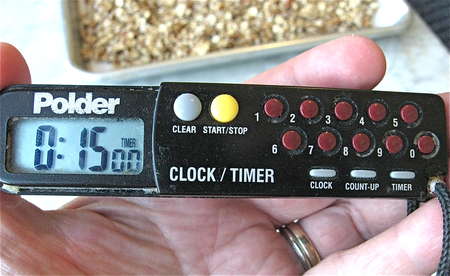 And here's my well-loved hang-around-the-neck timer. You're going to bake the granola for about 2 hours, stirring it every 15 minutes. I like this timer because it automatically resets itself to 15 minutes each time it gets to zero.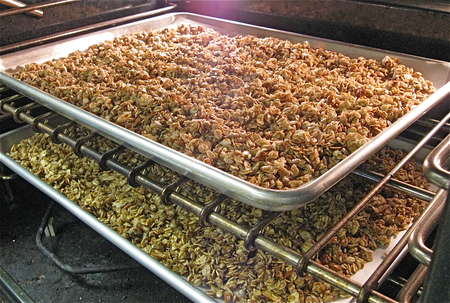 Bake for 15 minutes.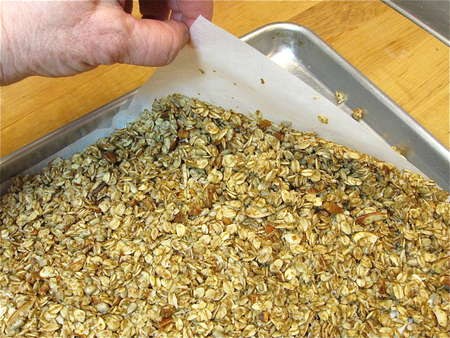 Remove from the oven, and bring the edges of the granola in towards the center. This ensures that it all bakes evenly. The easiest way to do this is simply to grab a corner of the parchment, lift, and slide the granola around the edges in towards the center.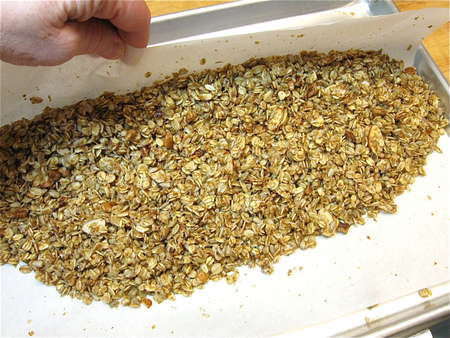 Do the same with the sides, rolling the granola on the outside in towards the center.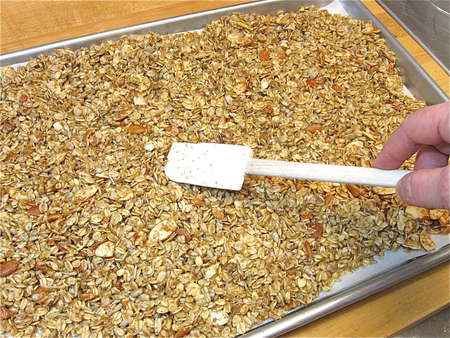 Shake the pan and use a spatula to spread it to the edges again.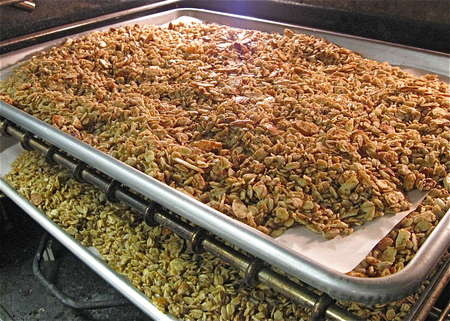 Continue to bake until the granola is golden brown.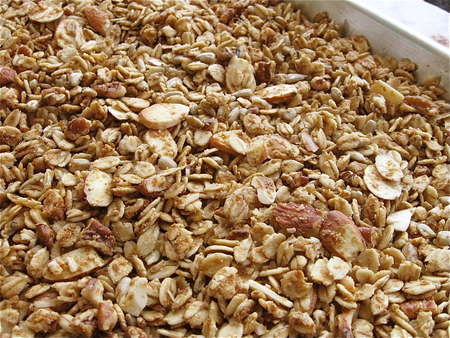 Remove it from the oven. Looking good, eh? Once the granola is completely cool, lift the piece of parchment, and funnel the granola into a bowl.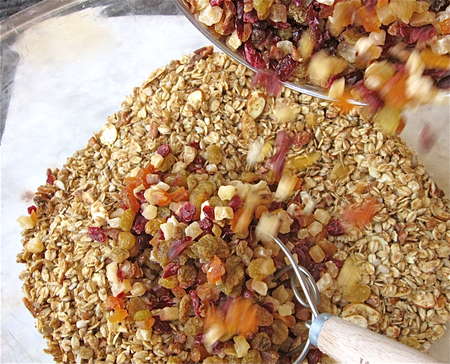 Pour in the dried fruit.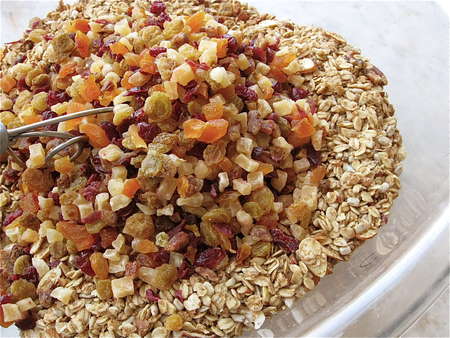 Stir together, using a spoon, your whisk...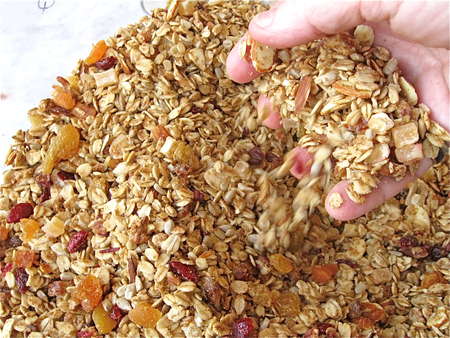 Or your clean hands, an excellent tool.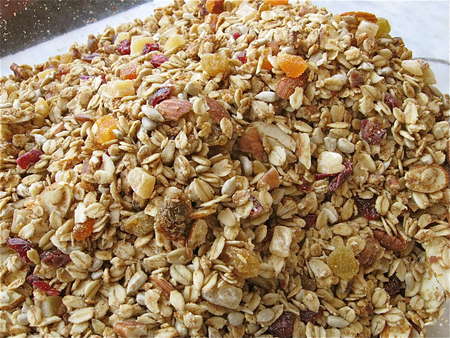 Done!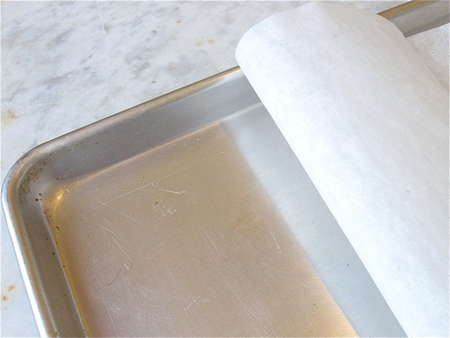 And look at that clean pan.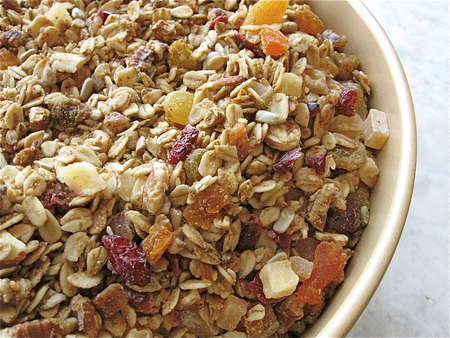 Ready to enjoy.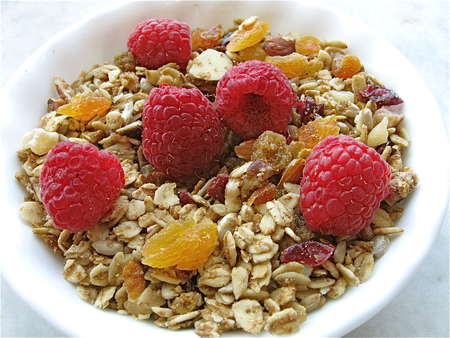 Serve with fresh fruit and milk, or just as is. Granola is a delicious whole-grain breakfast, snack, or gift. For Mick, OR Pat.
Read, rate and review (please!) our recipe for Crunchy Granola.
Buy vs. Bake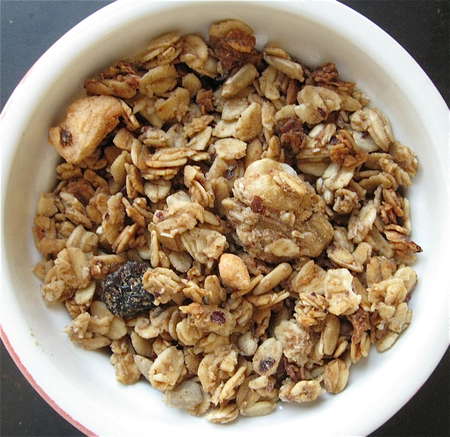 Buy: New England Natural Bakers Organic Apple, Raisin, and Walnut Granola, $5.29/lb.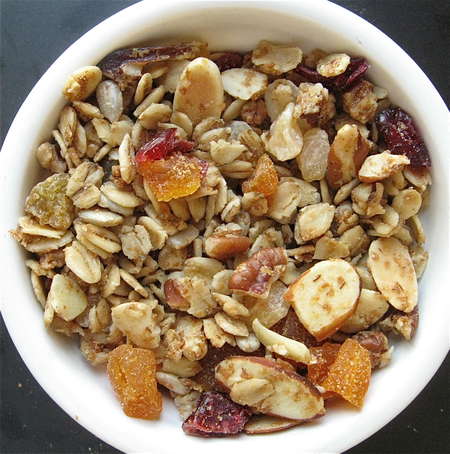 Bake at home: Crunchy Granola with real maple syrup, sunflower seeds, wheat germ, cranberries, apricots, pineapple, pecans, almonds, golden raisins, and dates, $6.70/lb.
Yes, it does cost more to make this granola than to purchase many ready-made granolas. You can save a considerable amount of money by sweetening with corn syrup or honey instead of real maple syrup; or by cutting back on the array of dried fruits (e.g., substituting golden raisins and cranberries for the apricots, pineapple, and dates). This is, admittedly, a deluxe granola, as the recipe is written. And its taste, texture, and just-baked freshness are out of this world... In this case, you get what you pay for.