Flourless Fudge Cookies
A special treat for the gluten-free crowd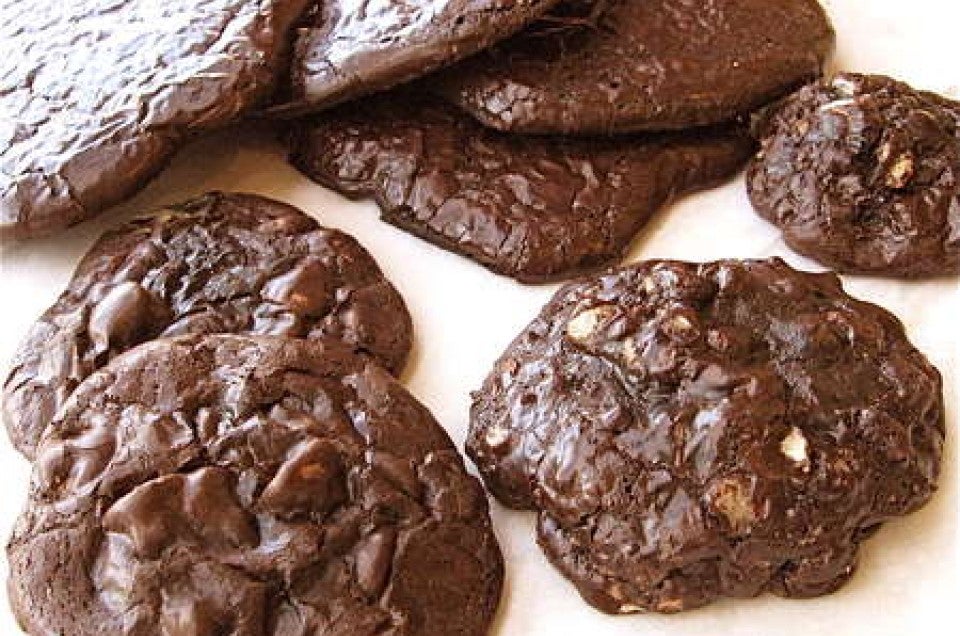 Rich, chewy, chocolate-y cookies, full of cocoa and sugar and espresso and vanilla and egg whites. With a touch of salt.
Period.
What, no flour? Translation: gluten-free?
You betcha, by golly. If you're avoiding gluten, here's another tool to add to your recipe box:
Flourless Fudge Cookies, a.k.a. Sin-Free Chocolate Chews.
Even if you're not pursuing a gluten-free diet, you'll want to keep this recipe handy. With no fat except what's in the cocoa (or the extra chips or nuts you throw in), they're a treat for those of you counting fat grams.
And an extra-chewy, darkly chocolate, super-fast and easy treat.
That said, let's get baking!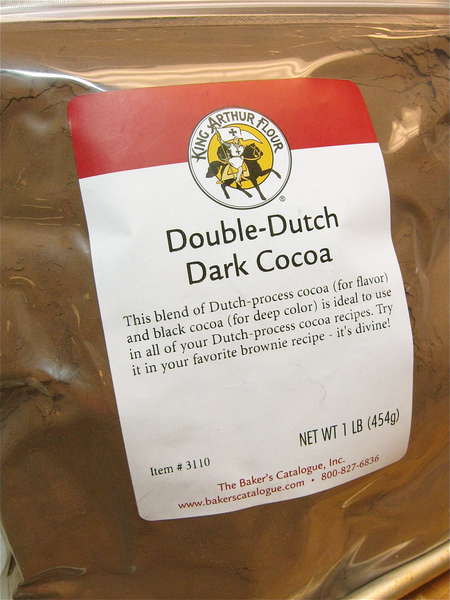 Let's start with my favorite cocoa, Double-Dutch Dark. This mixture of two Dutch-process cocoas—regular, and long-roasted black—adds super-rich, smooth flavor and extra-dark color to whatever you use it in, from brownies to cake to cookies to fudge sauce.
User advisory: If you're making these cookies for someone who's extremely sensitive to gluten, be advised that we pack our cocoa in a non-gluten-free facility; so we can't guarantee that a minute particle of gluten didn't make its way into the cocoa somewhere along the way...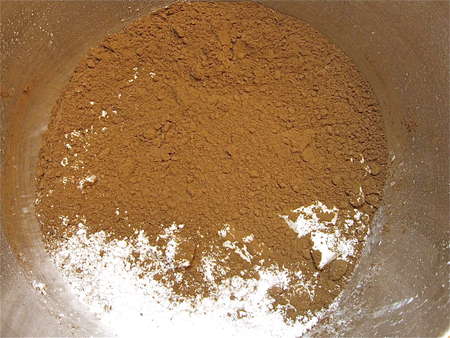 You wouldn't think, looking at the color of the cocoa, that it would yield such dark results. Just call it the alchemy of baking.
Put the sugar, salt, espresso powder, and cocoa in a bowl.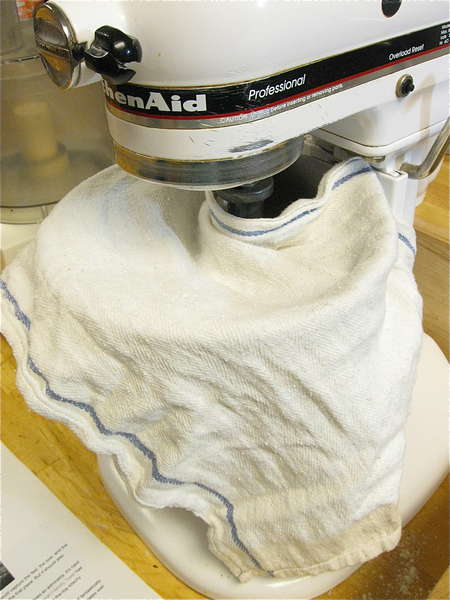 Whisk or mix them together. Want to avoid a cocoa-and-flour "dust cloud"? Cover the bowl as you mix.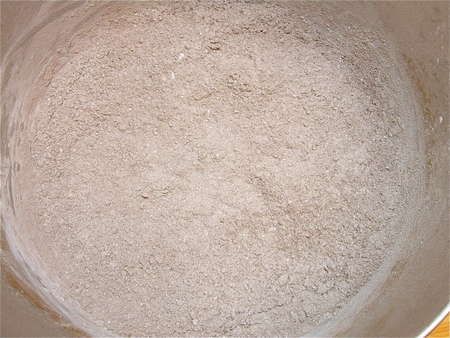 And there you have it. While this step isn't strictly necessary—you can just dump everything in the bowl at once and mix—I like to make sure the dry ingredients are thoroughly combined before adding the liquids.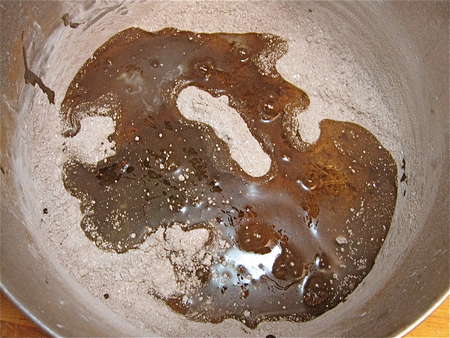 Add 3 large egg whites, and a couple of teaspoons of vanilla extract. If you're baking these for someone avoiding gluten, be sure to use gluten-free vanilla.
Mix till smooth. The batter will be very shiny, almost syrupy.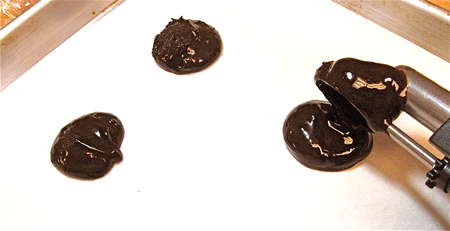 Drop the dough by teaspoonfuls or tablespoonfuls onto lightly greased or parchment-lined baking sheets. A teaspoon cookie scoop or tablespoon cookie scoop works well here, since the scoops mimic the traditional "teaspoonful" or "tablespoonful" of old-time recipes.
Did you know that a "teaspoonful" of dough is actually about 2 level measuring teaspoons, while a "tablespoonful" is about 4 level measuring teaspoons? Bakers used to simply drop cookie dough from a regular spoon (called a teaspoon), or larger soup spoon (called a tablespoon); that's how all the measuring confusion began.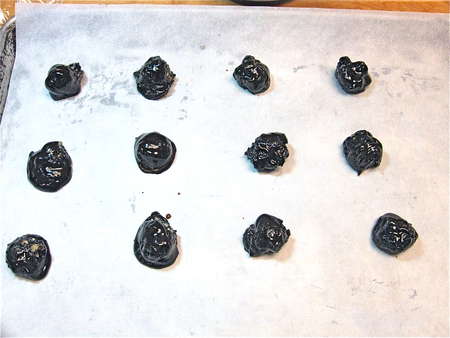 Leave plenty of space among the cookies; they'll spread a lot.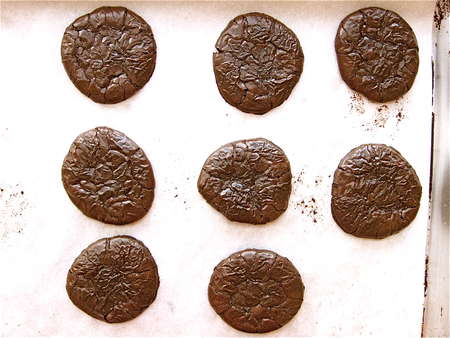 See?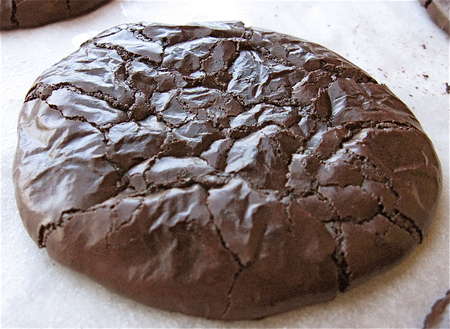 Look at that lovely, shiny/crackly crust. Gluten-free, and no added fat to boot.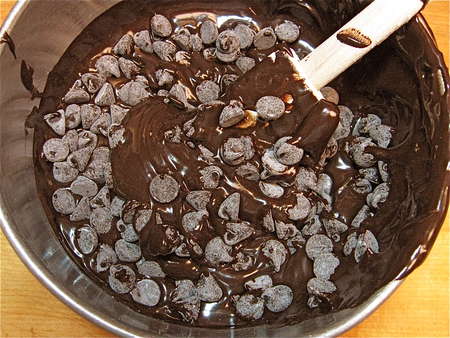 But let's not stop there. Let's add some fat—er, chocolate chips. If you're not counting fat grams in a serious way, it's fun to add chips or nuts to these cookies. Just stir them in at the end, and bake.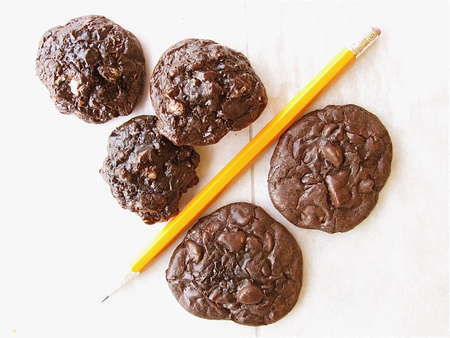 Notice that add-ins tighten the cookies' spread; the ones with the diced nuts, on top, spread less than the ones with chocolate chips (bottom); which spread less than the original version, with no add-ins.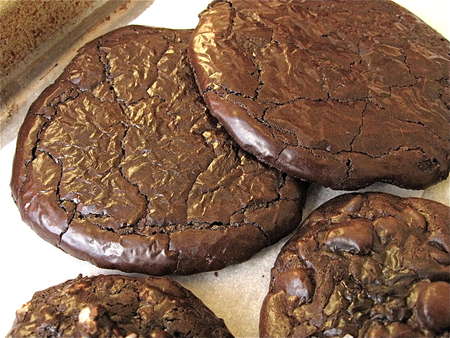 Here are all three: original (top), diced walnuts (bottom left), and chips (bottom right).
Read, rate, and review (please!) our recipe for Flourless Fudge Cookies.
Buy vs. Bake
Buy: SnackWells Fat-Free Devil's Food Cookies, $8.51/lb.
Bake at home: Flourless Fudge Cookies, $2.81/lb.