Smoke on the water(melon)
Our smoked salt adventures with Caramel Brownies
It all started with Mother's Day. Mary Tinkham, a longtime baker here at KAF, and writer for the Baking Sheet, was given a selection of specialty salts by her son, including a large salt block, and she was sharing her ideas about recipes she had planned. We, of course are always interested in new and different cooking and baking news, so it was a lively conversation.
Mary mentioned that one of the flyers included in her gift was a salt chart, listing different salts and what foods they were exceptionally good paired with. One that stood out to her was the Maldon Smoked Salt we just started carrying. The chart said it was "exceptional" on fruit. Well, you know we just had to try it for ourselves. I had some fresh strawberries in my lunchbox, Mary had some cantaloupe and pear, and there was a brand new box of smoked salt on our sample shelves. We were off to the races!
All I can say is WOW! The salt is not overly smoky, but enhances the sweetness and juiciness of the fruit. Everything tasted richer, deeper, just MORE. A little flaked sea salt goes a long way, but we hadn't had enough yet.  And then, we started talking about chocolate and salt. Off we went again. (A side note to Barb and Kelly, our supervisors. Don't worry, we still answered the phones, and emails. Shall we consider this a  demonstration for Baker's Education? )
Tara, my partner in coconut cream pie, keeps a jar of chocolates on her desk, you know, for morale. Out jumped a few pieces, and they too were given a hit of salt. AMAZING! The combination of sweet and salty hit the spot, and the mild hint of smoke was a dance on the tastebuds. We found an open bag of Guittard semisweet wafers, and sprinkled those as well. Susan Reid happened by with questions, and proceeded to pronounce us  all "evil" and the ruiners of diets. And then it happened. Mary said the word that would lead me on a quest so delicious the final product nearly brought tears to my eyes. What could it be? What did she say?! Inquiring minds have got to know!!
Mary said "Caramel". Ah, caramel: buttery sweet, smooth as silk on the tongue and a perfect foil for salt. I had bought local artisan chocolates with caramel and a topping of sea salt, and loved them. I had also had nuts covered in chocolate, raw sugar and salt that made one weak in the knees. How could I take these flavors I loved and combine them into something mind blowing? Quest no more, and join me in making Chocolate Caramel Almond Crunch Brownies.
First, you need to make the Almond Crunch topping.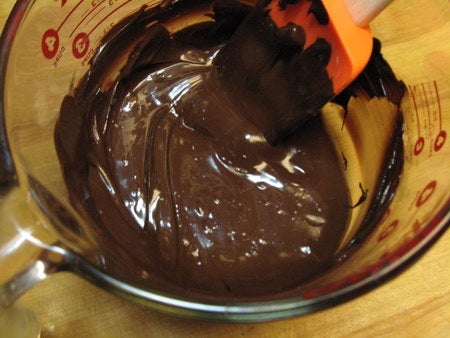 Melt the chocolate in a double boiler or on the stovetop or in the microwave. Take care not to scorch the chocolate. Low and slow is best.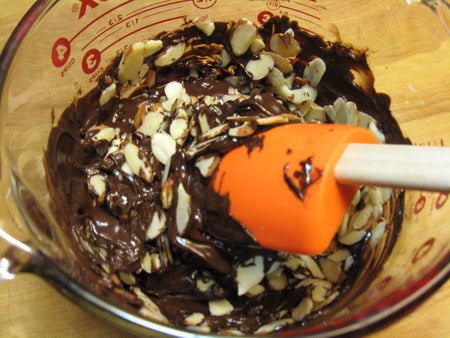 Add the almonds and stir until they are well coated. I used a mixture of whole and sliced almonds, kind of a clean the cupboards approach.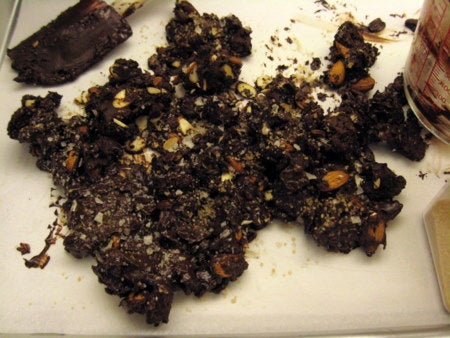 Spread the almond/chocolate mixture on a parchment lined baking sheet. Sprinkle all over with the coarse sugar and smoked salt.  Set this aside to firm up. You'll be breaking it up later into the crunch topping.
If you don't have the smoked salt right at hand, you can use regular sea salt, but you will be missing out on some subtle flavors. I wouldn't recommend table salt, you might get some off flavors from the iodine. For the sugar, Demerara gives the best caramel-y taste but turbinado or raw sugar will also work. If you have our sparkling white sugar, you will miss out on the caramel tones, but the crunch will be terrific.
Now, make a 9" x 13" panful of your favorite brownies. I chose to make our KAF Guaranteed Fudge Brownies. They are simple to make, with outstanding flavor and a perfect blend of fudgy and cakey. Set the brownies aside to cool while you make the Browned Butter Caramel Icing.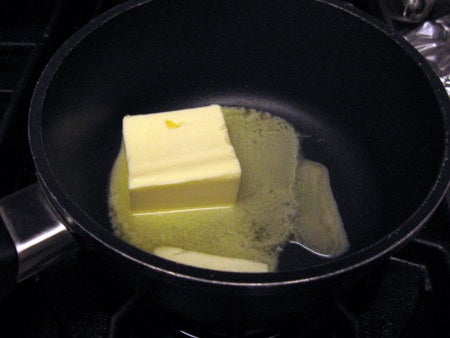 Melt the butter over low heat in a medium sized saucepan. You are looking to melt the butter, and then begin to brown some of the milk solids. This will give a sumptuous nutty flavor and color to the icing.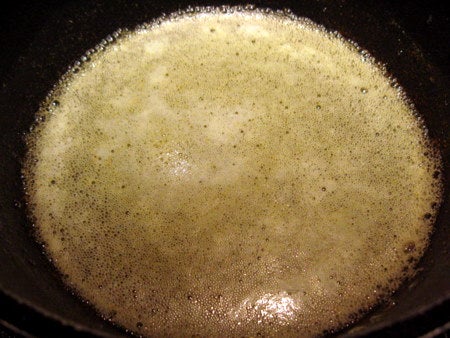 This is how the butter will look when browned. You can see the golden color best near the edges of the pan. Mmmm, what a lovely scent, deep and toasty.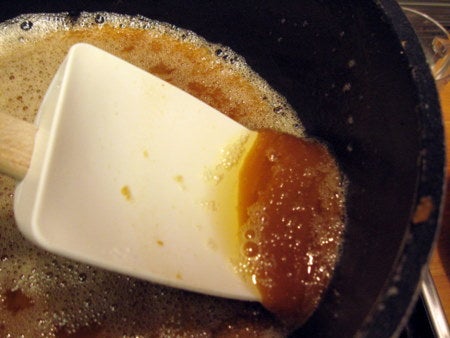 Add the brown sugar and salt and stir continuously until blended. This make take a few minutes, just have patience. Cook over low heat for 2 minutes. Add the milk and bring just to a boil.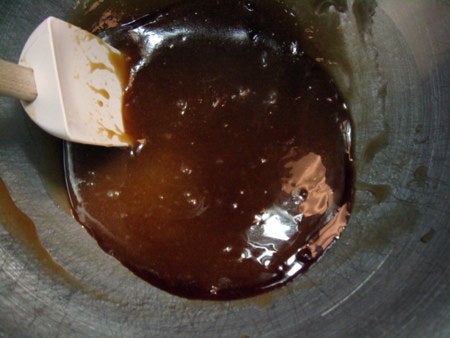 Next, move the mixture to the bowl of your mixer. Allow to cool to lukewarm.
While you are waiting for the caramel mixture to cool, it's time to grind up the almond crunch topping.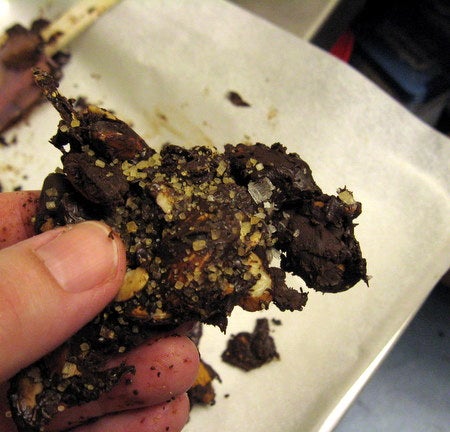 By now, your chocolate mixture will be nice and firm. Break it up with your fingers into large chunks. Trust me, this will be the hardest part of the whole process, not eating every last bit of sweet, salty, crunchy goodness.
Place the pieces in a food processor and pulse until you are happy with the size of the pieces. Some taste testers preferred large chunks for a bigger hit of salt. Some liked the smaller pieces, so it's really baker's choice.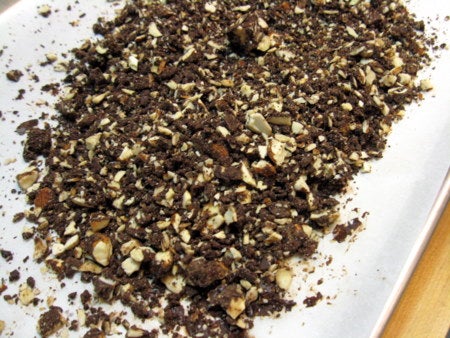 This looks good to me. Some chunks, some tiny pieces.
Did you notice this recipe has quite a bit of "let it cool" time? This means you can be doing other things, or you can do this recipe over a period of time, even a couple of days. Beware of making the salted crunch topping too far ahead of time, it has a way of disappearing quickly, and you may end up with naked brownies!
Let's get back to our icing.
Add the vanilla to the bowl, and beat on medium speed with the whisk attachment until well mixed. Add the confectioner's sugar in stages until your icing resembles thick peanut butter.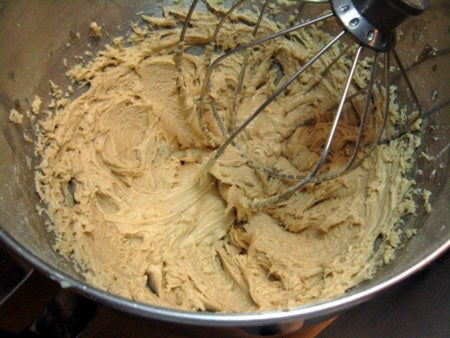 Increase the speed to high, and beat for 3 minutes. The mixture will still be slightly warm, and will not become as fluffy as a regular icing. It will have a silky texture, an almost melted quality.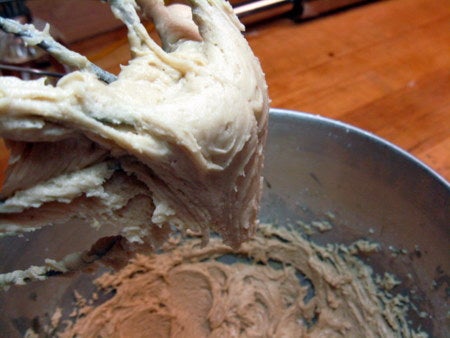 See how the icing is thick, but still doesn't form peaks? This is just what you are shooting for. Go ahead, you can have a lick.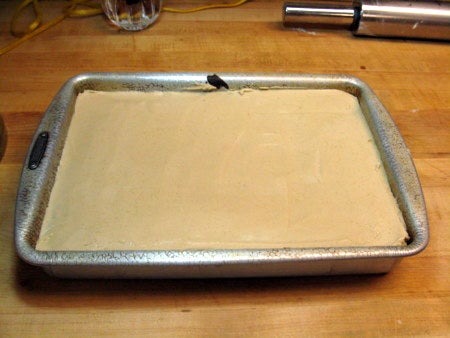 Spread the warm icing over the cooled brownies. It spreads like a dream and makes the smoothest coating. This could also be used on cakes for a very elegant presentation.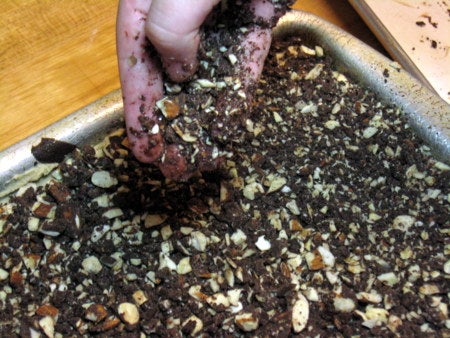 And now for the pièce de résistance, the almond crunch topping. You should have more than enough to cover the icing in a nice 1/4 inch deep layer, even with the munching and snitching you may have already done. You could sprinkle the topping on with a spoon, but I'm a use-your-digits kind of baker. Besides, isn't cocoa butter good for your skin?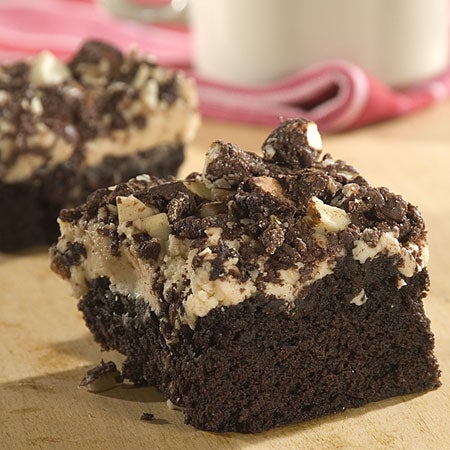 Oh, my. Soft deep chocolate brownie, silky smooth sweet caramel icing and the slightly smoky, salty crunch of the almond topping. Now, I'm not saying you should eat these everyday, but when a special occasion calls for a special treat and you want to make something a little out of the ordinary, do try these Chocolate Caramel Almond Crunch Brownies. You won't be disappointed and neither will your guests.
Read, rate, and review (please!) this recipe.