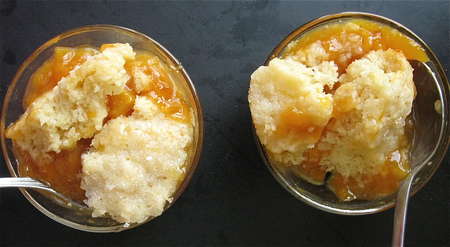 Warning: this is a shameless (but oh-so-true) plug for the Zojirushi bread machine.
I love my Zojirushi because I use it to knead bread dough, and it does the job more thoroughly (and produces a higher-rising loaf) than kneading by hand or stand mixer. I love it because the non-stick bucket rinses clean so easily. And because I can add the ingredients, press a button, walk away, and come back 90 minutes later to a smooth, elastic, beautifully risen ball of dough, ready to be shaped into pizza crust, rolls, sticky buns, sandwich bread...
So what's with the peach cobbler?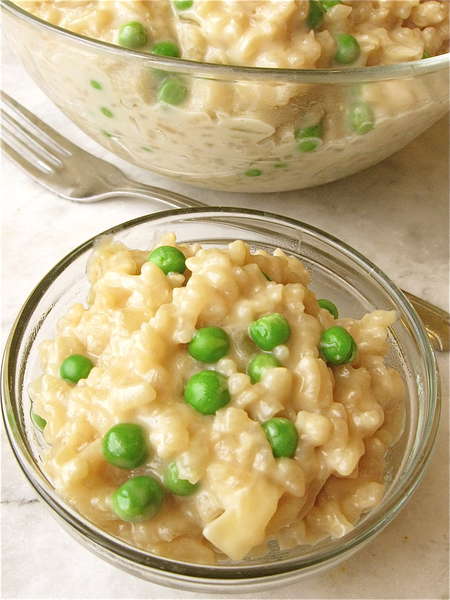 And the creamy Parmesan risotto with peas?
And how about this overstuffed Sloppy Joe?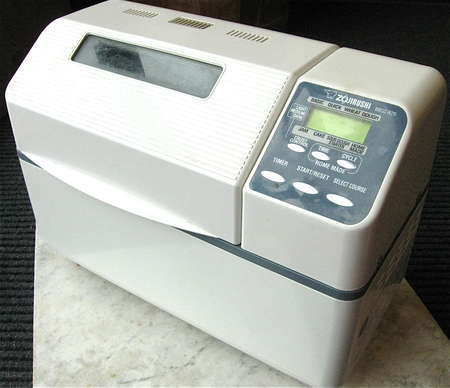 Introducing your new best friend in the kitchen: the Zo CEC20, (dough kneader extraordinaire, bread-baking machine without compare, and now: The Little Oven That Could.
If you have a Zo CEC20 (or older X20), and you've never used it for anything but yeast dough, you're missing a huge portion of its potential. Your Zo can make anything from chocolate cake to beef stew to classic mac and cheese to coconut rice pudding. And artichoke dip. And pumpkin bisque. And...
Keep reading. The following recipes for peach cobbler, Parmesan risotto, and Sloppy Joes are examples of how you can take your Zo X20 way beyond bread. You won't find them in our online recipe section; because they're so specialized, they're only for readers of this blog.
So, let's start with this tempting, easy peach cobbler.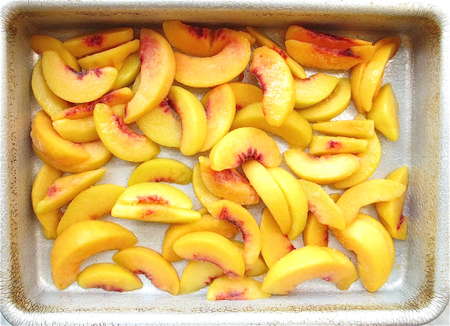 The heart of your cobbler is a heaping 4 cups of sliced peaches, about 2 pounds. Since fresh peach season is so short, I often find myself resorting to two 1-pound bags of frozen peaches—which do just fine in any kind of baked peach dessert. I sometimes use canned peaches, but find frozen have better flavor. Here I'm letting the frozen peaches thaw in a pan; if you use fresh or canned peaches, you won't need to do this.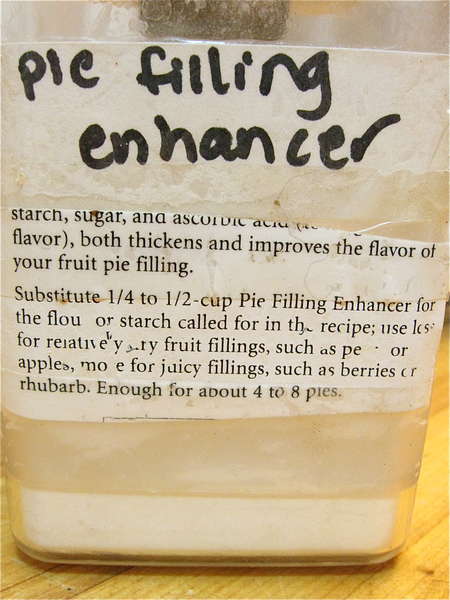 Next, our handy Pie Filling Enhancer. This mixture of sugar, ascorbic acid, and starch thickens fruit pies, crisps, crumbles, and cobblers beautifully.
Combine 1/4 cup (1 5/8 ounces) of the Pie Filling Enhancer with 2/3 cup (4 3/4 ounces) sugar, and pour atop the peaches in a bowl. If you don't have Pie Filling Enhancer, use about 1/2 cup (2 ounces) unbleached all-purpose flour.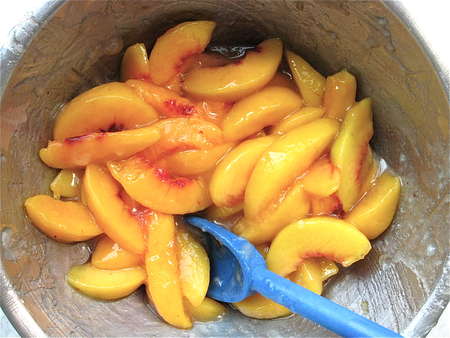 Add 2 tablespoons (1 ounce) fresh lemon juice, 1 teaspoon vanilla, and 1/8 teaspoon salt. Stir to combine. If you use Pie Filling Enhancer, the mixture will thicken immediately. With flour, it will be pasty, but won't really thicken; that will happen as the cobbler bakes.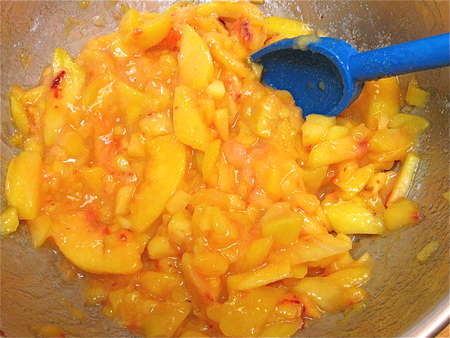 For a smoother cobbler, give the filling a quick whir in a food processor, or using a hand-held stick blender. I prefer my cobbler rather chunky, so usually skip this step.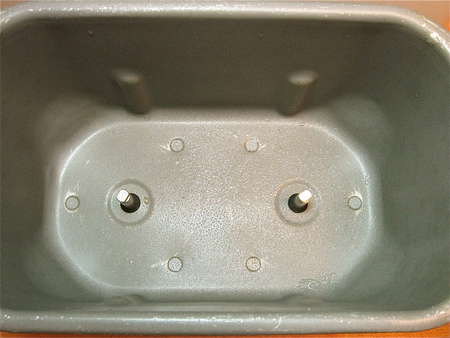 Next, take the paddles out of your bread machine, and spray the interior with non-stick vegetable oil spray.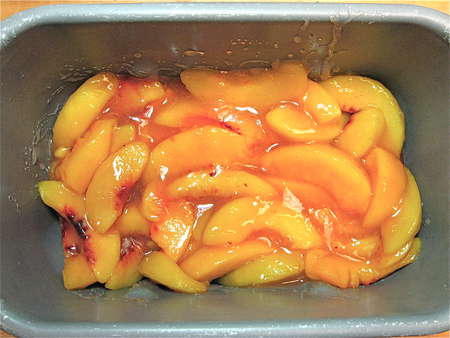 Add the peach filling.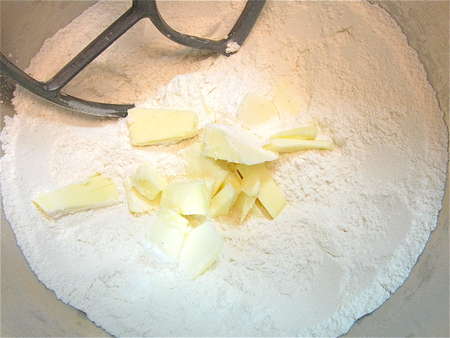 Now we'll make the biscuit topping. Whisk together the following:
1 1/2 cups (6 1/4 ounces) King Arthur Unbleached All-Purpose Flour
a heaping 1/4 teaspoon salt
3 tablespoons (1 1/4 ounces) granulated sugar
1 1/2 teaspoons baking powder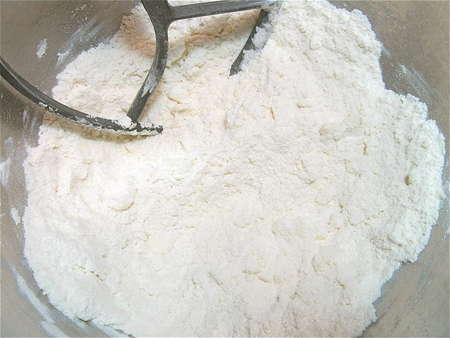 Add 4 tablespoons (2 ounces) cold butter, cut in pieces. Work the butter into the flour mixture till it's unevenly crumbly.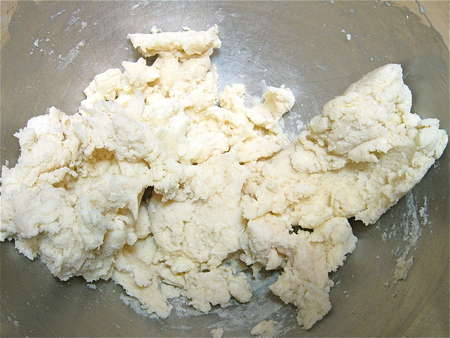 Add 1/2 cup (4 ounces) milk or cream, stirring to make a cohesive dough.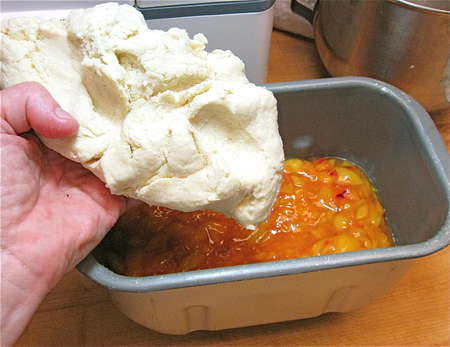 Shape the dough into a rough rectangle large enough to cover the filling in the bread machine bucket.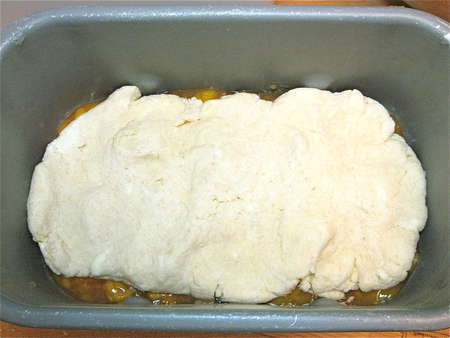 Flatten and smooth the dough with your hands, and lay it atop the filling.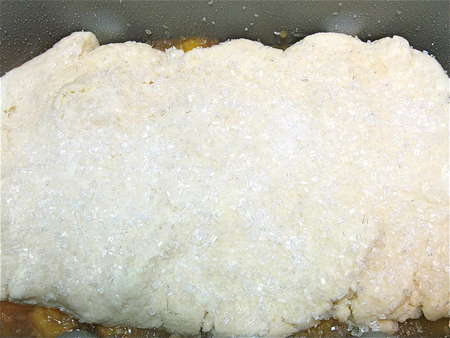 For a pretty touch, and added flavor, sprinkle with coarse sparkling sugar.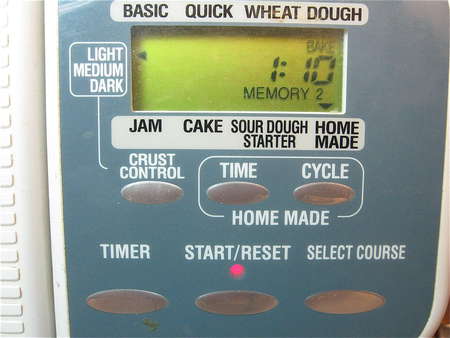 Select one of the three homemade cycles on your Zo X20, and program it to bake for 70 minutes. Add the keep-warm cycle. If you don't know how to program your Zo's memory cycle, take a look at our step by step guide.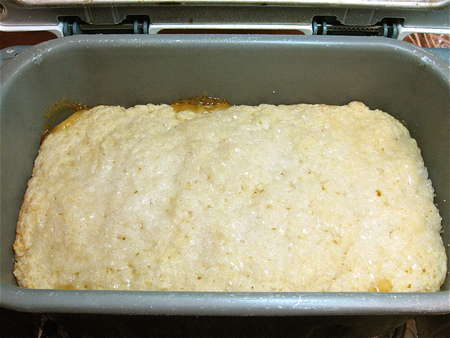 Press Start. Just over an hour later—cobbler!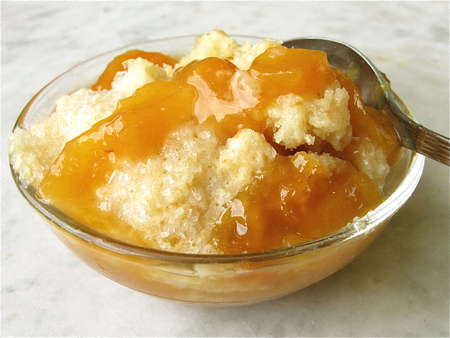 Allow the cobbler to cool for half an hour or so before serving—right in the machine, on the keep warm cycle. This thickens it up nicely.
Next up: savory Risotto with Parmesan and Peas.
Leave the paddles in the bread machine bucket. Add 4 tablespoons (2 ounces, 1/2 stick) melted butter, and 3/4 cup (3 3/4 ounces) chopped onion.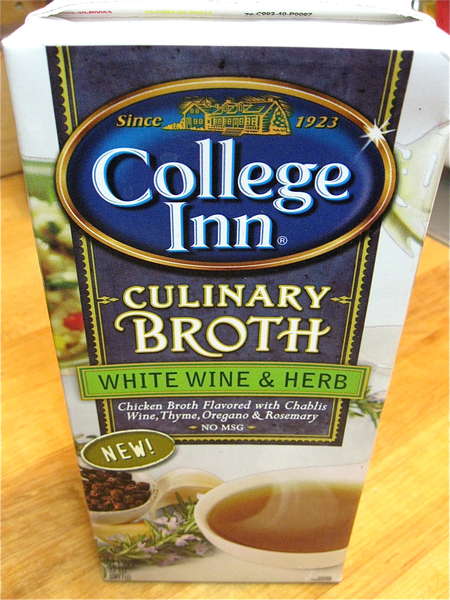 Next, choose your broth. I thought I'd try this new, fancy-sounding brew. You'll need 32 ounces. If you choose 14-ounce cans, simply use 2 cans, plus 1/2 cup water.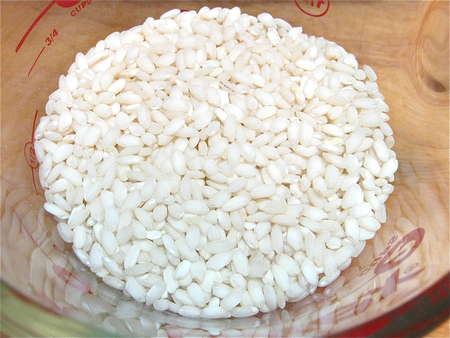 Arborio or Carnaroli rice is key. You can't make this recipe with regular long-grain or other types of rice. Check out the Italian section of your supermarket.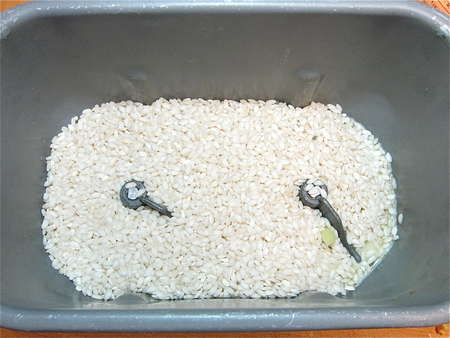 Spread 1 1/2 cups of Arborio rice atop the onions and butter.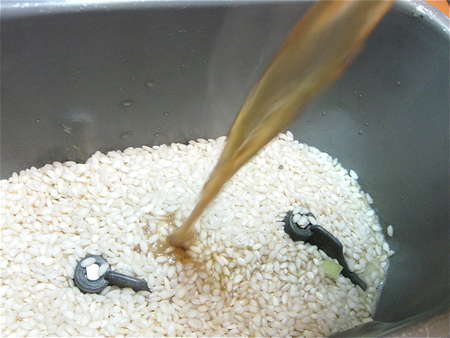 Heat the broth to a simmer, and pour it over the rice. This is important: HEAT the broth to a simmer before pouring it over the rice.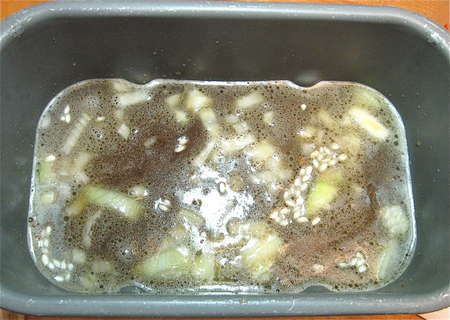 The whole mixture will  look like this.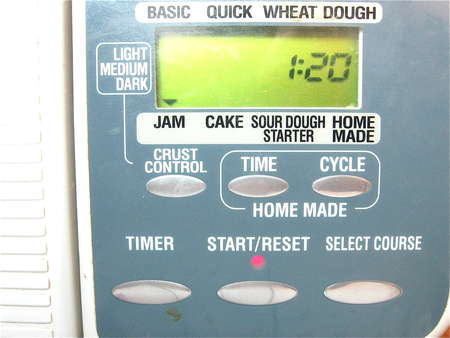 Choose the jam cycle, and press Start. Set a kitchen timer for 40 minutes.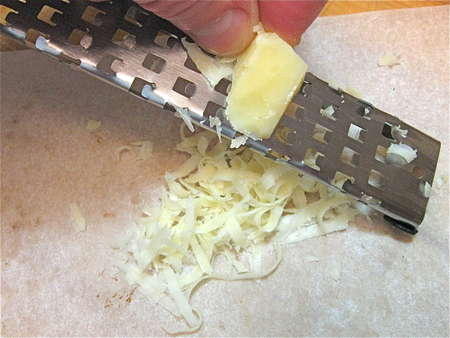 While the machine is working, shred 2 ounces of Parmesan cheese, enough to make 1/2 cup. Our Microplane grater does a quick job.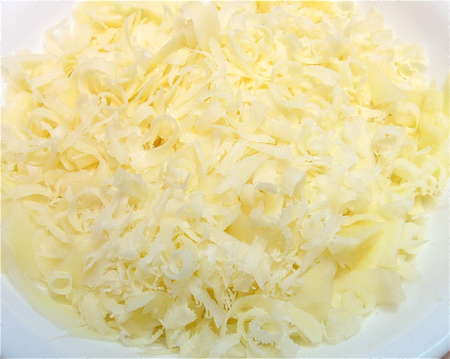 Set the cheese aside. See how much nicer this is than grated Parmesan from a can?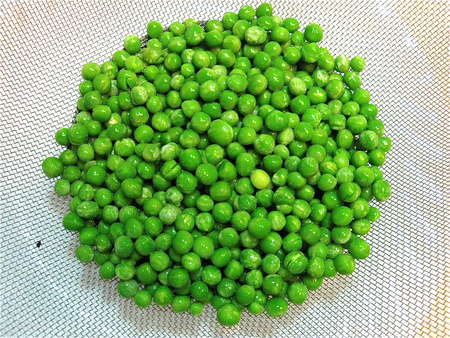 Rinse 1 cup (4 3/4 ounces) frozen peas, and drain in a colander. They'll gradually thaw as the rice cooks.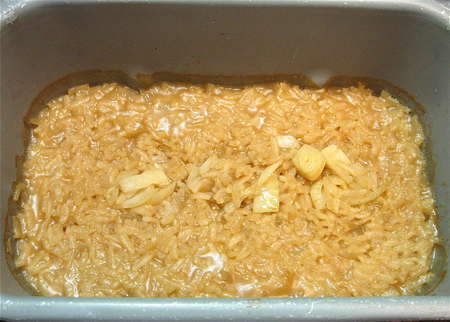 When your kitchen timer goes off at 40 minutes, the rice will look like this—or not. I've found quite a bit of variation in Arborio rice, and how quickly it cooks. If it's soupier than this, let it continue to cook till the rice and onions start to emerge above the liquid.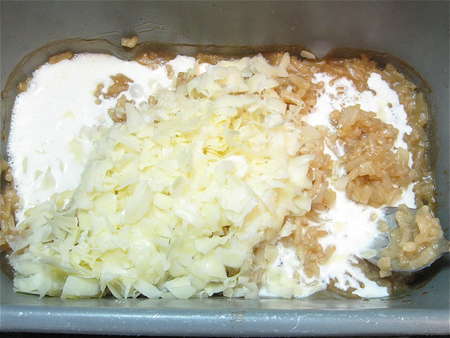 Add the cheese and 1/2 cup (4 ounces) heavy or whipping cream to the rice in the pan. Use a spatula to mix the cheese and cream into the rice briefly; no need to be thorough. Close the cover, and let the rice continue to cook.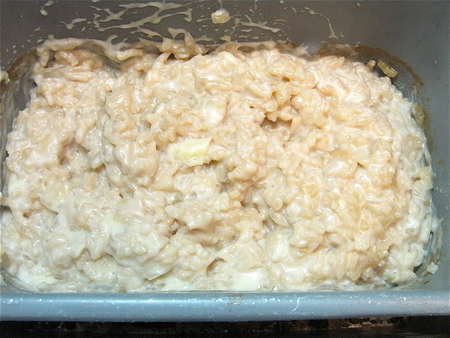 Keep an eye on the risotto once you've added the cheese and cream. It may be almost ready to serve at this point; or it may need to cook further. When it's as thick as you like...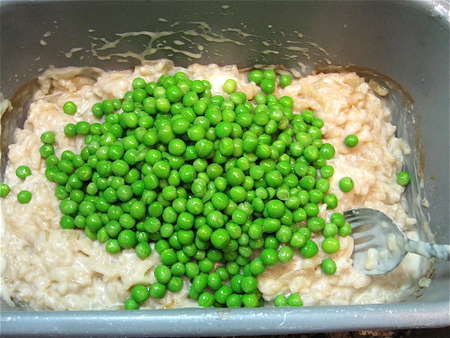 ...add the peas.
Stir them in till they're thoroughly combined with the rice.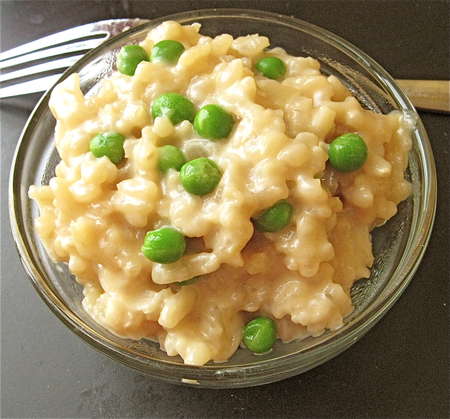 Serve hot. The broth I chose made this risotto rather brown.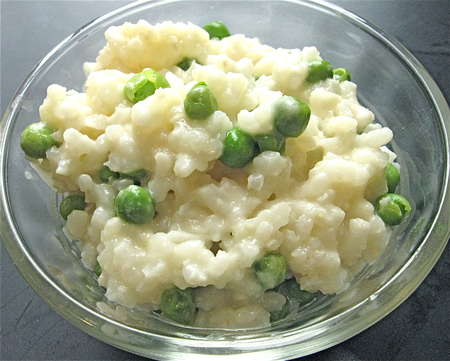 So I tried it again with regular chicken broth, to make a lighter-colored risotto. VERY tasty.
And last, but certainly not least: Sloppy Joes, everyone's favorite elementary school lunch.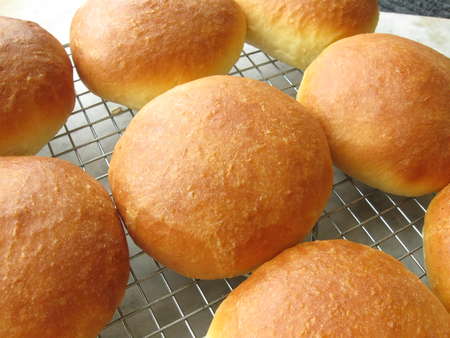 Start with 6 of your favorite buns. Check out our blog about these Cheese Burger Buns.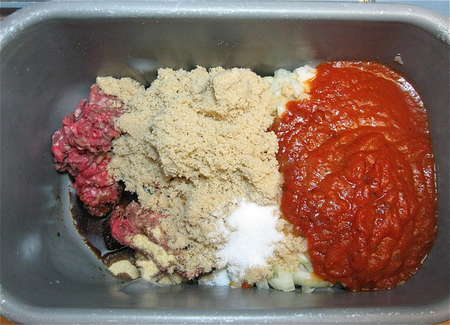 Leave the paddles in the bread machine bucket. Add all the Sloppy Joe ingredients at once:
1 pound ground beef
1 large onion, finely diced (6 3/4 ounces, 1 1/2 cups)
8-ounce can tomato sauce or 1 cup (8 ounces) spaghetti sauce
1 teaspoon garlic powder
1 teaspoon salt
1 tablespoon prepared mustard
1/4 to 1/2 cup (1 7/8 to 3 3/4 ounces) brown sugar, to taste
2 tablespoons (1 ounce) Worcestershire sauce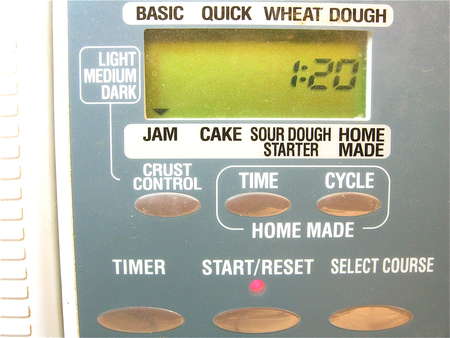 Select the jam cycle, and press Start.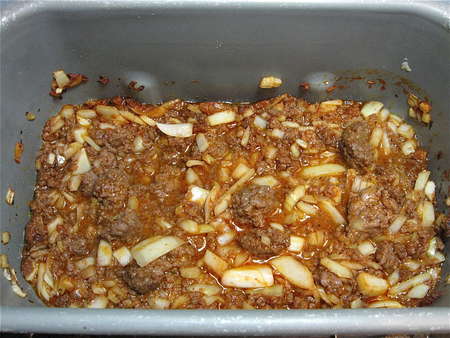 Here it is about halfway through the cycle, simmering nicely.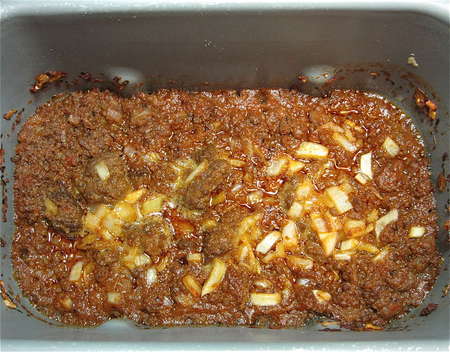 And here it is at the end of the cycle. Don't worry, those onions are nice and tender.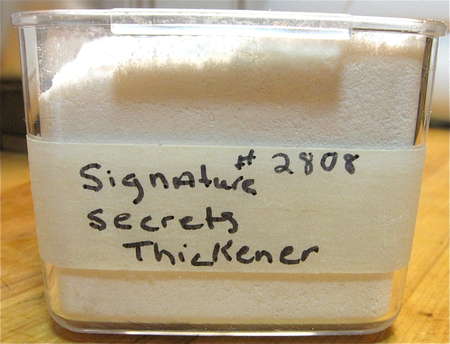 While the Sloppy Joe filling is cooking, I get my Signature Secrets ready. This is an all-purpose thickener, good for gravy, pie filling... and Sloppy Joes. No, you don't have to add thickener; I just happen to like my Sloppy Joe filling thick.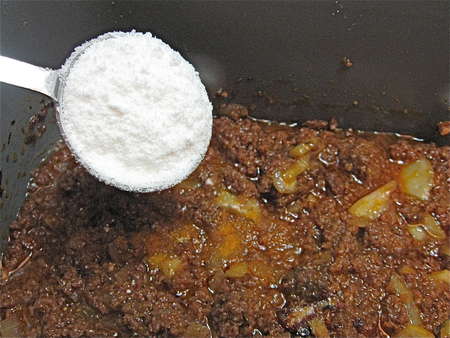 When the cycle's complete, I add 1 tablespoon of Signature Secrets.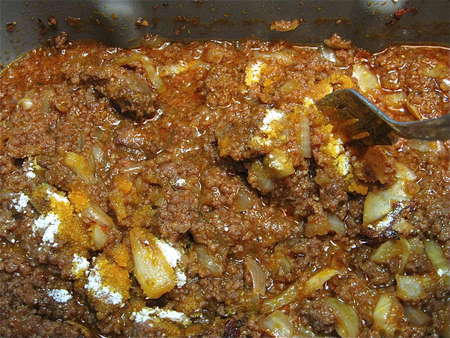 Stir it in...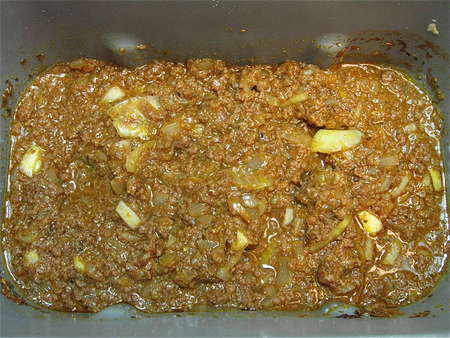 ...and it's ready to serve.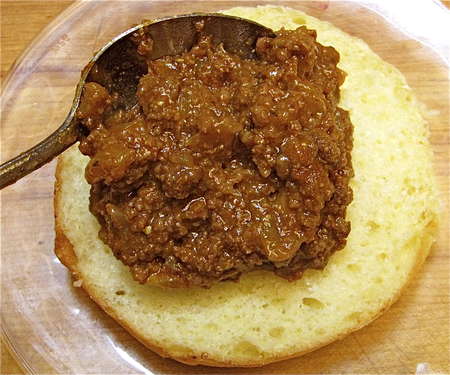 Divide among the split buns.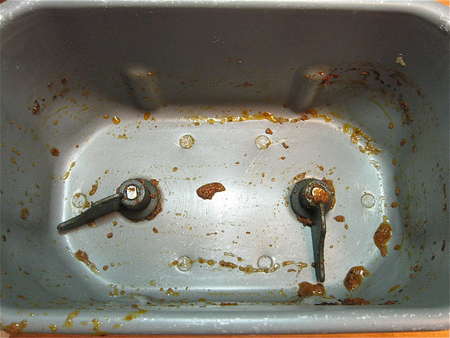 Gosh, looks like a tough cleanup job...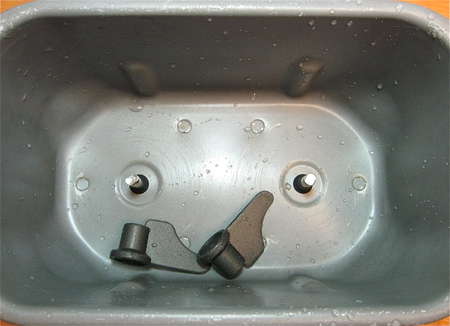 NOT. A quick rinse in warm, soapy water is all it takes. Hooray for the Zo's non-stick bucket!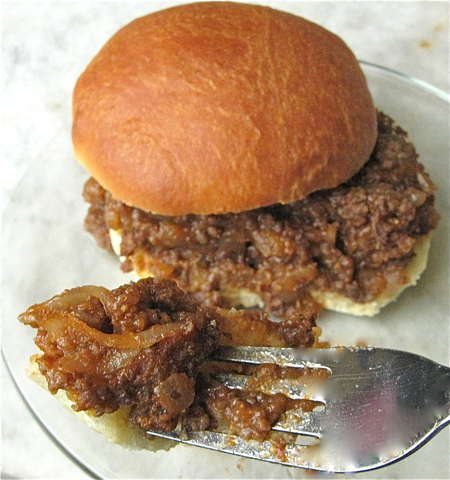 Enjoy!
And, check out our Thanksgiving post, where you'll find scalloped potatoes, cranberry sauce, stuffing, and dough for dinner rolls, all made in your Zo.
Don't have a Zo? You can make these recipes using your regular oven, or a saucepan. No need to go to "comments" and ask for directions; simply simmer the Sloppy Joe filling or risotto in a saucepan, or bake the cobbler in a regular oven—probably 350°F for 50 minutes or so. Beyond that I have no specifics; but don't be afraid to just wing it. These are pretty simple recipes.