Ooohhh, cheesecake! I know for so many people this conjures up mental pictures of New York delis and thick slabs of pale creamy cake topped with a layer of sour cream.  But for me, the word cheesecake brings images of my mom's Cherry Cheesecake. Not New York style, it relies on a yellow cake mix for its crust and part of the filling, and a heapin' helpin' of vanilla as well, with canned cherry pie filling a "must" for the topping. It was a favorite for birthdays and spring holidays, so this time of year always has me wanting to make a big panful. Easter just wouldn't be Easter without Cherry Cheesecake.
Now, if you read my Doughnut Bread Pudding blog, you know I've been having "discussions" with my scale. And while the thought of a 13" x 9" panful of cheesecake sounds like heaven, it isn't the best choice for me right now. So, what's a girl to do to have her cheesecake and eat it too?
Answer: Think small. By making a few tweaks to Mom's recipe, I could make lots of little cheesecakes and satisfy my cravings without losing control, and have plenty of tasty, tiny treats to share with my teammates. Plus, I would get a chance to use some lovely new cupcake liners and mini bake and give pans. I'm a pushover for pretty papers.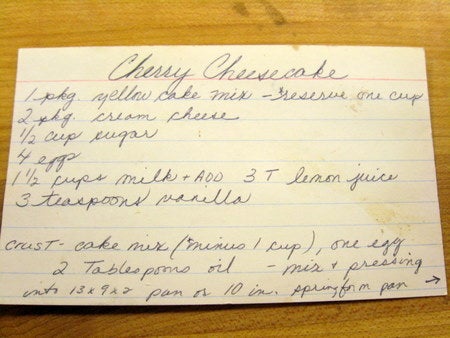 Here's my copy of the original recipe. You can see it's well used, and an older version. I really need to update it with all the new changes.
Pardon me while I climb on my soapbox for a moment, but if you're the family baker, or keeper of a special secret recipe, do take the time to write it down as best you can for the future bakers in your family. Here on the King Arthur baker's hotline, we often hear from folks who have lost a beloved baker in their family, and treasured family recipes along with them. Food and comfort are so deeply entwined for so many of us, and being able to make Grammie's cookies or Uncle Skippy's famous chili after they're gone can make the difference in remembering them with fondness as we share their special dishes with others; or with sadness if the recipe is lost.
I've made an effort over the last year to collect and correct my recipes so my daughter Shannon will have my recipes for years to come. It makes me feel good knowing my secrets are safe, and that recipes like this one, handed down from her grandmother, will be there for her.
OK, I'll get down now.
Follow along with the new recipe: MJ's Mom's Cheesecake. Be sure to take your cream cheese out early to allow it to warm to room temperature. Preheat the oven to 300°F.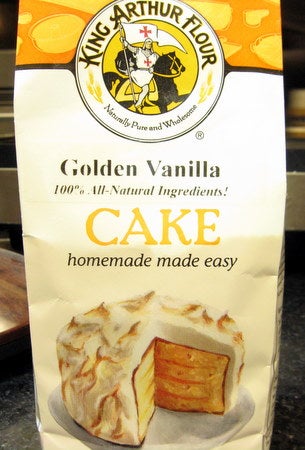 First change. Using our cake mix has made a huge difference in this recipe. No more "fake" vanilla flavor. If you must use a grocery store mix, choose one of good quality, and avoid "pudding in the mix" cakes.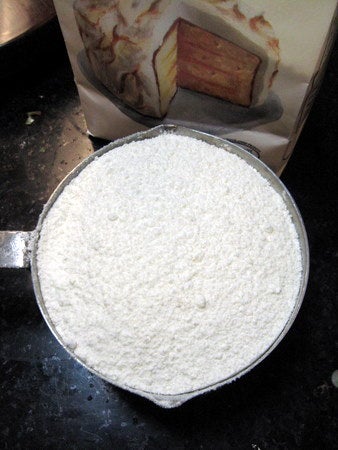 Remove one cup of the dry mix and set aside. Pour the rest of the mix into your mixing bowl.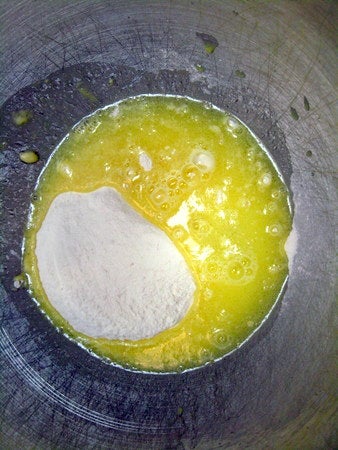 Add the egg, oil and water. (Second change, a touch more oil, and a little water to bond the crust together).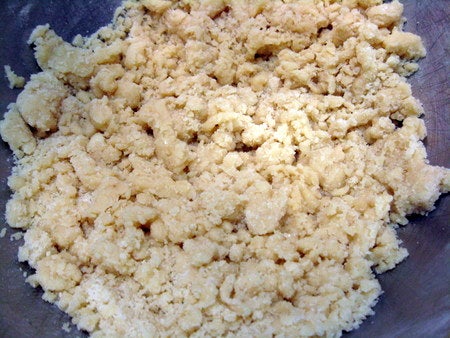 Mix on low speed until large crumbs form.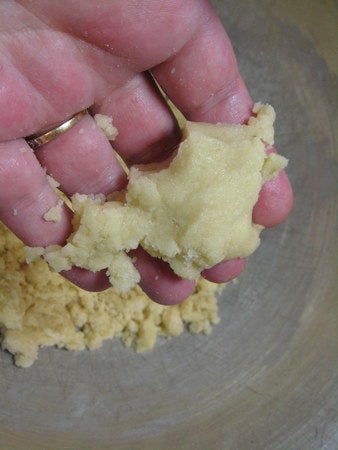 The mixture should hold together when squeezed. If you have to really press it together, add a teaspoon or two more water until it holds together easily.
Prepare two 12-cup, or four 6-cup muffin tins, either well sprayed with cooking spray or lined with cupcake liners that have been lightly sprayed. (Third change, tiny cheesecakes for individual servings. Mom used to make a 13" x 9" pan, so we used to cut pieces that were way too big to be considered "moderate.")
A loosely filled tablespoon cookie scoop is about the right amount of crust per cup. If you're using smaller or larger cups, adjust accordingly.
** Take a minute to add the lemon juice to the milk now. It can sit and "clabber" while you fill the muffin tins.**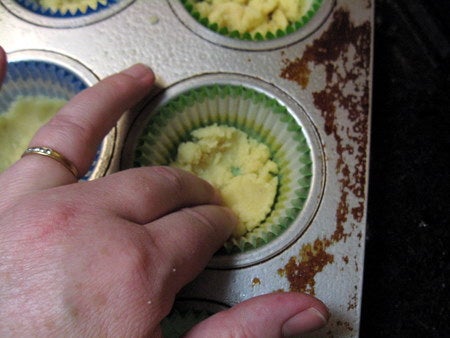 Press the mixture evenly over the bottom of the well, and about 1/4" up the sides.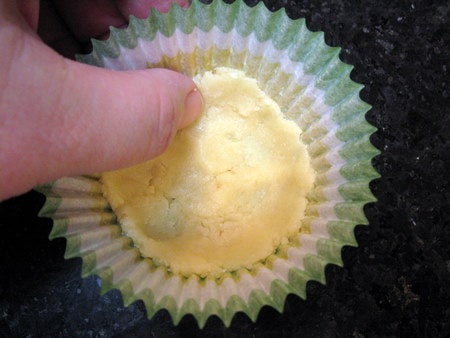 To do the sides of the muffin papers, I find it easier to remove the papers from the tins. Use your fingers to pinch on both sides of the paper, keeping an even thickness.  Set aside.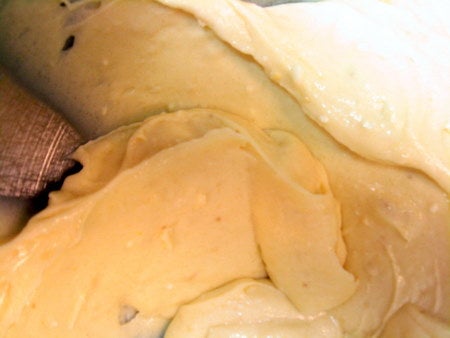 Add the remaining 1 cup cake mix, cream cheese, eggs, and sugar to your empty mixing bowl. If a few crumbs from the crust remain, no worries, they'll blend into the batter. Beat on medium speed 1 minute, until well blended.
See the tiny specks of cream cheese in the batter? My cream cheese should have been a little warmer to eliminate those lumps. Fortunately they're very small and will work out as the milk and vanilla are added.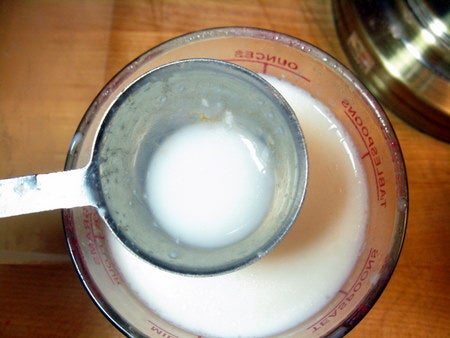 The milk/lemon juice is ready to go;, small chunks have formed. The more fat in the milk the more "clabber" you'll see. Our milk is 1%, so the pieces are very small.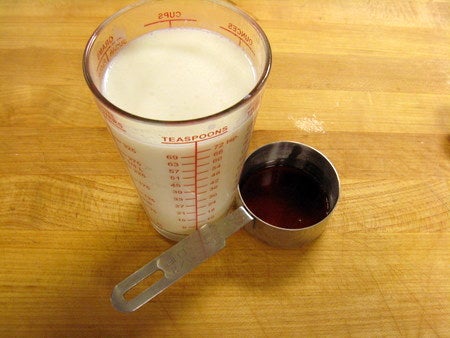 I thought you might like to see my "faux mise en place." Mise en place is French for "everything in its place". You know it better as all those tiny little bowls of ingredients set in front of a TV chef so they don't have to search for anything. Don't get me wrong, it's very helpful as a way to make sure you've included every ingredient, but I don't want to wash all those little bowls. You can bet your bippy Bobby Flay doesn't wash little bowls in his TV kitchen!
My solution is to use already used dishes or measures. I clabbered my milk in the tall glass measure, and used my already dirtied tablespoon to measure the vanilla into the same cup I used for sugar, and set them together on the counter.  This way, I won't forget either, but that's one less dish for me to wash.
Back to the recipe. Add the milk to the batter, and blend until smooth, then add the vanilla, just until incorporated. Try not to overbeat.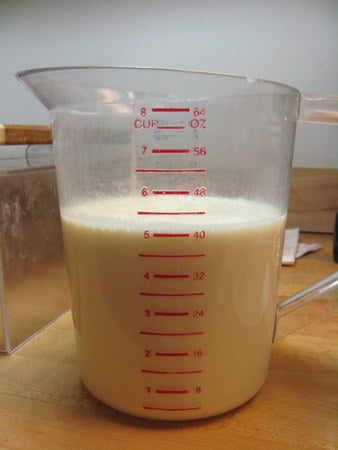 To fill the wells, I pilfered PJ's favorite 8-cup measure and poured the batter in. Looks like 5 cups exactly.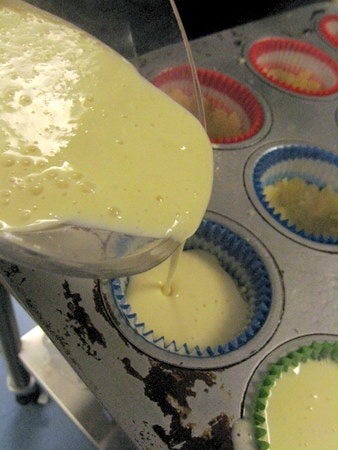 Look Ma, no spills! Well, maybe one little drip. It's hard to pour and take pictures at the same time.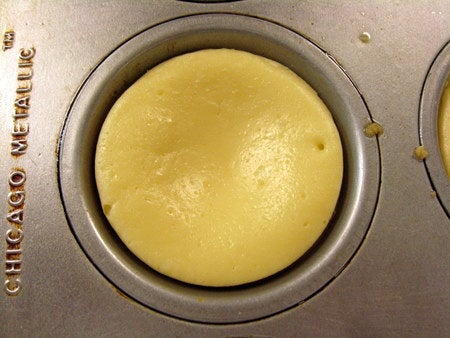 Bake the cakes at 300°F for 20 to 25 minutes, or until the tops are just set. Turn off the oven, prop open the door, and let the cakes cool in the oven for 30 minutes.
For the unlined pans, you can see the cake has pulled away from the edges ever so slightly.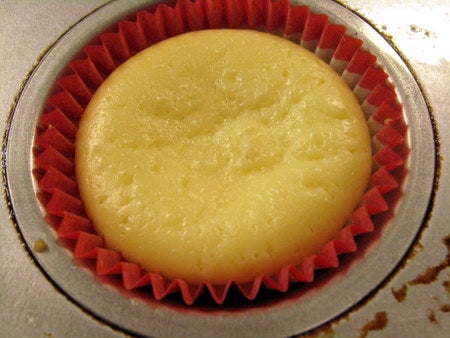 The lined pans won't pull away, but the centers will be set, and the edges just barely browned.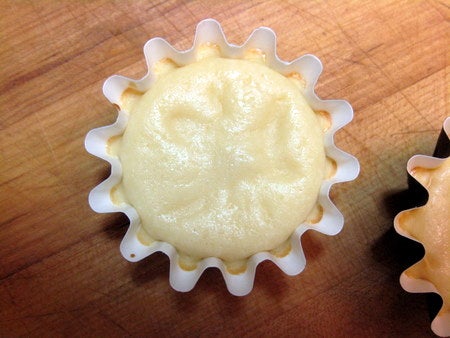 Our mini brioche pans (coming to a KAF summer catalogue near you soon!) also make  tasty tiny treats. They travel very well, and look cute to boot. These would be best served with a spoon, as they don't unmold  easily. Trés elegant.
Once the cheesecakes are just barely warm to the touch, refrigerate for several hours or overnight.
To serve, top with canned cherry pie filling, or any other fruit flavor. You can also top with colorful chips, sprinkles or, for those decadent days, chocolate ganache.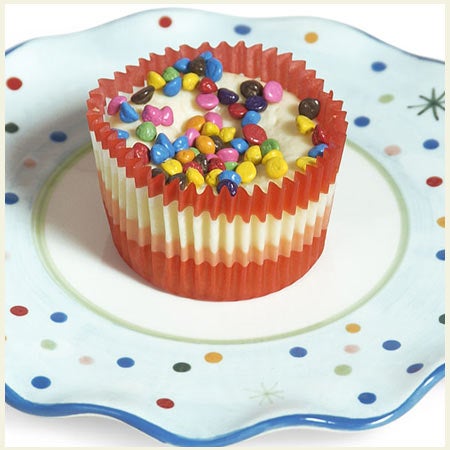 The perfect little treat to celebrate your special occasion. Who wouldn't love to say "Go ahead, honey, eat the whole thing! "
Read, rate, and review (please!) our recipe for MJ's Mom's Cheesecake
Jump to Comments