Passover is to Jews what Lent is to Catholics: a time of ritual, of family, a time of faith.
And a time when you have to stop eating some of your favorite foods.
For Catholics, it's no meat on Fridays. Not so bad, really. Adults usually enjoy fish, anything from broiled salmon to Tuna Wiggle. Kids can always get by on pizza, or mac and cheese. For the more imaginative, a cheese soufflé, spinach lasagna, or Thai stir-fry are options.
But for the Jews, the eschewed foods are flour and leavening. Which means baking, as we know it, is pretty much out the window.
Sure, there are all the matzoh-based dishes, where crushed crackers step in for flour. (Matzoh-meal chocolate chip cookies, anyone? Recipes exist...) Still, for 7 days you won't be enjoying challah, layer cakes, muffins, or all manner of other traditional baked goods.
Which is where chocolate comes in. Chocolate, in all of its luscious incarnations, is the balm that soothes even the most Passover-challenged palate.
Last year at this time we shared a recipe for Flourless Chocolate Cake, suitable for Passover. And hoo-boy, clueless Catholic girl that I am, did I ever have a lot to learn about the intricacies of both Passover and keeping kosher.
Thanks to you, loyal readers, I learned that confectioners' sugar isn't suitable for Passover, at least in some branches of Judaism. And that butter in cake makes it unsuitable as a finale to any dinner containing meat or fowl. And then there was something about the vanilla, too—alcohol is taboo?
Anyway, I'm taking a stab at Passover baking again this year. Halley, our e-commerce manager, told me that coconut macaroons might be a safe bet. Coconut, coconut flavor (alcohol-free), coconut milk (not dairy, OK for meat/fowl meals; sweetened, but not with confectioners' sugar), and chocolate for dipping. Chocolate melted with light corn syrup...
Or, let's make that honey...
...and butter...
Uh-oh, how about if we make that margarine?
See? I'm learning.
Read along with our recipe for Chocolate-Dipped Coconut Macaroons as you look at these pictures.
I decided to start with a known entity: Manischewitz. My local supermarket currently has a whole range of Manischewitz offerings on display, including these chocolate-dipped coconut macaroons. They gave me a starting point, to try to match size, and texture of the filling.
Most of the coconut macaroon recipes I found were nothing more than shredded coconut, and sweetened condensed milk (milk and meat? Hmmm...) But to my taste, they made a VERY sweet macaroon, one where sugar, not coconut, was the overwhelming flavor. So I decided to raid the King Arthur pantry: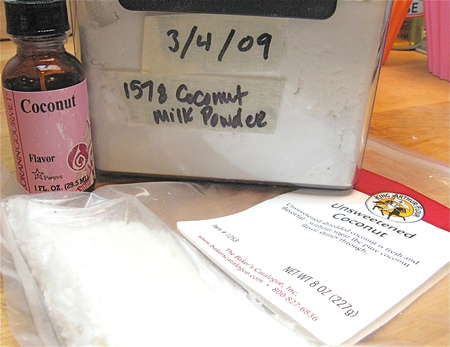 You can make coconut macaroons. And then you can make COCONUT macaroons. Here are three ingredients you might want to try: extra-strong coconut flavor, coconut milk powder, and unsweetened coconut.
Coconut flavor is the coconut equivalent of vanilla extract, only much stronger. Just 1/4 to 1/2 teaspoon in your treats gives them wonderful coconut flavor. Coconut milk powder is simply dried coconut milk. Add it to cookies, cake, muffins, sweet bread, etc. Or reconstitute with water to make liquid coconut milk; saves having to buy a whole can when you only need 1/4 cup.
Finally, unsweetened coconut is nice in this particular recipe. To my taste, regular sweetened coconut makes macaroons cloyingly sweet.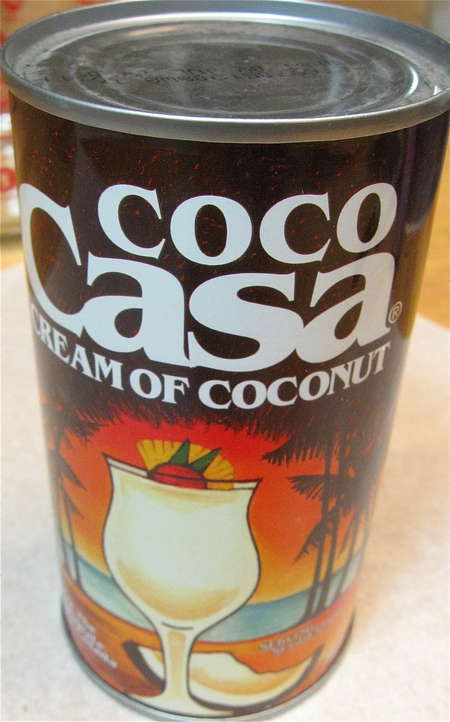 And here's another ingredient perfect for this recipe: cream of coconut, which you can find in the mixed drinks section of your supermarket. You know how most macaroon recipes call for sweetened condensed milk? This is condensed sweetened coconut milk.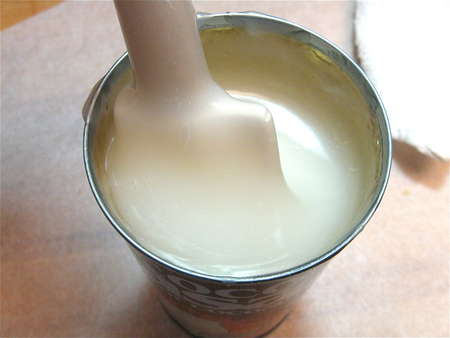 Looks like, acts, and weighs the same as sweetened condensed milk.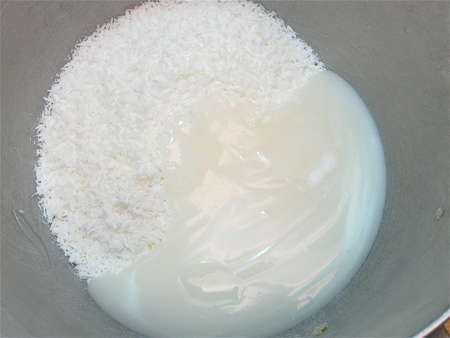 So, talk about simple. Combine coconut, cream of coconut, salt, and coconut flavor.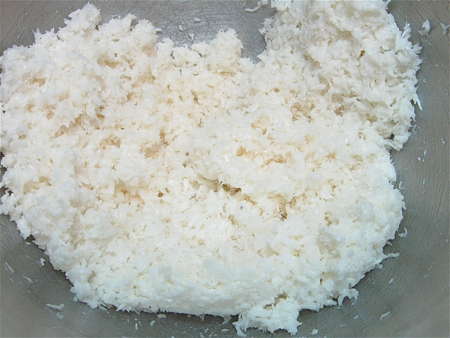 Mix thoroughly.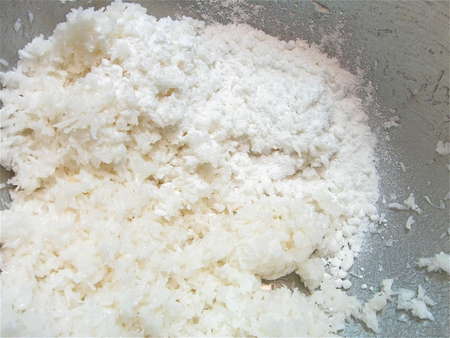 Add coconut milk powder, if desired. I found that it helps hold the mixture together, making it easier to scoop. Do you absolutely have to use it? No. But it'll make a smoother macaroon. And if you like coconut, I promise you'll find lots of other uses for it, including this wonderful Pepperidge Farm-style Coconut Cake.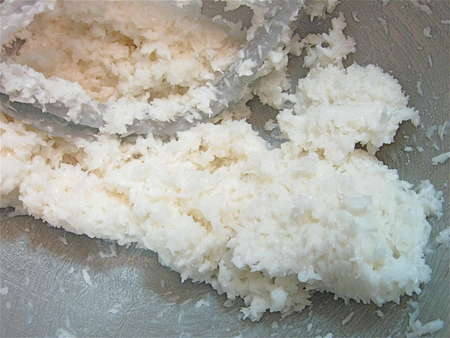 Stir till the coconut milk powder is thoroughly dispersed throughout the mixture.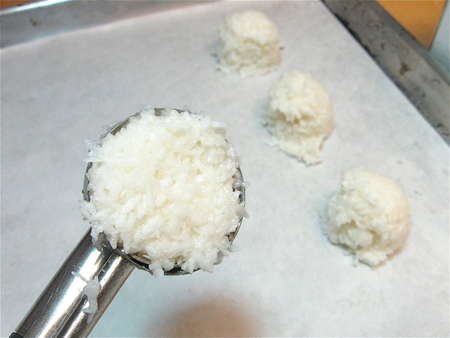 Now, grab your tablespoon cookie scoop, and scoop out level balls of the mixture. You're making fairly large macaroons here; they're about as big as a ping pong ball.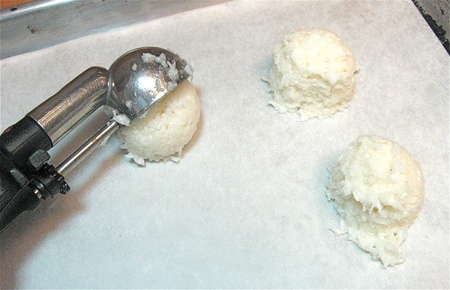 Plop them onto two parchment-lined (or well greased) baking sheets. These first ones I was scooping didn't include the coconut milk powder; notice how they're pretty shaggy. The milk powder helps hold them together.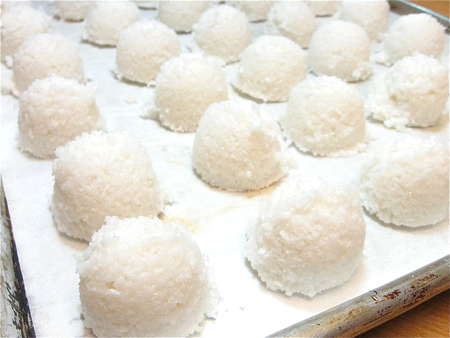 Here we are, scooped and ready to bake.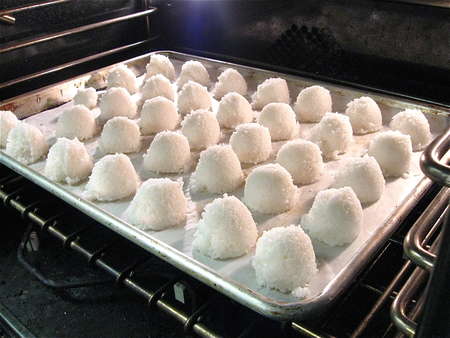 Place in a 350°F oven.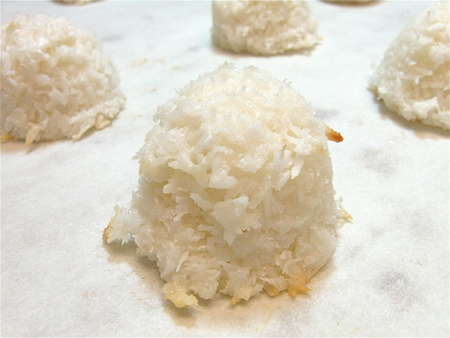 Bake for about 10 minutes. They might be JUST barely beginning to brown. But for chewy-gooey macaroons (which I was informed is the RIGHT texture for coconut macaroons), don't overbake.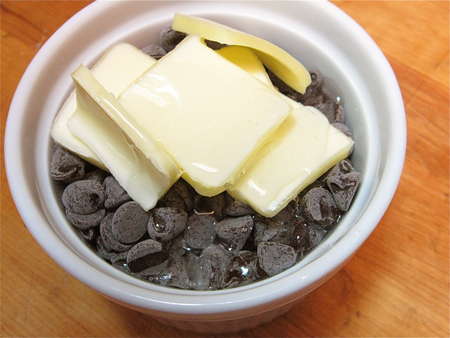 Wait till the macaroons are cool, then make the chocolate coating. Combine chocolate chips, butter or margarine, and light corn syrup (or honey, for Passover) in a microwave-safe bowl.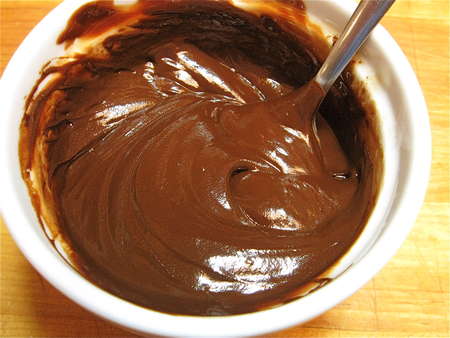 Microwave till the chips are soft, then stir till smooth.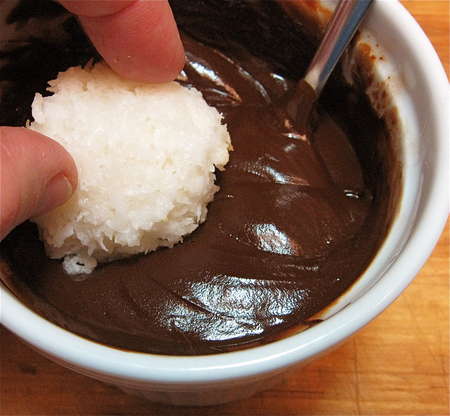 Working quickly, dip half of each macaroon in the chocolate.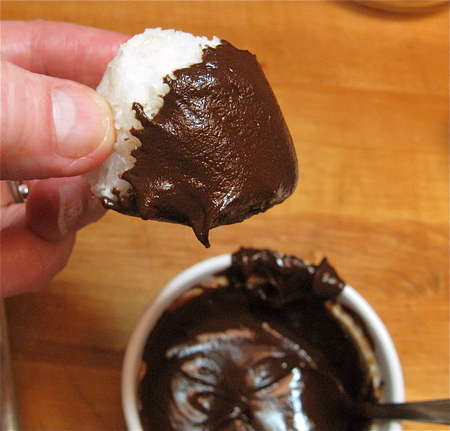 Like this.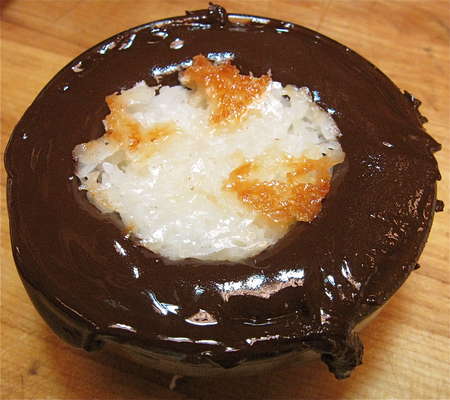 Or coat the entire top surface by submerging the macaroon in the chocolate upside-down. Don't cover the base; it's not necessary.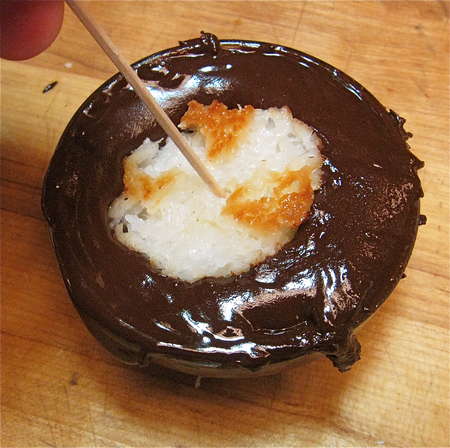 And how do you get it out again? With a toothpick or cake tester. Just stab it...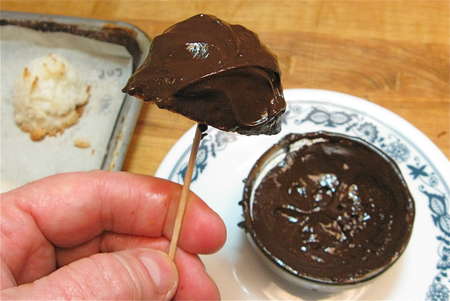 ...and haul it out.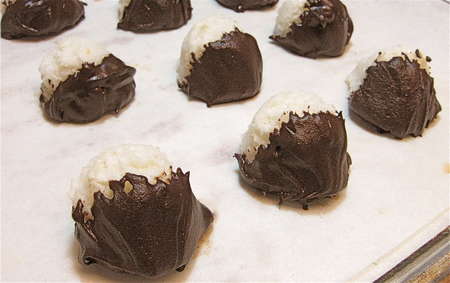 Place the macaroons back on the parchment so the chocolate can set.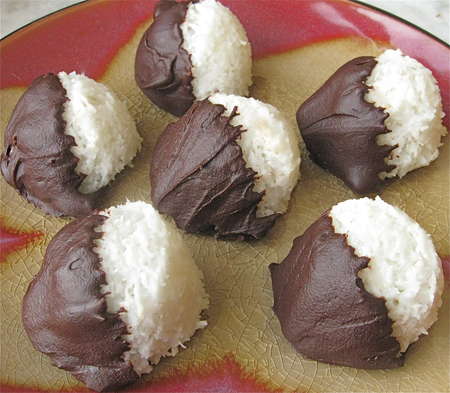 Serve to coconut lovers. And/or those seeking a Passover-friendly dessert.
Read, rate, and review (please!) our recipe for Chocolate-Dipped Coconut Macaroons.
Buy vs. Bake
Buy: Manischewitz Dark Chocolate Covered Macaroons, $6.39/eight 1-ounce macaroons; 80¢/ounce
Bake at home: Chocolate-Dipped Coconut Macaroons, 32¢/ounce