So, you think you want to come work in the King Arthur test kitchen, huh? Where everything we bake comes out perfect on the very first try.
NOT.
We have a "three strikes" rule here in the test kitchen. Try a recipe. If it fails the first time, strike one. Flops the second time, strike two. Still no good on the third attempt — "Yer out!" Ditch it, baby, life's too short.
(Though we all confess, like mothers with a problem child, to allowing four, five, sometimes even six strikes for certain favorite recipes that we just KNOW will be successful if we simply don't give up on them...)
We know all of you have made mistakes. Burned cookies. Doorstop bread.  Muffins that are for the birds—literally. And we, the King Arthur test bakers—Sue, Susan, Andrea, MaryJane, and me, PJ—are here to tell you: we're with you. We feel your pain.
But we also know that in the end, laughter is the master of disaster.
So now, without further ado, we bring you April Fools in the Test Kitchen: 2009, the Year in Review.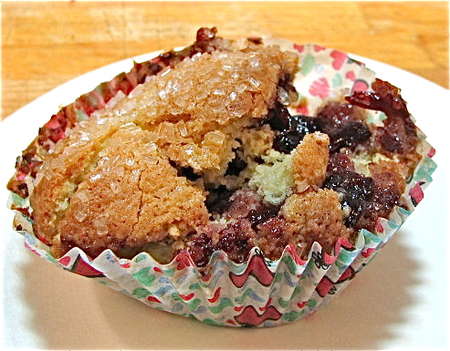 This is the way the muffin crumbles. Sue, looks like there was a little bit too much jam in the center of that muffin, huh?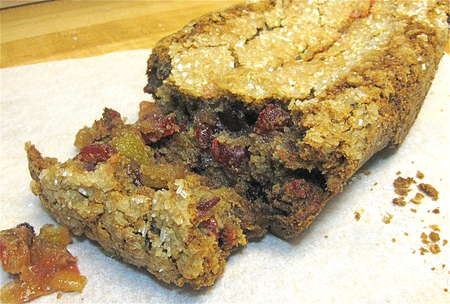 And then there was the Christmas fruit bread I put in the oven, and forgot to set the timer. Who-knows-how-long later - "Well, it LOOKS done." Who-knows-how-long turned out to be clearly-not-long-enough.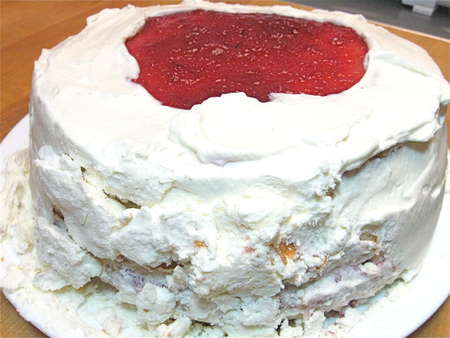 Susan had a slight mishap while carrying this whipped cream cake from the kitchen to the studio for a photograph.
No longer camera-ready; very much YUM-ready.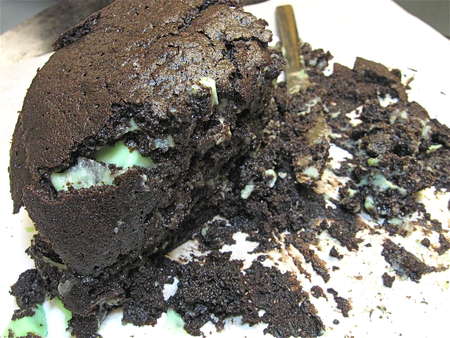 Susan again—and an experiment with very thin layers of chocolate cake and green mint filling. Again, while nothing much to look at, this cake was enjoyed by all. Beauty is only skin deep. As it turns out, ugly is, too.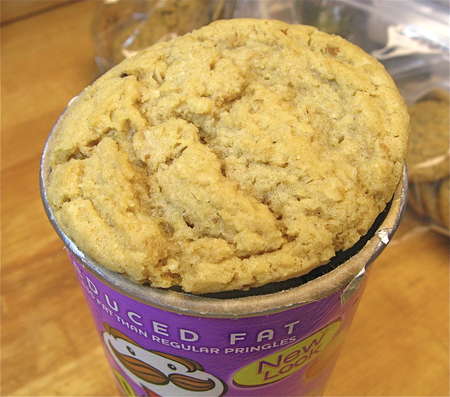 Your mission, should you choose to accept it: ship cookies to faraway places the easiest way possible. Lightbulb moment: Pringles can. Bet a tablespoon cookie scoop, carefully leveled, is going to make a cookie that's EXACTLY the size to slide down into the can... or not.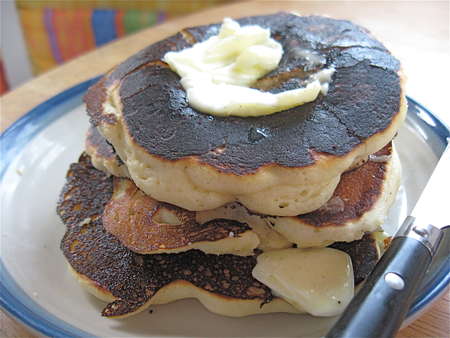 Hypothesis: Enough butter will make burned pancakes look enticing. Reality: this particular sow's ear never even came close to becoming a silk purse.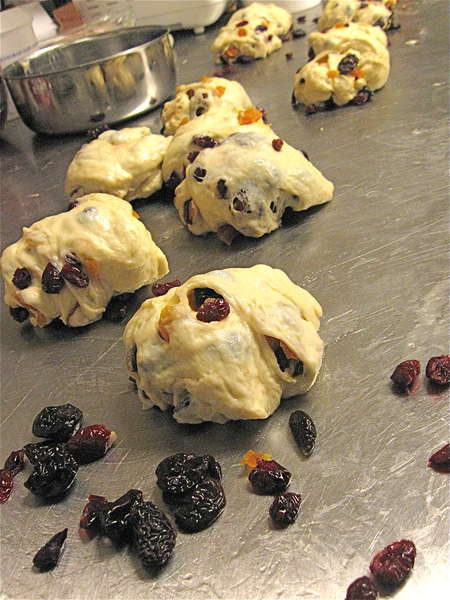 GET into that dough, you gosh-darned little... Andrea, are you SURE this recipe called for 3 cups of dried fruit?
And now, for all of you refugees from the '60s, cast your mind back on the Doors' "L.A. Woman." Maestro, the music please: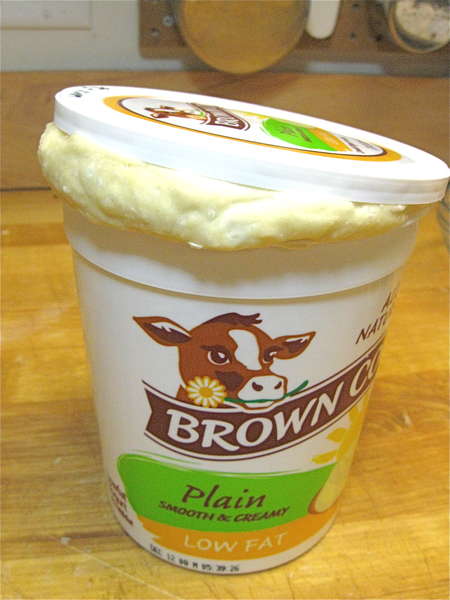 The dough is rising...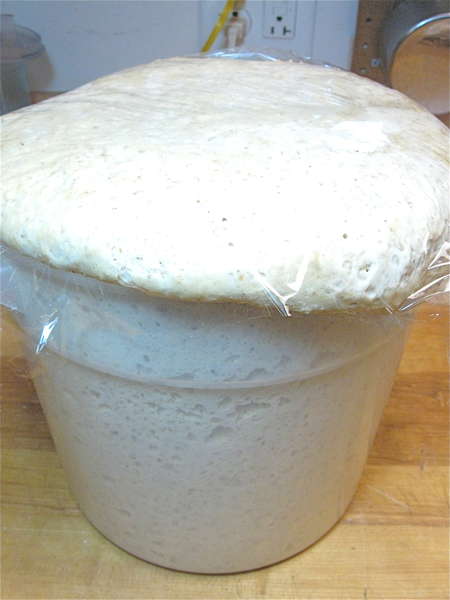 Keep on rising...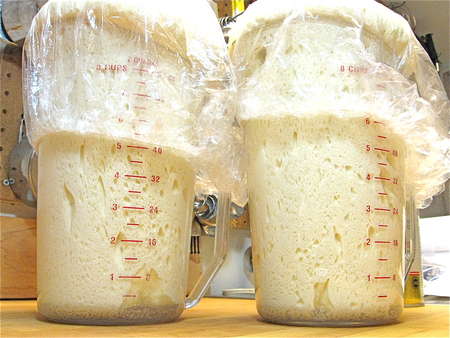 Rising, rising...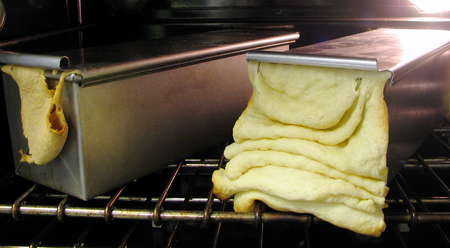 Mr. Dough rising... Gotta keep on rising...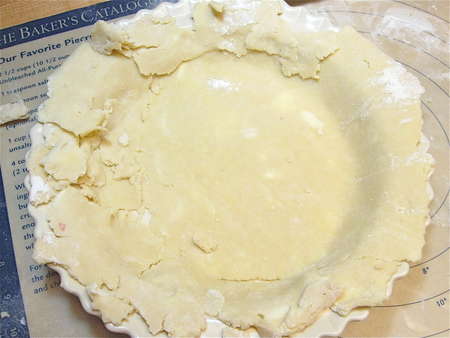 Pick up the rolled crust, and transfer it to the pie plate. Yeah, right. Now I remember why I don't use pastry flour in a high-butter crust.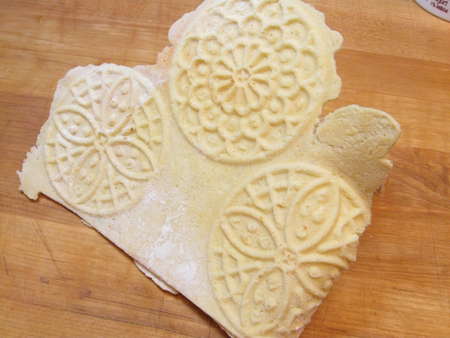 Scoop pizzelle batter into iron. Guess amount. Guess time. Pizzelle as sculpture. Guess again!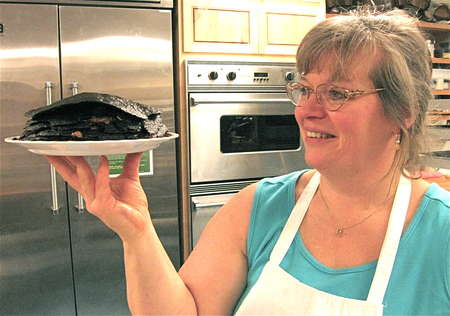 Susan, Susan... Remember, manage expectations. The title of this recipe is... Chocolate Flop?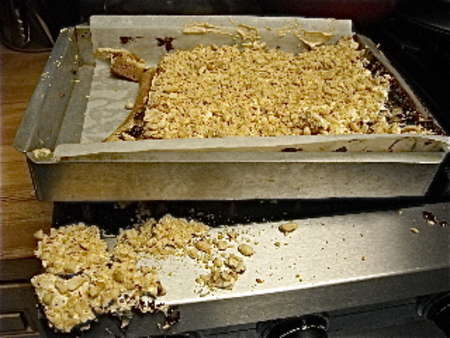 And then there was the hot pan of blueberry streusel bars that met a jarring end when it was juggled, dropped onto the stovetop, and deposited much of its contents into the burners. Gives new meaning to the term "hot stuff coming through."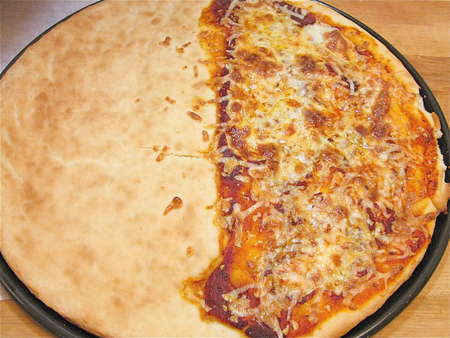 And finally—Sue, what were you thinking? Tomato sauce conservation? The art director needed only an edge of pizza for that cover shot? Well, half a pizza is better than none; but a whole pizza would have fed us all!
C'mon, folks - share your best kitchen faux-pas. My favorite from last year came from a reader who detailed what happens when you decide to toss pizza dough in the air, just like the pros, only you forgot to turn off the overhead ceiling fan...
Confession is good for the soul. Your turn—