Ahhh, the first breezes of spring are beginning to blow, and the hazy days of the holiday season are beginning to fade into memory. I think I've found the last of the ornament hooks that fell off the tree, and the gift cards are nearly all used up.
Despite being happy to be moving on with my year there are things from the season, I'm missing it already. I think  roast turkey with gravy is perfection; I really do love holiday music; and I didn't get to make a gingerbread house again this year.
Years before I came to King Arthur, I was teaching kindergarten/pre-school, and had plenty of vacation time during the holidays. As you can expect, here at King Arthur the holiday season is our busiest time of year. And more often than not, we're all working overtime to get your goodies to you in time. So little things like gingerbread houses can fall by the wayside.
BUT WAIT! Thanks to my local library, a couple of handy gingerbread kits, and a trip to the dollar store for candy, my gingerbread fantasies have come true this year.
First, let me give inspirational credit to two great books. One is "How to Build a Gingerbread House," by Christina Banner; the other is "Gingerbread Houses," by Christa Currie. Ms. Banner's book has wonderful photos for gingerbread houses year-round; and Ms. Currie's book has delightful illustrations with an Old World feel to them. Both offer detailed information on planning, making, baking, and decorating gingerbread houses. And both will want to make you run right out and start baking houses.
While I do love to bake, things are still busy here at KAF, so I snagged a few gingerbread kits from our store (on sale, to boot! ) and headed out to buy candy. Back when my daughter Shannon was little, my sister-in-law and I would make houses with the kids on the Saturday after Thanksgiving. To make sure we still had money left over from our Black Friday shopping, we'd each bring rolls of change to pay for the candy. It was a great way to get the kids involved, as they sorted and rolled coins. And we felt that $10-$15 worth was PLENTY of candy to cover two huge houses, with some left over for snacking.
In your candy hunt, be sure to check out the local convenience store. They often have small packages of candy on a 2/$1 rack, and the selection is often quite varied and unusual. If you're shopping with kids, this is the ideal place to let everyone pick their favorite for decorating and sharing.
Other than candy, the only other changes I made to the kits were to hot-glue the houses together (they need to travel quite a bit and no one will eat them); attach them to cardboard bases; and I made an extra batch of royal icing. You can never have too much icing when making gingerbread houses.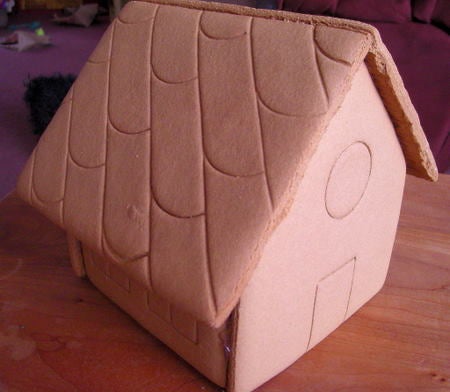 Here's the basic house.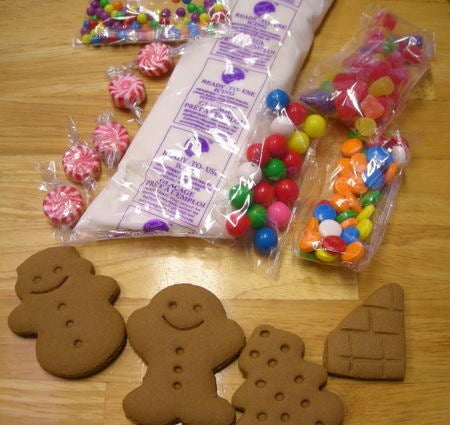 All this candy, the icing, and the gingerbread folks come with each kit. Keep an eye open for how I use them in unusual ways.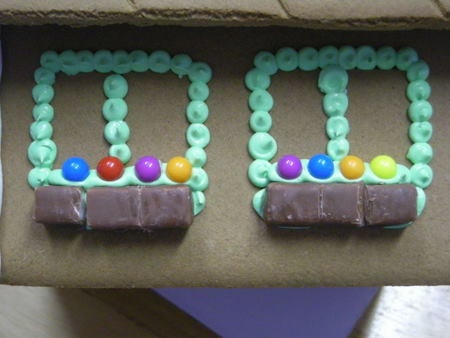 First, work on the sides of the house. Here are some window boxes made from mini-Charleston Chews, green tinted icing, and hard candies. Scoring the chocolate coating gives the impression of individual bricks.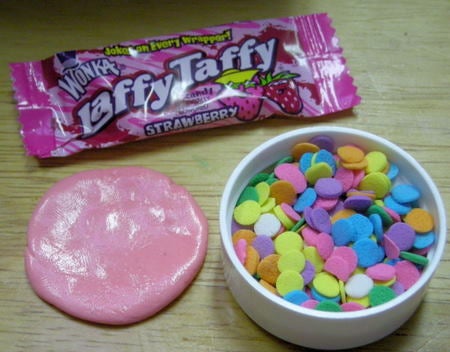 Taffy makes an excellent, pliable putty that can be molded and shaped. If you choose to soften it in the microwave use EXTREME caution, as the candy can get very hot. Here the taffy was softened and flattened to make a round window. The candy confetti can be placed onto the taffy to make "stained glass."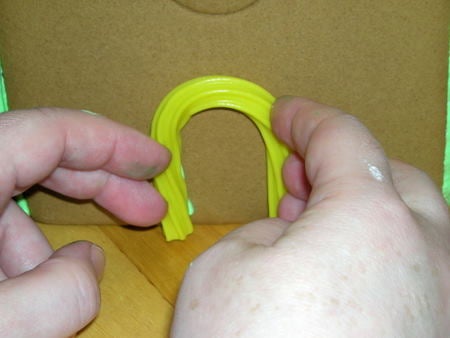 Twizzlers are so flexible, literally, they can be bent to make doors and arches and cut to fit your plans. You do need to hold them in place until the icing dries a bit.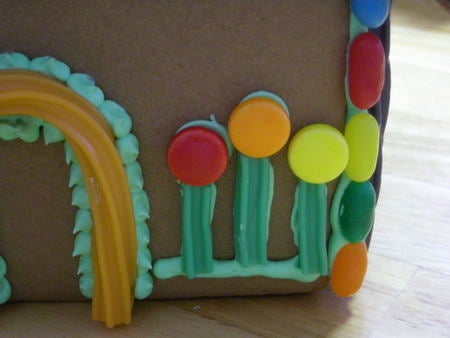 Green Twizzler pieces make great flower stems with lots of texture. They're easily cut with scissors, a great job for young baker/decorators.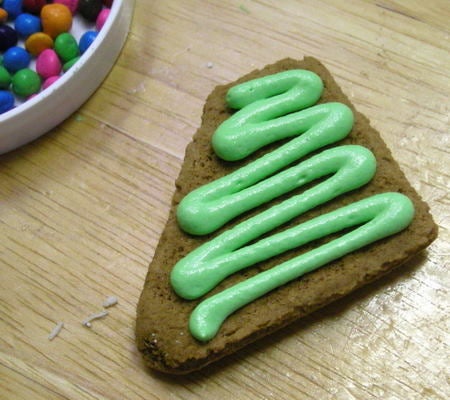 Before beginning the roof, let's cover the chimney. A flat dish of candy pieces, and a healthy swirl of icing...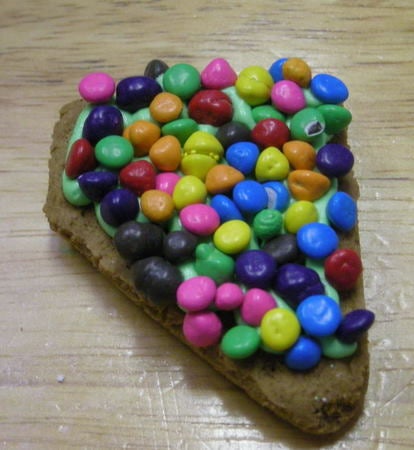 Press the icing into the candy and voilà! Tiny "stones" give your chimney a realistic look, while the colors keep the house bright and cheerful. Once the first side dries, repeat with the second side to fully cover the chimney.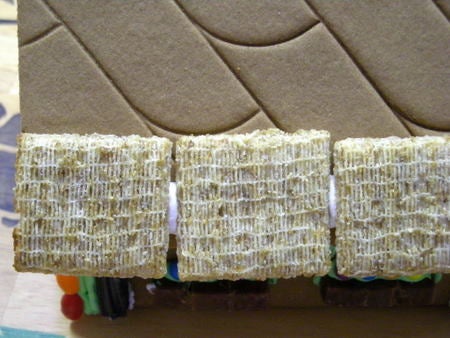 Once your side walls are done, you can begin on the roof. For our spring house, only a thatched roof will do. Triscuits make perfect thatch, and are easy to handle. Begin at the bottom edge of the roof and pipe a thick line of icing. Lay the roof tiles and press into the icing.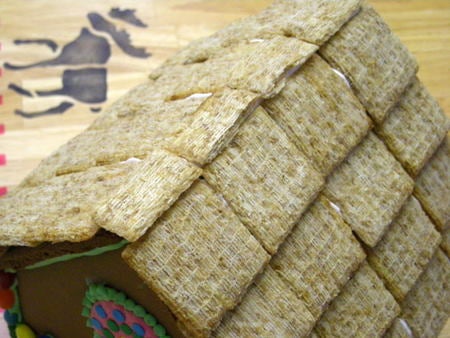 Continue piping icing and laying roof tiles until you reach the roof peak. If you want to offset the tiles, you can use a half tile to begin the second row and break tiles as needed to follow the pattern. Cover the peak with icing and small pieces to mask any gap.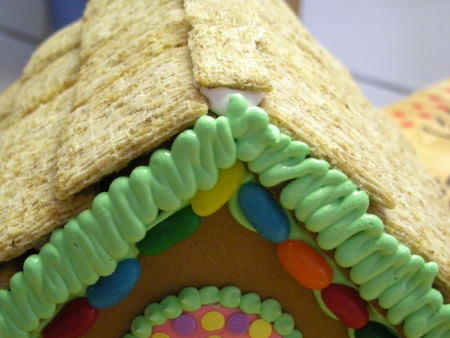 Apply trim to the roof and decorate the edges of the peaks. The "stained glass" is attached with a dollop of icing, and the edges trimmed with icing for a finished look.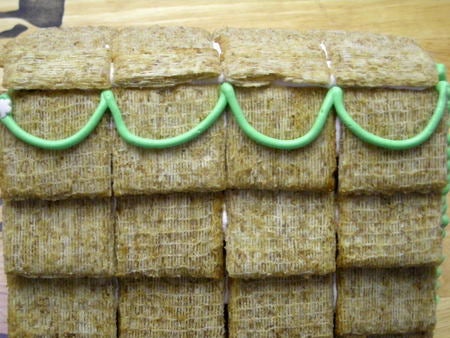 Time for some spring flowers. Pipe a swag of icing across one row of roof tiles. Working quickly, press sugar flowers or small candies into the icing.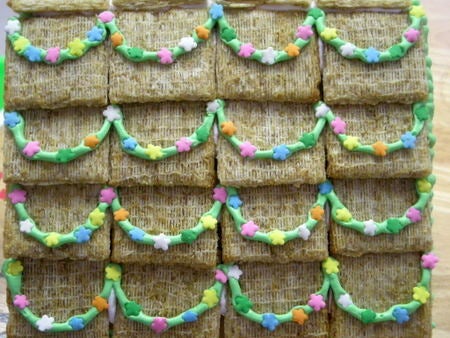 Continue until you reach the bottom edge, then repeat on the other side of the roof.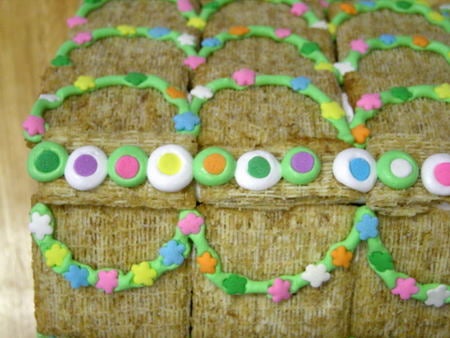 Trim the top of the roof. Now is a good time to take a small break and let the roof decorations harden a bit. As the house becomes more elaborate, moving it is more difficult; having drier decorations helps. Nothing is more frustrating than sticking your finger into your just completed icing decoration!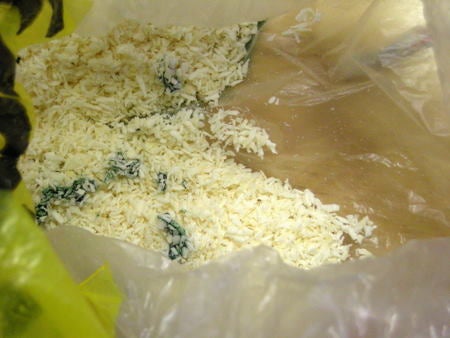 For spring grass with texture, try tinting coconut with food coloring. Add a few drops, and squish and squeeze in the bag until the coconut is evenly coated.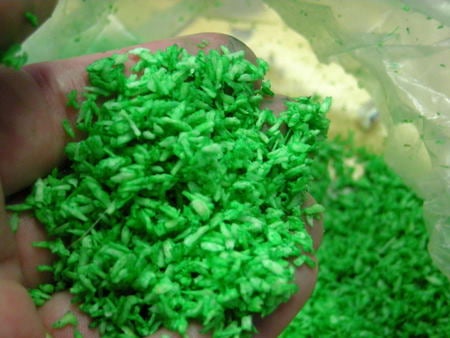 MMMmmm, fresh green grass, and it's completely edible.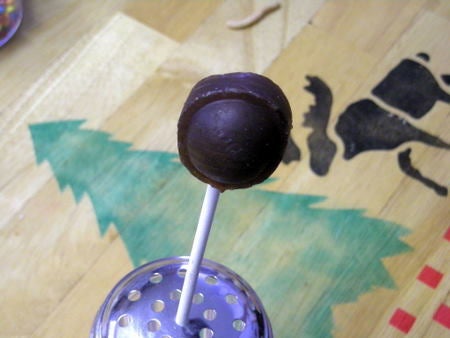 When I began the spring house, I knew I had to make lollipop trees. This sugar shaker is perfect as a drying rack.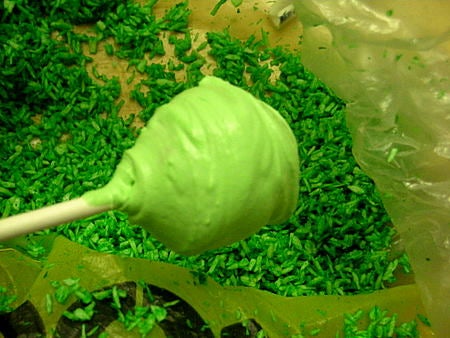 Cover the pop in green icing, and coat with the coconut. Shake off any excess over the bag.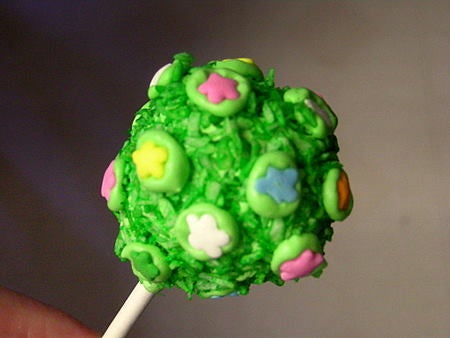 After drying for 10 to 15 minutes, use small dabs of icing to add flowers or decorations to your trees. Let the trees dry for at least an hour or two, and place them on your scenery last. They're the hardest decorations to work around, so adding them last saves you untold hassles.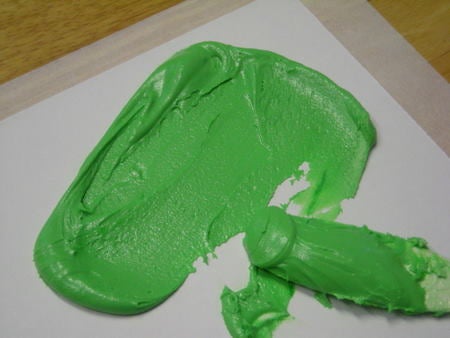 To create a base and yard for your house, cardboard cake bases are excellent. You can also use recycled cardboard, Styrofoam or even wood. Some folks choose to use fabric, or fancy wrapping paper. I like to spread on a nice thick layer of icing. For a grassy look, you can sprinkle with the coconut.
Our bunny and carrot decos were perfect for adding a garden in front of the house. Just a dab of icing will hold them where you want.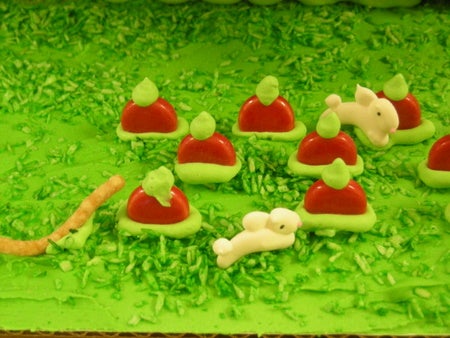 If it's spring in New England, there must be worms in the garden! Another new use for chow mein noodles. You'll be surprised at the new and different ways you begin to view your pantry when you start creating gingerbread houses.
Add a final few personal touches, and your spring house is ready to ring in the new season.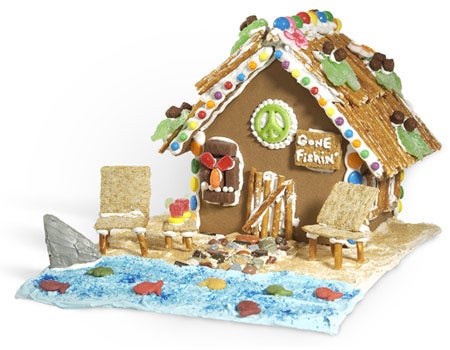 I couldn't really stop once I started, so let's take a peek at the Beach House. I'll just give you the highlights as the techniques are quite similar to the spring house.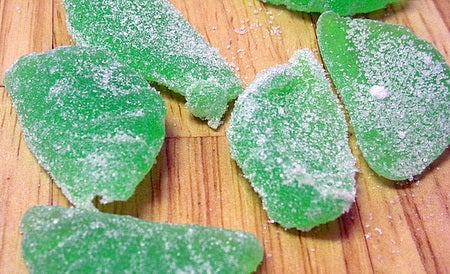 Fruit slices are colorful and flexible, and can be cut or rolled, flattened or squeezed into your desired shapes. These green slices were cut lengthwise into thirds. Wetting your scissors, or a spritz of cooking spray helps with the stickiness.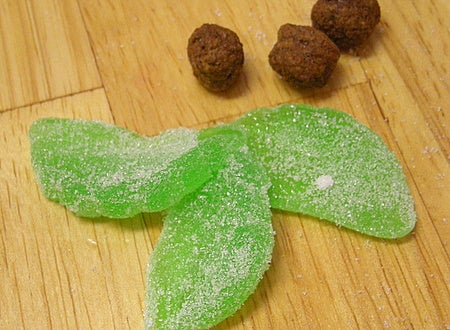 Arrange 3 "leaves" together to make the palm fronds. Cocoa Puffs cereal makes excellent coconuts. Attach with a dab of icing.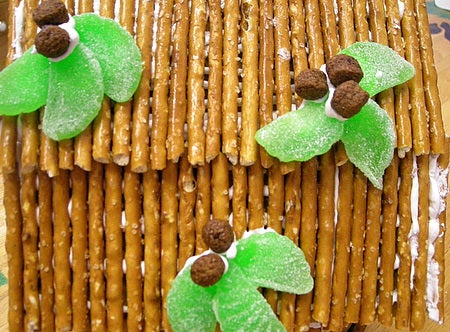 Use a healthy amount of icing to attach the palms to the pretzel rod roof. The rods were attached the same way as the Triscuit thatch, working from the bottom up. Remember, use plenty of icing.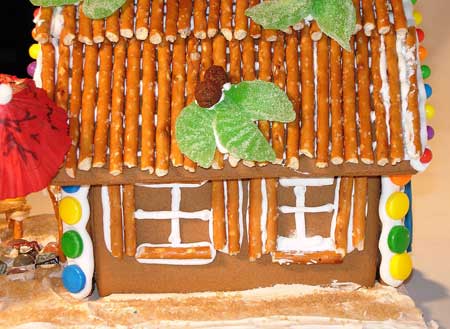 For the sides, pretzel sticks made great bamboo shutters. Demerara sugar makes great sand too!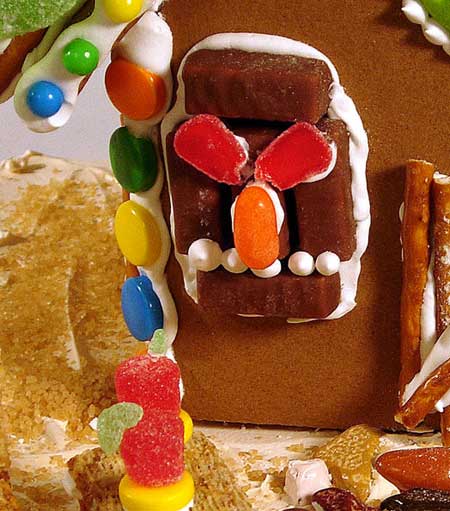 What's a groovin' beach shack without a tiki head? There are those mini Charleston Chews again. The eyes are gumdrops slices and a jelly bean nose completes the idol. Can you feel the power of the idol!?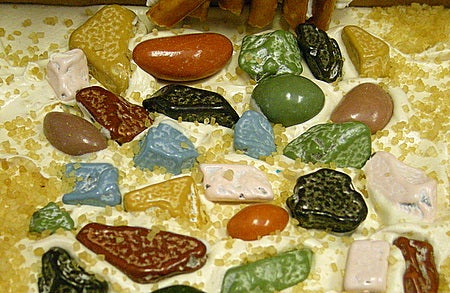 The path for this house is made of chocolate rocks. Yep, chocolate rocks. They are similar to M&M's with milk chocolate on the inside and a candy coating shell. You can often find them in upscale chocolate shops, or the bulk candy section of a candy shop.
Remember the gingerbread folks and chimney pieces included with your kit? Try seeing them in new ways, like cutting off the chimney base...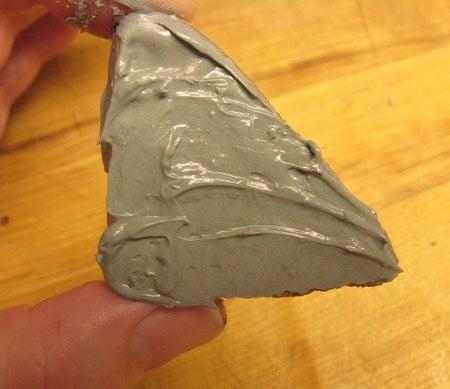 And icing it gray. Perfect shark fin! For my fellow Parrotheads (fans of the singer Jimmy Buffet) you can hum a few bars of "Fins" as you work. Or at least the theme from Jaws. Da dum, Da dum....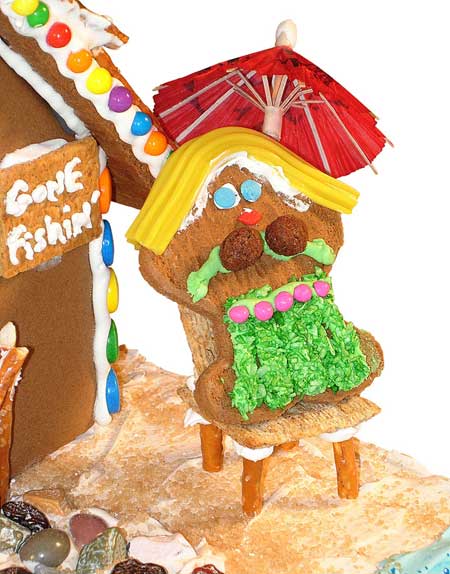 The gingerbread kid included in the kit got a tropical makeover. The leftover coconut from the spring house makes a pretty good grass skirt. Gotta love those Cocoa Puffs.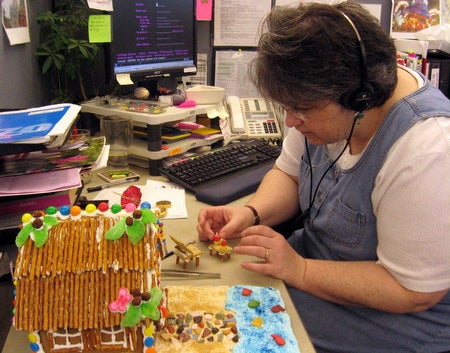 After finishing the house, it traveled with me to KAF and faired the trip well. Unfortunately, just day or two before the photo shoot, it suffered some damage from Hurricane Jim (aka web team member Jim Taylor) so I spent a few minutes at my desk repairing the beach chairs, and anchoring the drinks to the table. No fancy tools, just a bag of icing and a butter knife.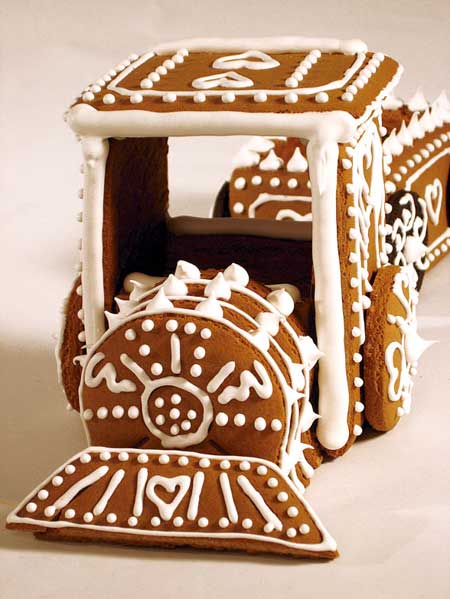 Last but not least, I wanted to try out the train. I was running low on candy so decided to use just white icing. The contrast on the dark gingerbread is stunning.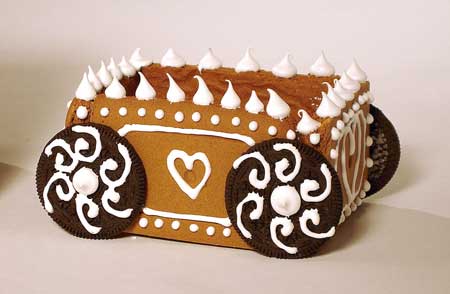 Oreos with the cream centers removed made cute wheels for the boxcar.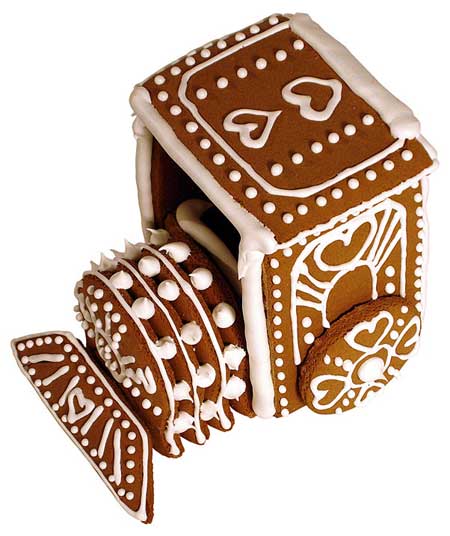 Simple dots and swirls can make an empressive little engine. I know you can... I know you can....
I hope you will find yourself inspired to think outside the holiday box, and try a gingerbread house anytime of year. Have fun!