This bread is so easy, you can make it with one hand tied behind your back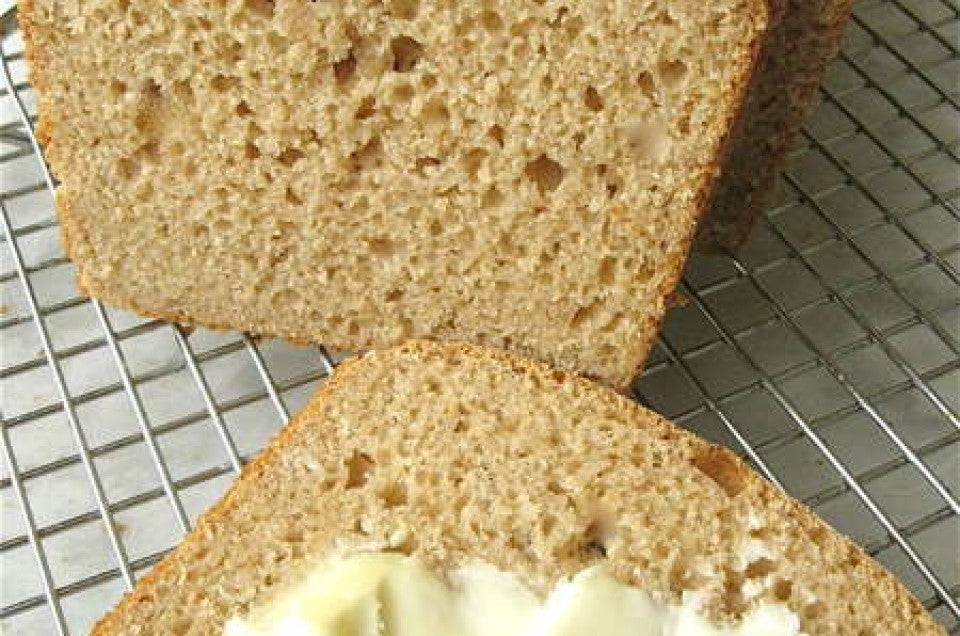 I have a friend, Karen, who's a CPA. And at this time of the year, she's a very, very, VERY busy CPA. Tax season is her yearly Olympic marathon, Indianapolis 500, and Ironman Triathlon—all rolled into one (and please excuse the mixed sports metaphors.)
Karen came to my house for a party last Saturday night, having worked all day on tax stuff. All those 1090-S, W-4, 1099-MISC forms make me want to run and hide my head in the sand… which is why I give my taxes to Karen to figure out. It's one of my biggest annual self-indulgences—to NOT have to sweat bullets over governmental bureaucracy at its best/worst.
So Karen comes through the front door followed by her husband, Terry, toting a baguette and artichoke dip, their contribution to the potluck.
"Karen, I can't believe you had time to make this…" I begin.
"Oh, no," she cuts me off. "It's a King Arthur Bakery baguette, and Terry made the dip. With my recipe."
"BUT—" And she pauses, her eyes brightening. "I've been making that no-knead 100% whole wheat bread every week. I DO have time for that. It's so easy, and SO good!"
I draw a blank on the recipe Karen mentions, having been immersed lately in no-knead pizza crust, Harvest Bread, and other no-knead treats. (No-knead sticky buns, anyone? Ah-ha, piqued your interest. Coming sometime to a blog near you…)
Then I remember—oh, THAT no-knead bread—the one from our 2006 Whole Grain Baking cookbook. Which means we were working on the recipes for the book in 2005. Were we ahead of this no-knead curve, or what?!
Or course, after Karen reminds me of the bread, I have to make it first thing Monday morning. It comes out beautifully—moist, tasty, and NO KNEADING REQUIRED. Now I'm anxious to resurrect this recipe and share it with as many folks as possible.
Hey, kids—let's write a blog!
And here it is: No-Knead 100% Whole Wheat Bread.
Let's begin with my favorite whole wheat flour, perfect for yeast bread: King Arthur 100% Organic White Whole Wheat Flour. For some reason, yeast seems to love the extra something in organic flour, because bread made with this flour always rises higher. Even though it's 100% whole wheat, you can still get a very nice rise out of it.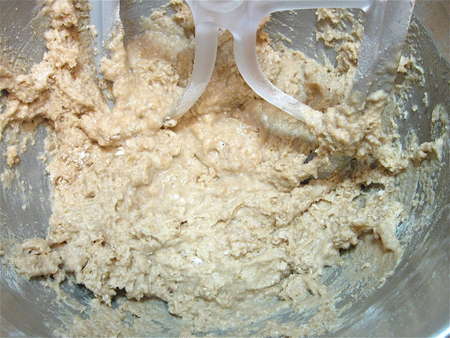 Add water, orange juice, melted butter or oil, your choice of syrup: molasses, maple, honey... I actually prefer brown sugar corn syrup. Mix to make a wet dough.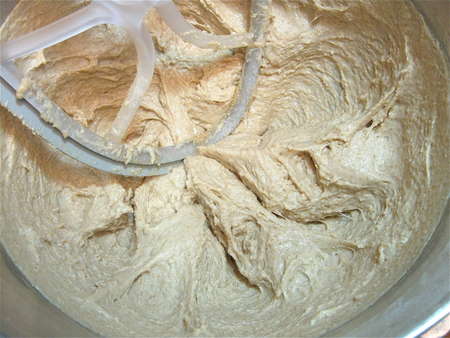 Beat for 3 minutes at high speed in a stand mixer, using the flat beater. Alternatively, you can knead this in the bread machine for 15 minutes or so. In which case it's no longer "no-knead" bread, but is still fairly effortless.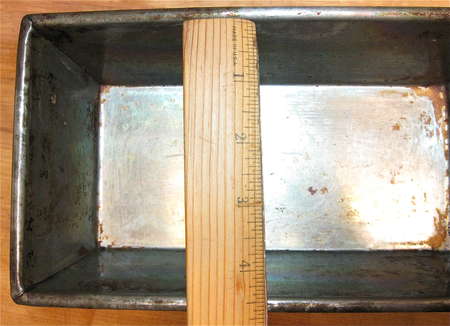 OK, if you've already heard this rant about how the size of your bread pan matters, scroll down. If not, read on. The standard-size loaf pan for yeast breads measures 8 1/2" x 4 1/2", inside/top dimensions. Just so I'm perfectly clear, here's 4 1/2"...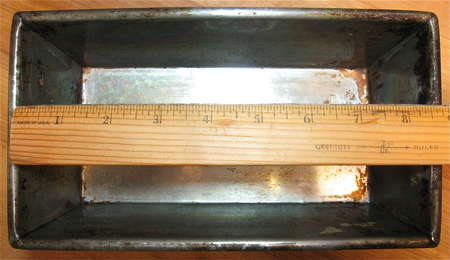 ...and here's 8 1/2". If you measure your pan and find it's 9" x 5", that makes it 30% larger than an 8 1/2" x 4 1/2" pan—believe it or not. If you use a 9" x 5" pan in a recipe calling for the smaller, standard pan, your bread won't rise as high, nor dome as nicely. Caveat emptor.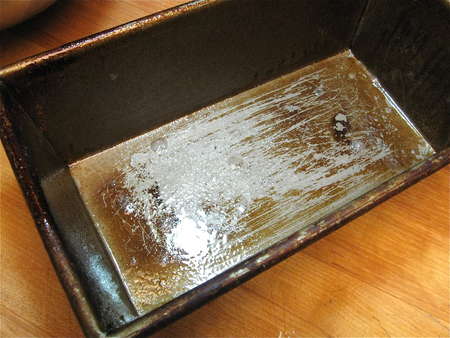 Grease your 8 1/2" x 4 1/2" pan thoroughly. (Yes, this pan is old, beat up, and has produced many, MANY loaves of delicious bread. It's one of our original Chicago Metallic pans. We were a  bit uneasy showing such an "ugly" pan in public, but to me, it simply looks well-used... and well-loved.)
Anyway, back to greasing your pan. A light spritz with your non-stick vegetable oil spray isn't enough; you need to really lay it on here, as this bread dough is wet and tends to stick. We all use Everbake spray here in the test kitchen, as it doesn't leave a sticky, dark residue on your baking sheets like other sprays do. Plus it comes in a nice, big can—more bang for your buck.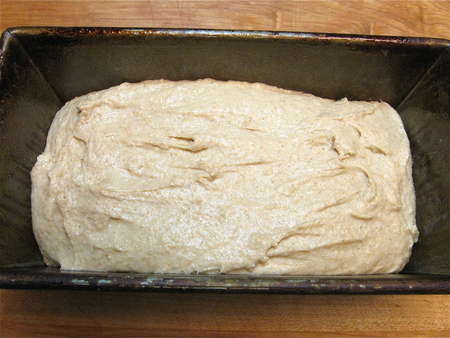 Scoop the wet dough into the pan. Use your wet fingers to gently press it to the edges of the pan.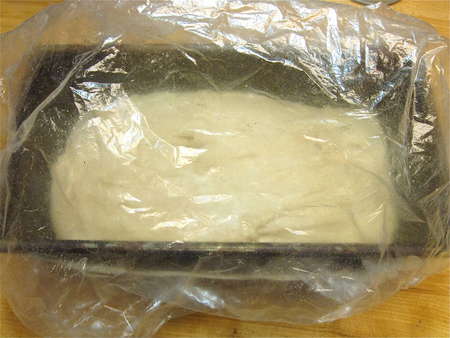 Cover with your favorite pan cover; mine's a shower cap.
Let rise till the bread is just barely crowning over the rim of the pan, about 60 to 90 minutes.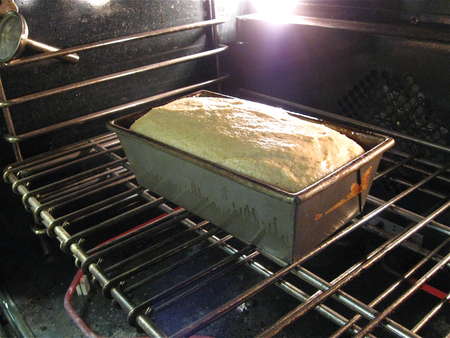 Place it in a preheated 350°F oven, and bake.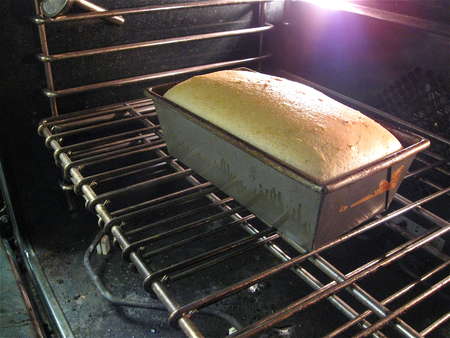 Notice how nicely the top smooths out as the bread bakes.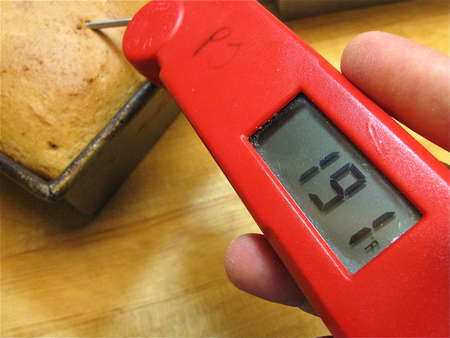 Is it done? Your instant-read thermometer reveals the loaf's inner secret: 191°F. Since the range for this bread is 190°F to 195°F, yes, it's done.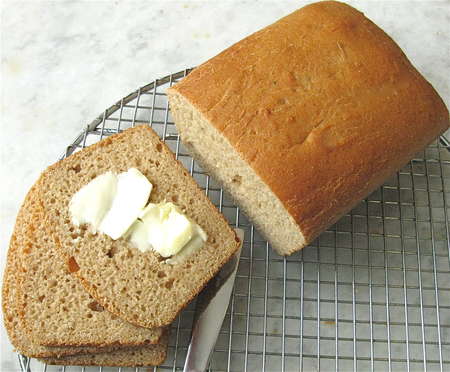 Remove it from the oven, cool, slice, and butter. Or peanut butter.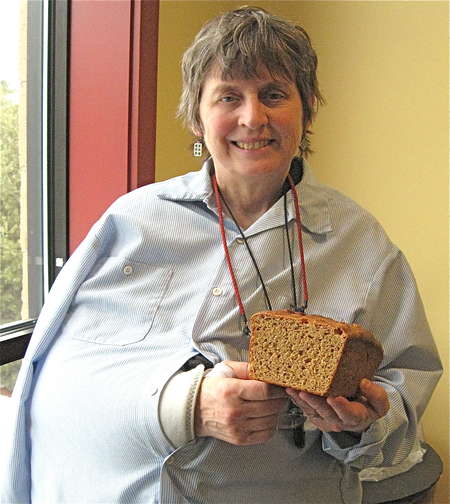 Now, didn't I tell you this bread was so easy, you could make it with one hand tied behind your back? I currently have one hand tied (in front) due to shoulder surgery. No-knead bread made with my left hand (and I'm a right-hander)? Not a problem!
Buy vs. Bake
Buy: Fiber One 100% Whole Wheat Bread, 24-ounce loaf, $3.99; 17¢/ounce
Bake at home: No-Knead 100% Whole Wheat Bread, 28-ounce loaf, $2.05; 7¢/ounce