One of the things I love most about writing for this blog is the stories we get to share with our friends, fans, and fellow bakers. It's great to connect with folks who share a love of the same things that make you glad to get up and come to work every day. Baking, cooking, and food are a big part of my life, and sharing that with others each day makes for a satisfying and rewarding day at the office. But what about at home?
From reading other posts, you may know that my husband David and I share a love of cooking together, but the story really goes much deeper than that. You see, David and I have known each other for 41 years now (and I just turned 41!). I like to say we first met in a cradle.
In fact, our mothers were friends when they were teens, and remain friends to this day. David's parents were married first, and when my parents were wed, my mother borrowed her wedding dress from David's mother, Barbara. When the children started arriving, David's sister Kim was the oldest, followed by my brother Andy, then David, followed by my brother Mark, and then me.
As we grew up, our families remained in touch, though we lived in different states. A few times a year we would travel to their house in rural New Hampshire, a world away from our small city apartment in Massachusetts. There would be romping in the woods, sledding, sugaring, cidering, and lots of food. I remember big spaghetti dinners, build-your-own-sandwich lunches, David's father's chili ("it'll burn the lint out of your navel") and my mother's cherry cheesecake.
As teens, we added various friends—boyfriends and girlfriends—to the mix. Relationships came and went, but our gatherings continued to feature food as a major player. Like going out for Chinese food on New Year's Eve. And sneaking out of Kim's wedding reception to go to Athens Pizza in our finery. (Hey, the hors d'oeuvres were tiny, and we were staving! Sorry Kim!)
At long last, the year I graduated from college, David and I realized our friendship was developing into something more. Even our courtship was marked with special food occasions. The brunch at the Columbia River Gorge; the truly laughable dinner at Benihana where I mistook the teacup for a finger bowl, and so many more.
As we spent more time together as a couple, we learned we each loved to cook; and we often cooked together on weekends.  I don't remember exactly when David suggested bread pudding for dessert, but I remember thinking it sounded just awful. I was picturing pieces of bread mixed in with Jell-O pudding and wanted no part of it. David's mom whipped one up anyway, and I was cajoled into trying it. Needless to say, another love blossomed that day; and I've been a fan of bread pudding ever since.
As love evolves, so do recipes. Our bread pudding used to be made with store-bought white bread, then we made it with homemade bread. One day a couple of years ago I heard of a recipe using doughnuts instead of bread, and just had to give it a try. Need I say I fell in love all over again? So join me, and we'll make doughnut bread pudding.
First, you'll need some doughnuts. After an unfortunate run-in with my bathroom scale, I chose baked doughnuts for my first batch. You can certainly use fried, or even doughnut holes. More on that later.
I started with our King Arthur apple cinnamon doughnut mix.
Preheat your oven and spray your doughnut pans well. One mix makes 24 mini doughnuts.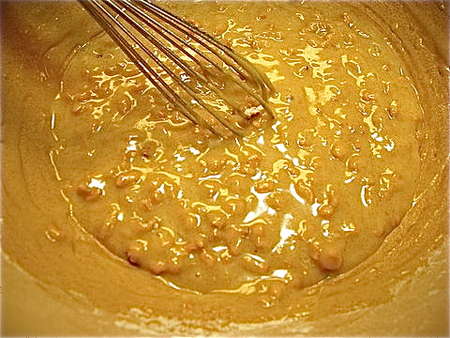 Notice the lovely chunks of apple in the mix. Those will add extra flavor and texture.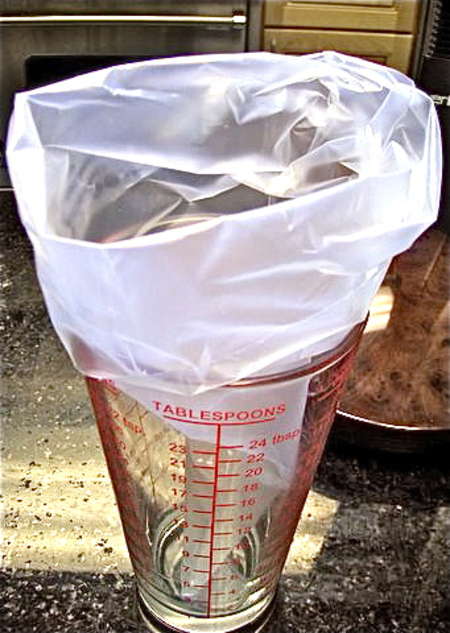 It's tough to spoon batter into doughnut-shaped wells. A pastry bag makes quick work of it. Use a tall, heavy glass to hold your bag open for you.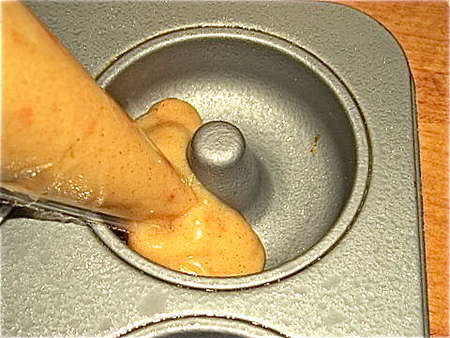 Snip off the end of the bag enough so the apple pieces will pass through. Gently squeeze and fill up the wells.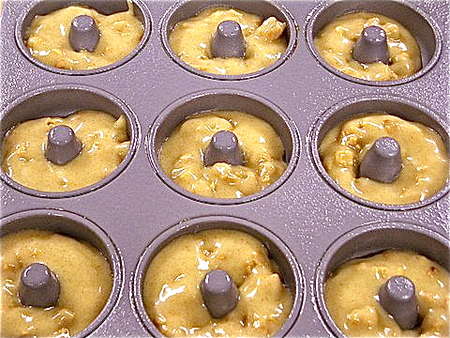 See? All full and no mess.  Bake the doughnuts for 8 to 10 minutes. Remove from the pan and cool on a rack.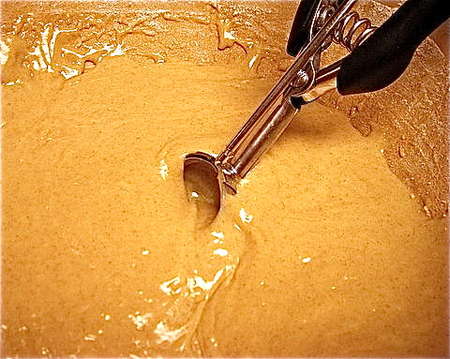 In an effort to be fair to our fried food fans, here's a quick rundown on making fried doughnut holes. For a really thorough explanation, see PJ's Doughnut Holes blog. Here's the cinnamon batter.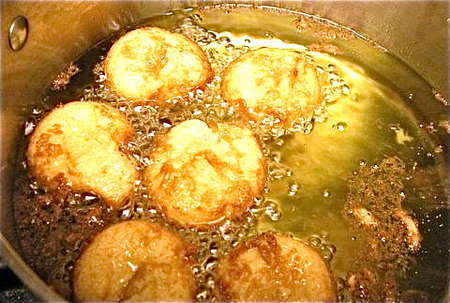 Remember not to overcrowd your fryer. You want a nice steady temperature for even frying. Drain the fried doughnuts well on a rack.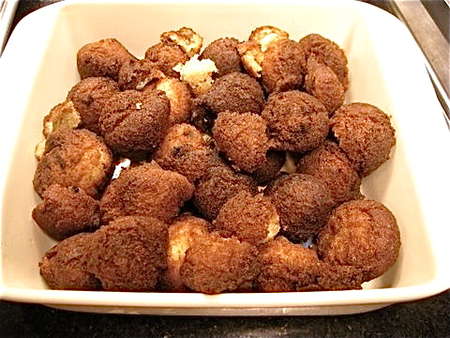 When you place the doughnut holes in the pan, you should have one complete layer on the bottom, and some extras tucked down in the gaps. It's fine to break them up a bit, just not too much or the pudding texture will be mushy. Keep most of the lovely fried bits whole.
Back to our baked doughnuts.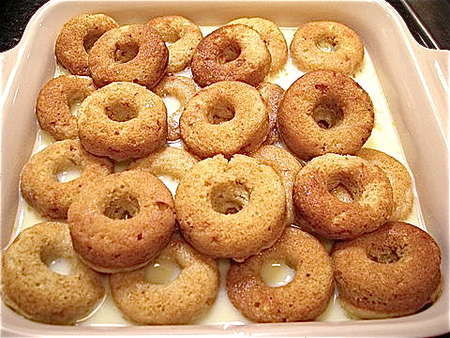 Butter or spray your baking dish, and layer the doughnuts in. Again, you're looking for a full bottom layer and some extra pieces on top.
It's best to keep the baked doughnuts whole. They'll get grainy in the pudding if broken up. Whisk together the custard ingredients and pour evenly over the doughnuts.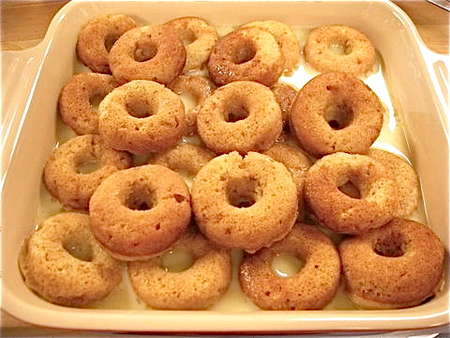 It's a subtle difference, but you can see in this photo that the doughnuts have absorbed some of the custard in just a minute or two. You can gently press the doughnuts down to help this along. Now, into the hot oven.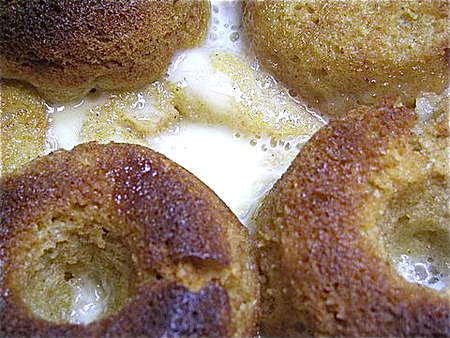 To check for doneness, take a look at the custard. This still looks a little milky, and isn't set. Back to the hot box.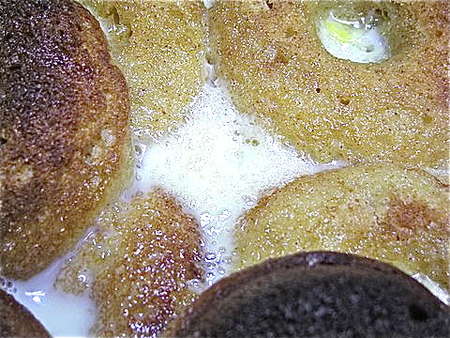 Success! The custard is set, the doughnuts are GBD (golden brown and delicious). Now the hard part, waiting 15 minutes for it to cool before serving!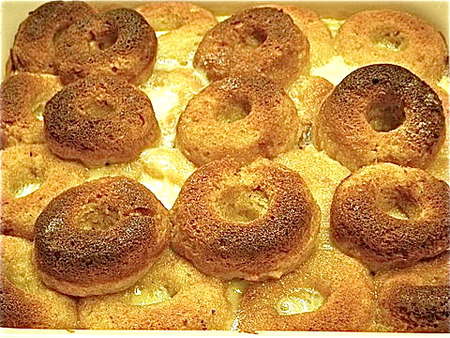 The results are worth the wait. Enjoy your delicious treat with whipped cream, ice cream, or even a drizzle of caramel sauce for the truly decadent.
Thanks for letting me share my love story with you. I'll keep you posted as we evolve for another 41 years!