Once upon a time, Brinna Sands and PJ Hamel were working together at King Arthur, trying to inspire Americans to bake. They knew that bakers are a sociable, intelligent, creative bunch, and realized that nothing gets people more excited about baking than a good recipe, and a good story to go with it.
How to reach these fine people? They bought a mailing list (128 names) for a newsletter called "The Baking Sheet," and that's how this particular story begins.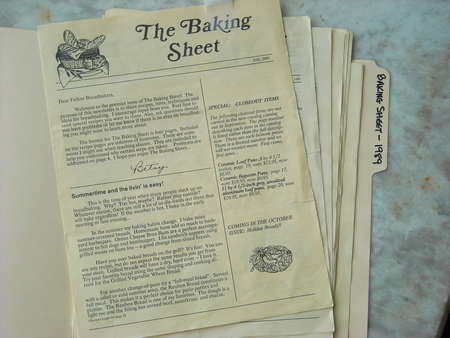 These are the only known (to us) copies left of the original Baking Sheet. It was a 4-page newsletter, with a few baking toys for sale on the side. After King Arthur acquired the title, Brinna and PJ published it as a small, black and white, folksy collection of baking knowledge, information about ingredients, recipes, and stories.
They also doubled the size to 8 pages. PJ tells me it was printed on an office copier on 8 1/2" by 14" paper, folded, stapled, and mailed, all by hand. After a while, they got fancy and put it through a 3-hole punch before putting the stick-on mailing label on the back. It looked like this: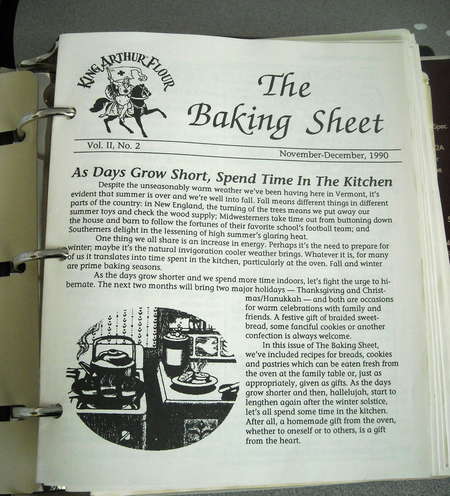 One year, PJ and Brinna lost track, and put out an extra issue. This raised a bit of havoc with the issue and volume count, but we eventually worked it out. For those of you who love used bookstores and the like, we still have a few copies of these old issues on sale.
The following photos are from the mid '90s; I thought you'd get a charge out of seeing some of our "younger selves" as they appeared in the catalogue at the time: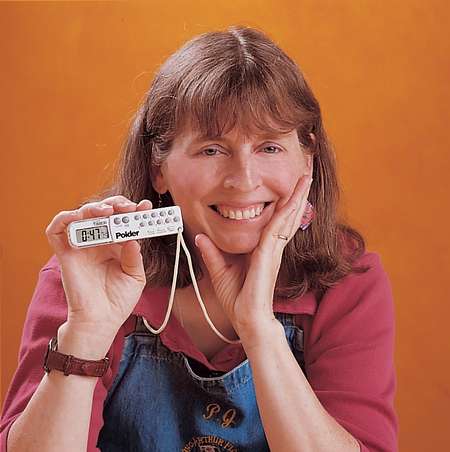 Here's PJ, with the timer she still wears to this day.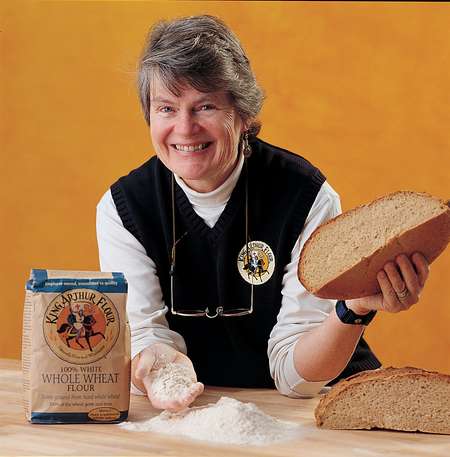 Brinna gradually withdrew from her day-to-day writing duties after 1997, and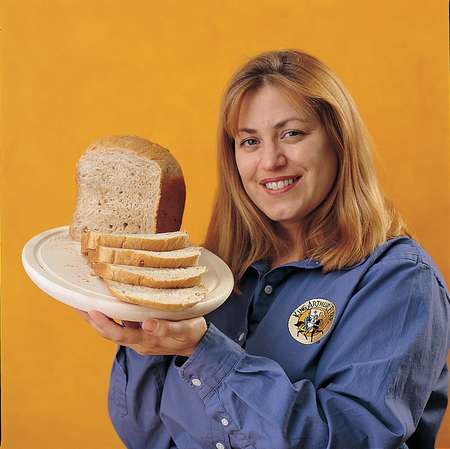 Robyn Sargent came on to write the Bread Machine Bounty column.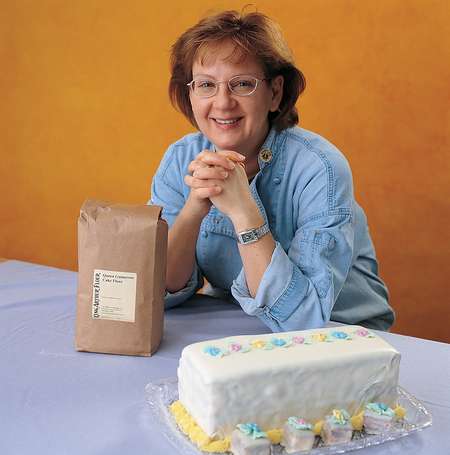 Sue Gray, our current product development director, was also a regular contributor by then.
As the newsletter's readership grew, it became obvious that we had to have it professionally printed. At that time we added one color for type as an accent.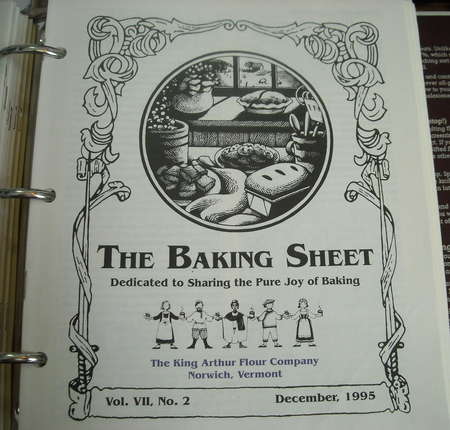 See the purple?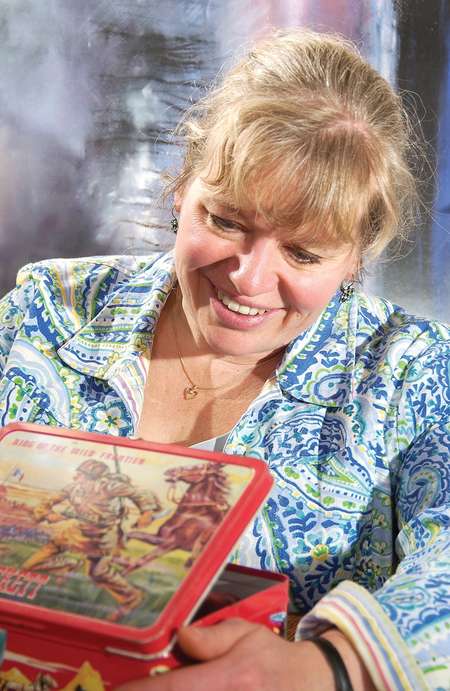 I joined King Arthur in 2002, to test recipes for The Baker's Companion.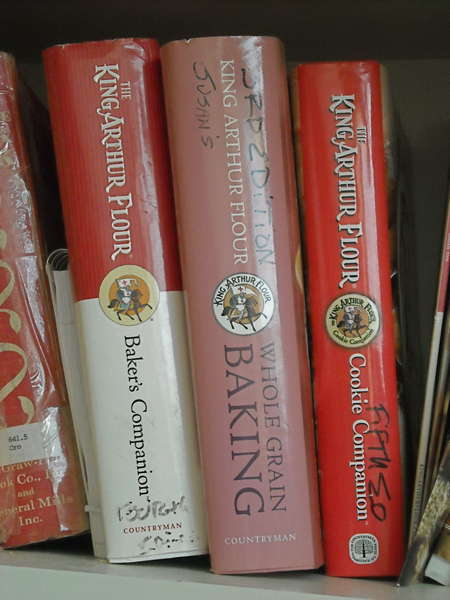 After the book went to press a year later, PJ's work with the catalogue and Web site increased, and I was given stewardship of "The Baking Sheet," to my great delight. What better task could there be, than to bake half the time and write half the time?
I unleashed a lot of my favorite recipes, from Blueberry Buckle to Marble Rye , with stops at Butterscotch Snack Cakes and homemade Twinkies® (complete with how-to photos) on the way. Soon after, we made one of our big leaps: The Holiday 2004 issue was our first ever to have color photography.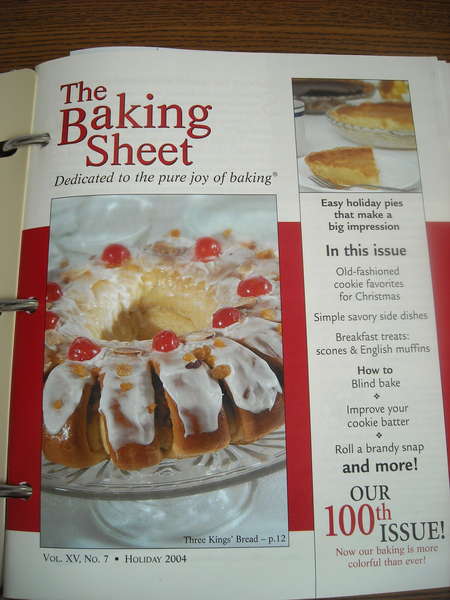 "The Baking Sheet" has been making friends and educating bakers of all kinds for a long time now. For the romantics and English majors like me out there, who are still thrilled at the feel of new paper and the wonders a printed publication can contain, "The Baking Sheet" is an affordable thrill. We like to think of it as a way to keep you company in the kitchen while you bake.
Once I know a recipe works, I bake it for its beauty shot. The food styling can be a bit silly-looking; that's when my tweezers, paintbrushes, and Q-tips come out. A bubble in the wrong place can be brutally distracting in a food picture, and I'd rather have the food look as real as possible, instead of relying on Photoshop.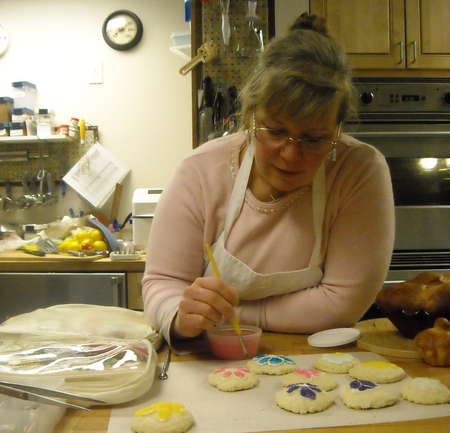 There are no ads in "The Baking Sheet." I test and revise every recipe. I also make sure that you can make every recipe with standard ingredients that you can find in the grocery store. Although I have to admit, when coconut milk powder first arrived in the test kitchen, I couldn't resist writing a bunch of recipes for it, including Coconut Cake.
We graduated to a larger format in 2006, and went to all-color in Autumn 2008.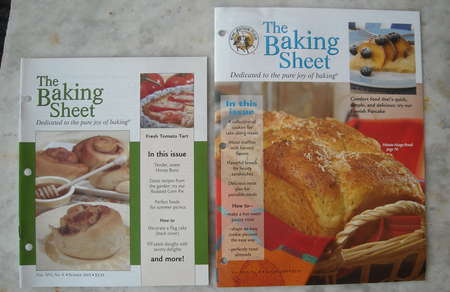 Brenda Hickory does all the photography as well as the layout (she's been with the newsletter since the days of the manual 3-hole punch). She and I got together this week to do the layout for the Spring issue.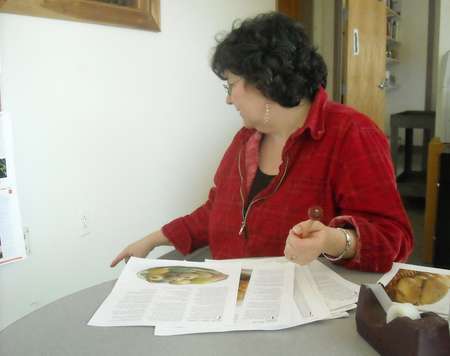 The recipes have been tested, written, the nutritional analyses done, and all have had their picture taken. They're up there on the wall to help us remember what we have to work with.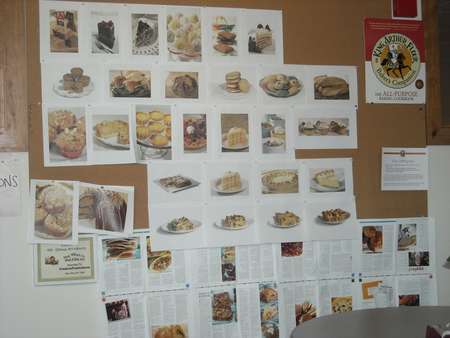 It's our task to figure out which recipe goes where; how to get all the features in, and decide what goes on the cover. We often have more material than we have pages, which helps us create the next issues.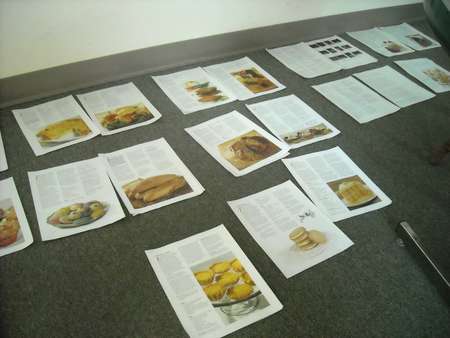 Sorry folks, the Caramel Cake and Shrewsbury Tarts are going to have to wait for summer.
Brenda then puts everything together. The upcoming issue has a feature about baking with (and for) kids.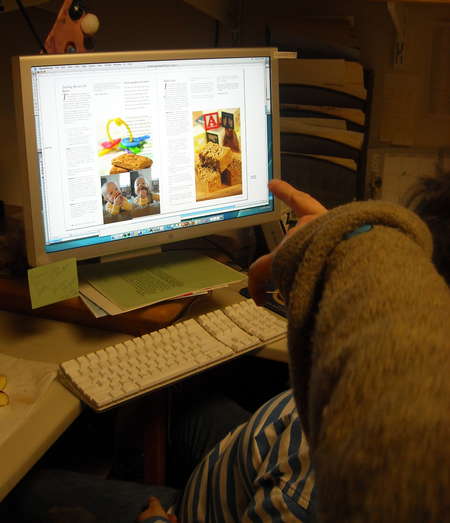 Rebecca Faill contributed some recipes that she bakes for her daughter, Carter, and they happened to stop by a minute ago. They're checking out the layout for their pages here.
Once the layout is done, a couple of copies are printed for a last once-over by yours truly, and for proofreading under the watchful eyes of PJ and Angela Lavoy. Final corrections are made, we make sure the color is where we want it to be on the photographs, then the file is sent to the printer. Here's the Autumn '08 issue running on press.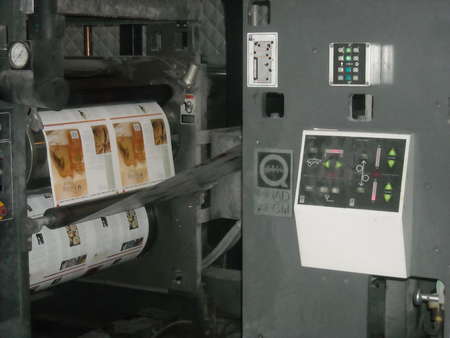 From there it's bound,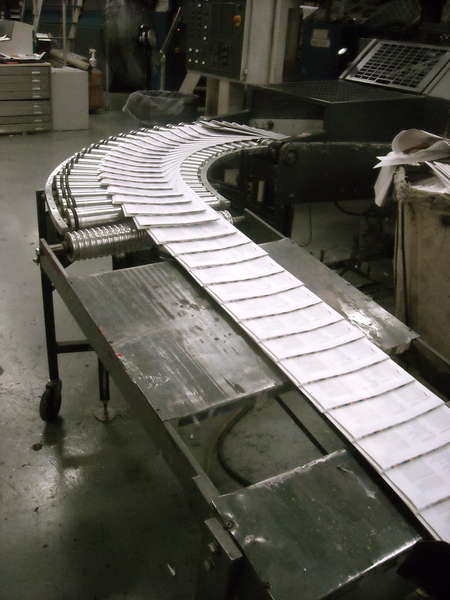 drilled (gottta fit it into those 3-ring binders!), and mailed out to subscribers.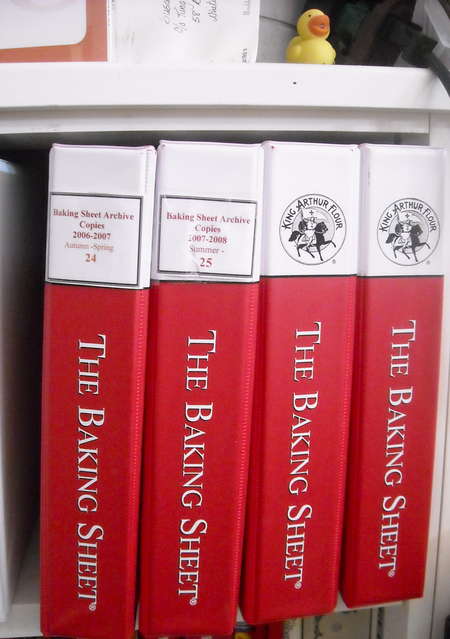 That's when the fun starts. I get the most wonderful emails and letters from readers, with recipe suggestions, questions, stories, and comments of all kinds. For me, that's the best part of being the editor.
"I love the Makeover Recipes in the latest edition of 'The Baking Sheet.' Especially like what you did with the Pineapple Pound Cake in removing the manufactured ingredients. The layout with the old recipe card and the picture of the final product was great, too. Keep up the good work."
Italian Sub rolls: "Thanks for the recipe in the recent Baking Sheet! I've been looking for a recipe like this one. They came out great the first time."
Grandma's Crunch cake: "Wow! I finally got the time to make the recipe last night and it was excellent! I am so thrilled. Thank you so much for revising this recipe. I think it is a very unique cake and I'm thrilled that it is going to be featured in 'The Baking Sheet.' "
The recipes in each issue are all new: discoveries I and my contributing authors have made, some sent in from readers, or recipes from cherished, batter-flecked cards that have been handed down in King Arthur families (like contributor Mary Tinkham's) for generations. Every issue has a few quick and easy meal ideas, a recipe makeover, how-to photographs,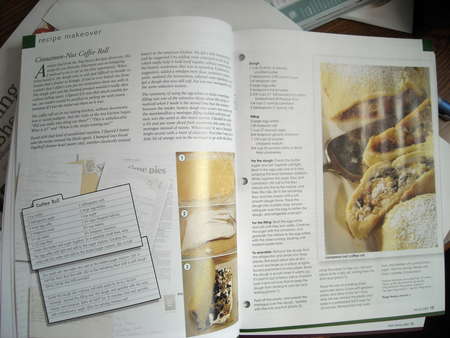 ideas for entertaining, bread machine recipes, and a feature called "Learn More About It," where I get to put on my teaching chef's hat and go over a baking technique or answer baking questions in depth.
Given this electronic age and the immense amount of information available online, there are still (thankfully) thousands of you that look forward to this little publication arriving in the mail every other month. It's for those who love to turn pages, browse at leisure, and cozy up with some reading and a cup of coffee. I like to think of it as an "undiscovered gem" in the world of food writing. The Baking Sheet is looking forward to many more great conversations and shared recipes to come.