Breaking up is hard to do.
Just ask all of us here at King Arthur Flour. We're suffering the heartbreak of a broken relationship.
We'll survive. Everyone does. And someday we'll think back on this time with fond nostalgia.
But right now, it hurts.
A number of years ago, when King Arthur Flour wasn't a widely known national brand, we joined forces with a not-quite-ready-for-prime-time grocery chain. It was a match made in heaven. We needed distribution in other areas of the country; Trader Joe's needed a quality flour to anchor their baking aisle. We started a business relationship.
And the rest, as they say, is history.
King Arthur Flour, thanks in part to our exposure in Trader Joe's, is now available at supermarkets across the land. Wherever you live, there's a market selling King Arthur Flour somewhere fairly close by.
And Trader Joe's has become a major player in the specialty grocery trade, with over 300 stores in 25 states, including the District of Columbia.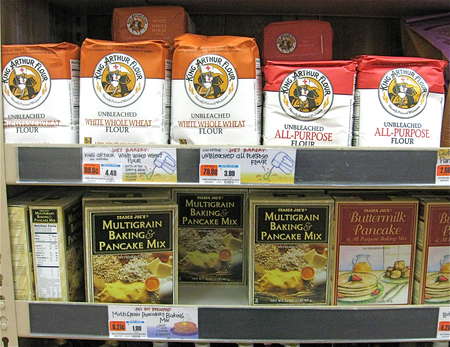 Trader Joe's mission has always been to offer as many TJ's branded products as possible. And now they're ready to offer their own flour. So soon, you'll see Trader Joe's flour on the shelves at TJ's, not King Arthur Flour.
Our long relationship is ending.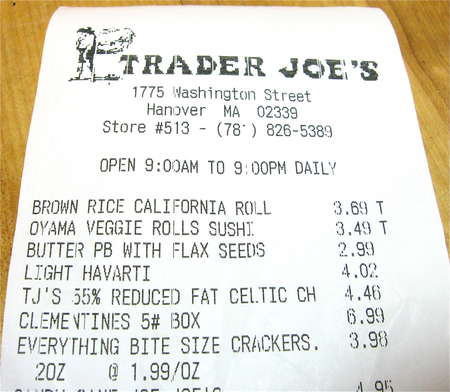 Oh, I'll still travel 3 ½ hours to visit my favorite TJ's: from Hanover, N.H. to Hanover, Mass. (note the top of the sales slip).
I mean, how can I get along without my TJ's peanut butter and sweet corn salsa? My husband loves their soy milk; I enjoy the "everything" crackers every day, and regularly chip off chunks from their PoundPlus dark chocolate bar with almonds. The masala sauce? Instant curry dinner.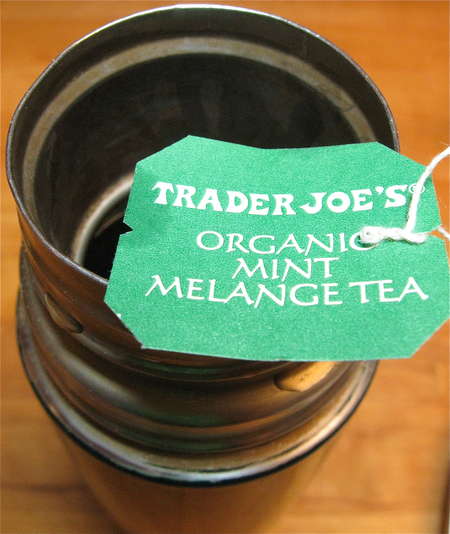 What can I say? TJ's will still be my cup (thermos) of tea.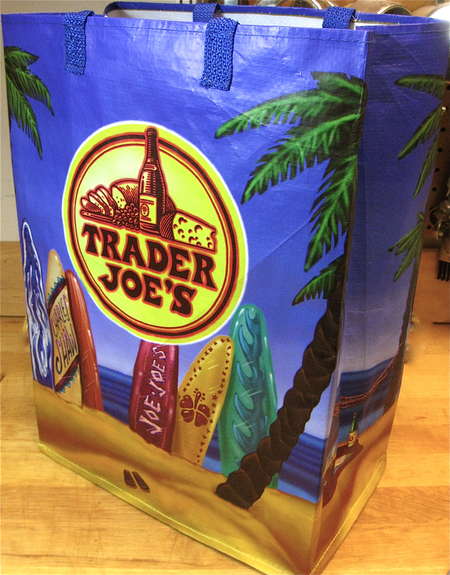 And yeah, I'll still use their colorful bag to haul my books back and forth to the library.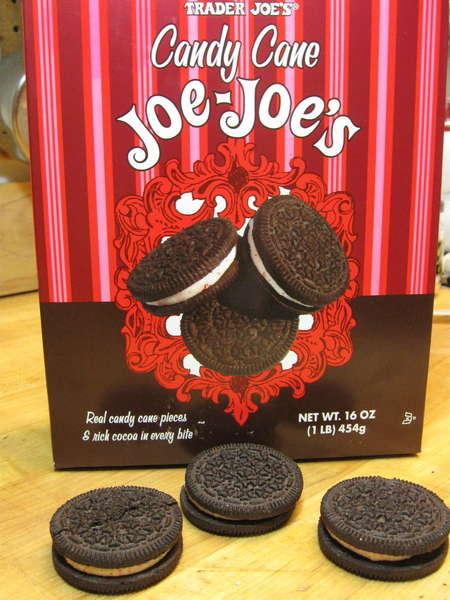 Recently, reader Julia Tien sent me a box of TJ goodies, with hopes I'd clone some of them. Julia, like me, is part of that baking community subset that lives by the mantra, "Hey, bet I can make that at home!"
So turn about is fair play. If Trader Joe's is going to put out their own brand of flour, then by gosh, I'm going to put out my own brand of one of their most popular cookies (and a personal favorite): Candy Cane Joe-Joe's, Oreo clones with a sassy pink peppermint cream filling. Made with King Arthur Flour, of course.
Is this a shameless plug for King Arthur Flour? You betcha. Flour is our business; we know how to buy the best wheat, then mill it into flour that'll yield consistent great results, year after year... in fact, century after century, since we've been in this business since 1790.
Oh, and by the way: since King Arthur Flour is owned by its employees, I do have that extra bit of brand loyalty. I know that the work I do here not only benefits millions of bakers, but helps strengthen one of America's oldest businesses; and provides a solid, steady job for over 150 of my fellow employee-owners right here in Vermont.
And in these sobering economic times, that's comforting.
Just like these cookies: Joe-Reos, a.k.a. Faux-Reos.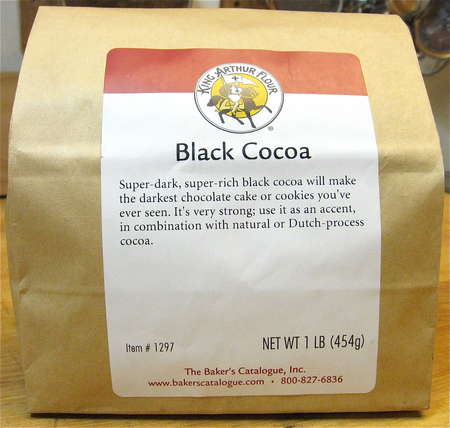 Let's start with a key ingredient, black cocoa. What is black cocoa, anyway? It's not any particular strain of cacao bean; it's simply a result of the way the cocoa was processed. In order to make Dutch-process cocoa, unsweetened baking cocoa is treated with an alkali to raise its pH, thus making it less acidic. This lack of acidity translates into a darker color, and increased flavor. It's like adding a bit of sugar or baking soda to tomato sauce, to allow tomato's true flavor to shine through. So black cocoa is a Dutch-process cocoa whose pH is slightly higher than the norm, thus making it darker in color.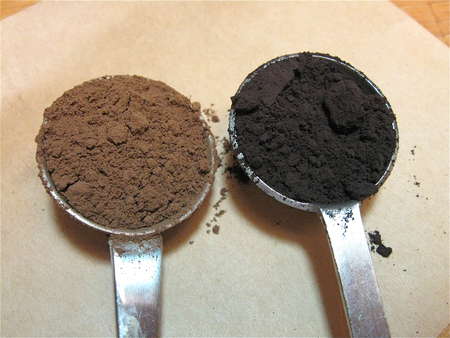 That's black cocoa on the right, and our Double Dutch Dutch-process on the left; see the difference? We don't recommend using black cocoa on its own in most recipes; it's usually better mixed with some regular Dutch-process. But in these dark Oreo-type cookies, it's just right.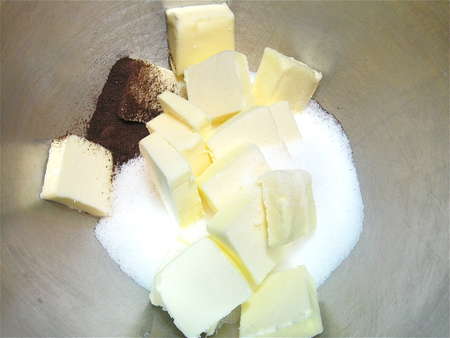 Let's start by combining sugar, butter, salt, and espresso powder.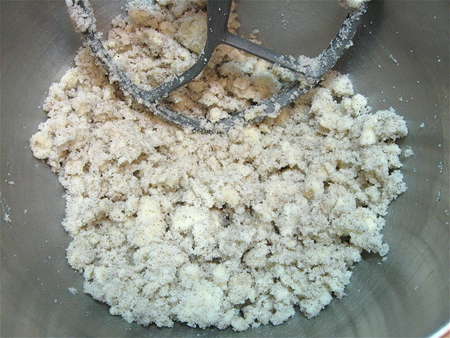 Mix till smooth. This isn't smooth.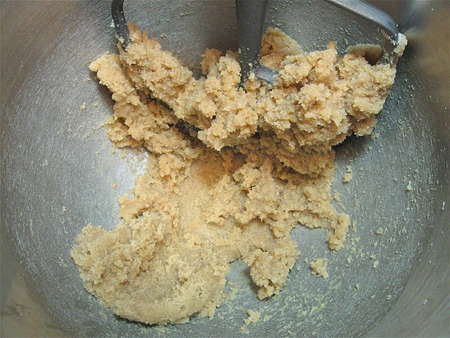 THIS is smooth.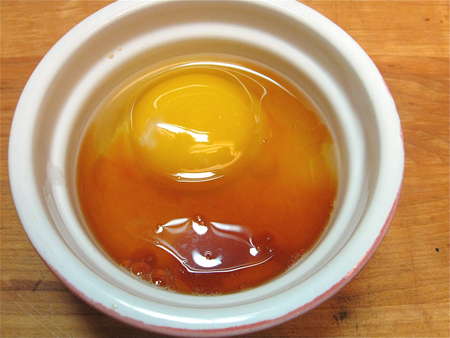 Combine a large egg, water, and vanilla...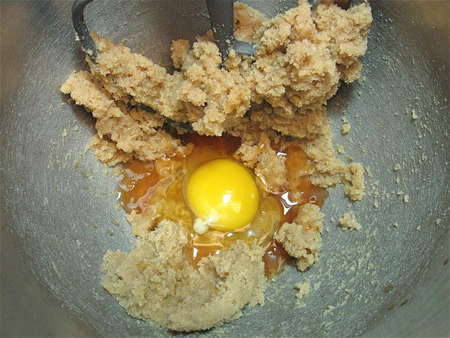 ...and add to the butter mixture.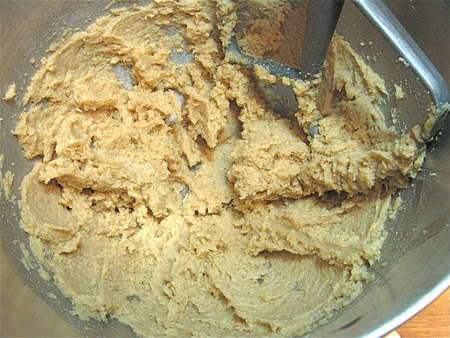 Beat till smooth.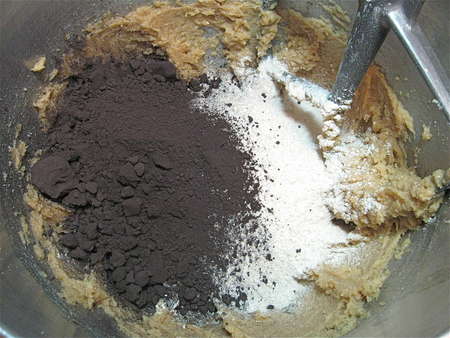 Add flour (King Arthur Unbleached All-Purpose, or white whole wheat), and black cocoa.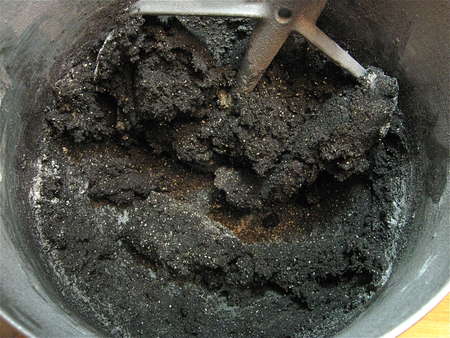 Mix till well combined. Notice the flecks of bran from the whole wheat flour.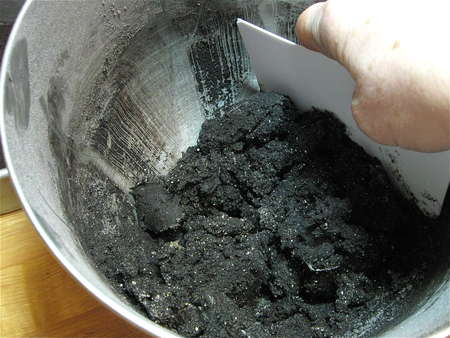 Scrape down the sides of the bowl...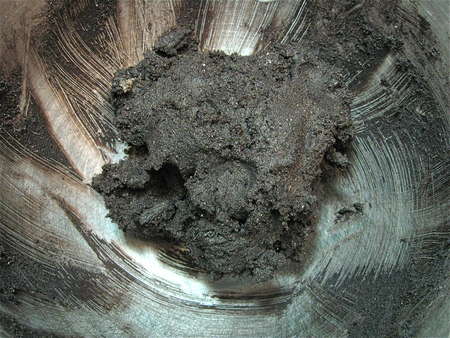 ...and continue beating. The bran flecks should just about disappear.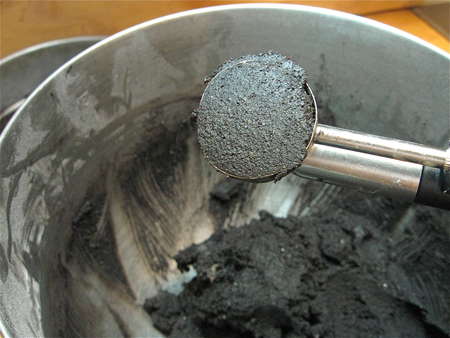 Use a leveled-off teaspoon cookie scoop to scoop dough; this actually yields about 2 level measuring teaspoons of dough. So why do we call it a teaspoon cookie scoop? Because it matches the size of a tableware-type teaspoon (rather than a measuring teaspoon) traditionally used to drop dough onto cookie sheets.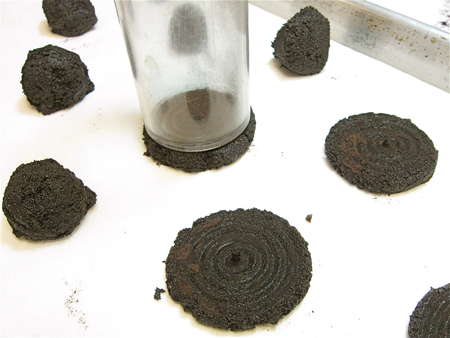 Place dough balls on a parchment-lined or lightly greased baking sheet. Flatten to about 1/4" thick. I'm using the pusher from our Cuisinart food processor here.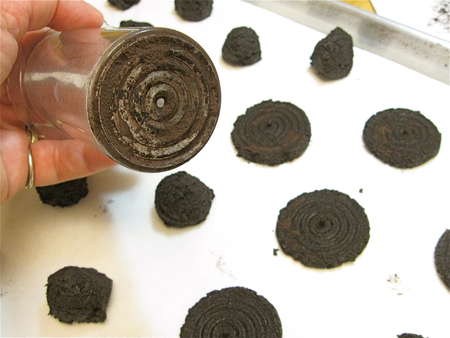 Dip it in cocoa to prevent the dough from sticking. It'll leave a circular pattern in the dough, which will (sadly) disappear during baking. So much for an Oreo-like design on the cookies...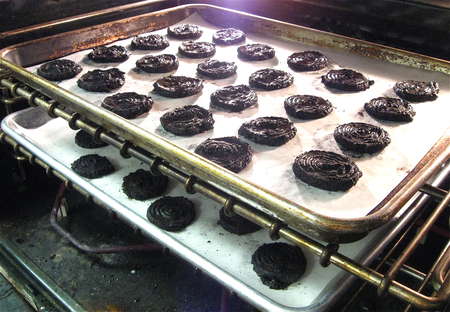 Bake the cookies in a 325°F oven till they're set and you can start to smell the chocolate.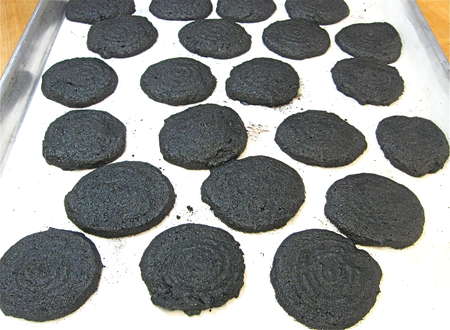 They'll take about 20 minutes. Remove them from the oven, and cool right on the pan.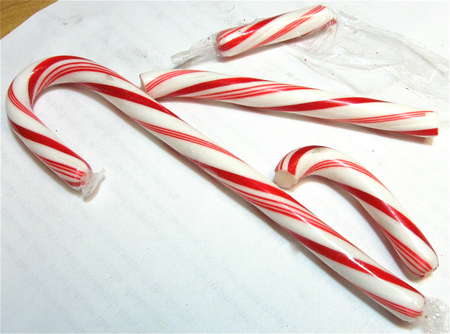 While the cookies are baking and cooling, make the filling. For peppermint Joe-Reos, start with about 6 regular-sized candy canes (or about 3 ounces of hard peppermint candy).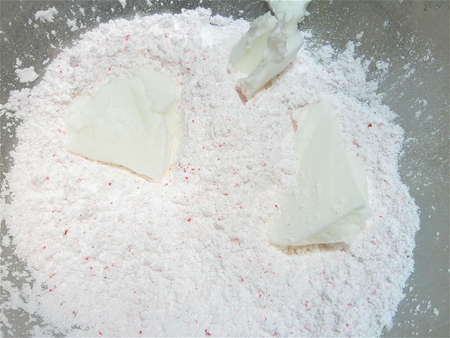 Process the candy and confectioners' sugar till the candy is finely ground.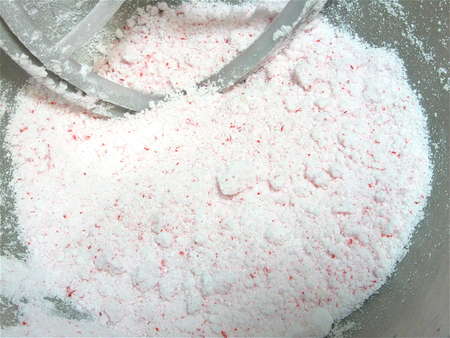 Add vegetable shortening, mixing till crumbly. Can you substitute butter? Of course. It won't taste the same, and will be a slightly stiffer texture, but go for it if you like.
Right here, in the midst of this post, I'd like to take the opportunity to tell you, dear readers, that you should feel free to make ANY changes you like to these recipes. You don't need my permission—honest. Don't like peppermint? Leave it out. Don't use shortening? Substitute butter. Want a lower-fat filling, a caffeine-free cookie, or something non-gluten? Uh, maybe you should choose another recipe...?
My point is, I can't predict and test every variation of every recipe that you imaginative bakers out there come up with. If it sounds reasonable—go for it, and let us know how it works. Understand that your substitute probably won't yield the result shown here. It may be better; it'll certainly be different. Just relax, and have fun. There are no failures in baking; just alternative paths.
Add enough water (about 2 tablespoons) to make a stiff-yet-spreadable icing.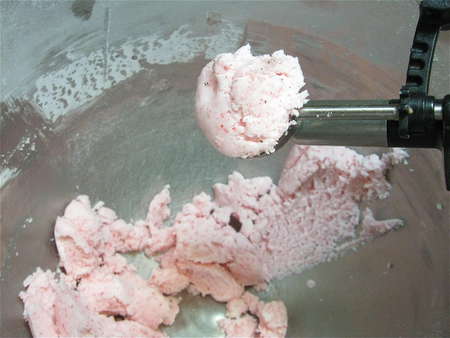 Scoop out about 2 heaping teaspoons—yes, there's that handy teaspoon cookie scoop again.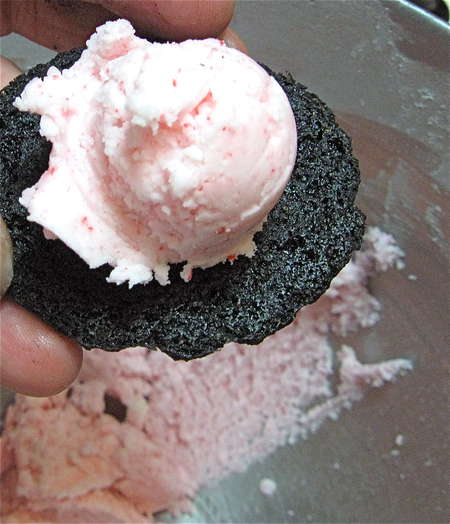 Place on the underside of one cookie...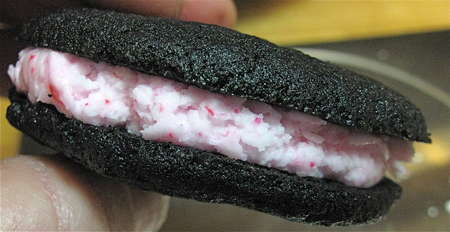 ...and sandwich with another, pressing down firmly to spread the filling to the edges.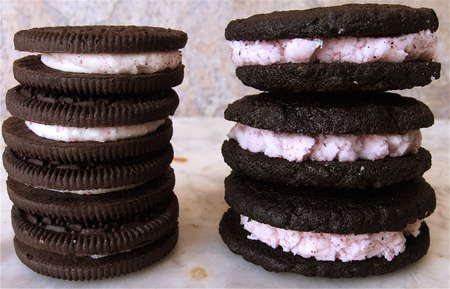 And here we are: Trader Joe's Candy Cane Joe-Joe's (on the left), and Joe-Reos (on the right).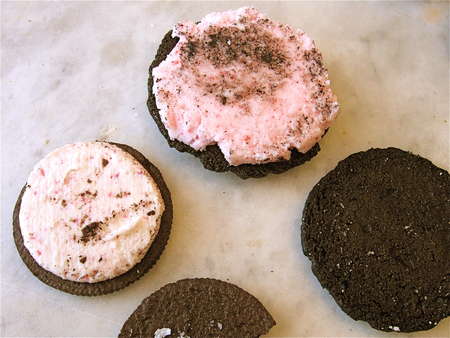 Check out the filling; Joe-Joe's on the left, Joe-Reos on the right.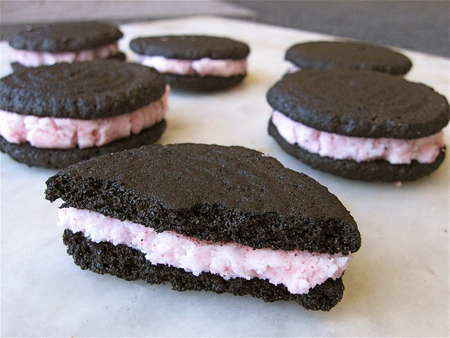 Yes, you CAN "private-label" Trader Joe's Candy Cane Joe-Joe's!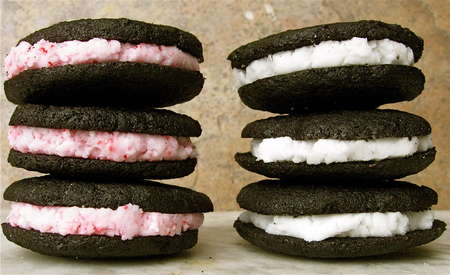 Joe-Reos on the left; Faux-Reos (no peppermint) on the right.
Read, rate, and review (please!) our recipe for Joe-Reos (Faux-Reos).
Buy vs. Bake
Buy: Candy Cane Joe-Joe's, 16¢/ounce
Bake at home: Peppermint Joe-Reos, 12¢/ounce