There was a homey feeling in the test kitchen this morning, as we all took care of the last few baking tasks for work before the holiday. The big all-hands-on deck packing push is done. Our seasonal help is doing their shopping; some of the offices are empty and more will become so as the day wears on.
While Andrea finalized a new chocolate donut mix formula, I put together the lamingtons for their photo for the Early Spring Baking Sheet, and PJ was working with a couple of yeast doughs.
The conversations were about our plans for getting together with our families: who'd be driving where, when would the kids get home, and would they dodge the weather (freezing rain, AGAIN) on the way tomorrow. And as we all puttered about companionably, each of us was also prepping up one or two things to bring to those family celebrations. PJ's trusty electric frying pan made an appearance,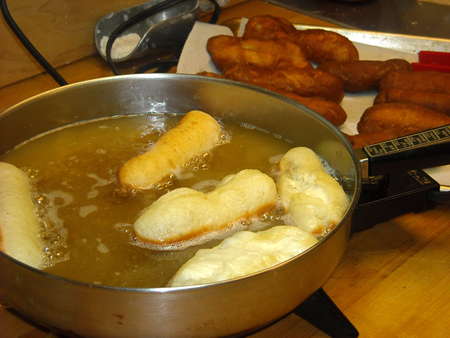 as she cooked off zeppoles (a savory version of fried bread, each filled with an individual anchovy).
Andrea samples, with great concentration...as she takes a break after making batch of white chocolate-hazelnut biscotti,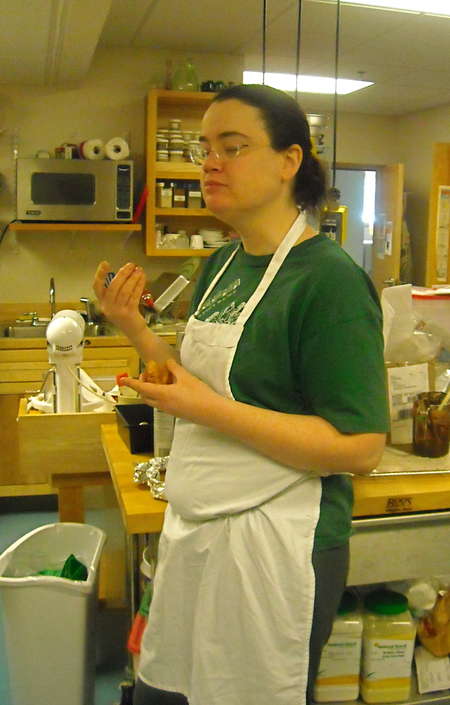 to test a new hazelnut flavor that had come in from a vendor.
Sue Gray called dibs on the results, for a holiday gathering at her house.
This morning I baked off the rest of the cookies I'd made up for the warehouse crew from my stash of scooped dough in the freezer.
Underneath is a pan of hermit bars, which I am expected to appear with every year at mom's house. The competition among family members for their fair share has reached the point that two people have to have their very own tins to keep the peace. Fortunately my original recipe is designed to make a huge batch. My 5-quart mixer at home isn't quite big enough to handle all of the dough, so I borrow the 8-quart Viking at Andrea's station for this job.
I'm also making a batch of date nut bread for Christmas morning.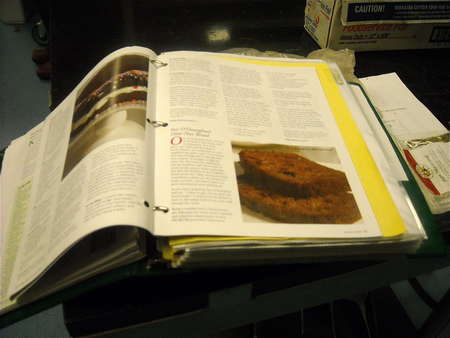 PJ has the dinner rolls covered. I think a saw a bag of ginger stars on her counter, too.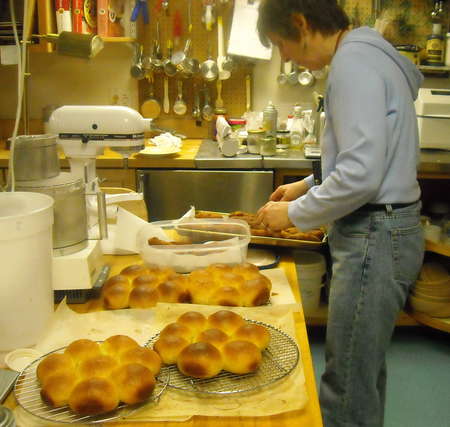 At the last minute, I had a stocking stuffer inspiration. High volume, low price, something they don't already have….I decided put the recipe for Blitz Bread: No Fuss Foccaccia in my siblings' stockings, complete with a bag of all the dry ingredients, ready to go. All they'll need to do is find a 9 x 13-inch pan, add some water and olive oil to the ingredients in the bag, stir, and in 2 hours they'll have hot yeast bread. Even the most yeast-phobic among them can manage this recipe.
I kidnapped the scales from two of the other stations, lined up every 2-quart container I could find, put an all-purpose bag in each one, and measured my little heart out.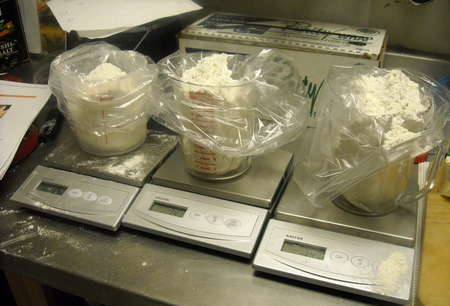 I printed a color version of the recipe to go with each kit. Yeast, salt, flour, pizza seasoning, a little cheese powder.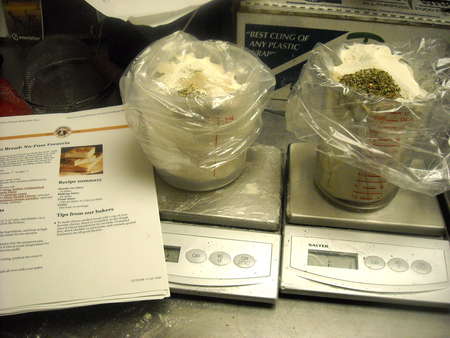 All set; 5 stockings' worth, plus one for mom.
The hermits are cool enough to glaze. After the glaze sets, I'll cut them into 1-inch squares with a pizza wheel.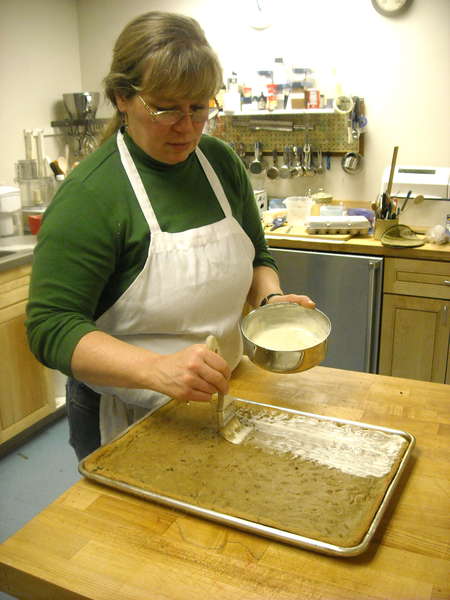 This big square tin is now instantly recognizable at Mom's house. As my siblings families arrive, one by one, everyone puts down their contributions on the kitchen counter, then systematically starts hunting through the other containers. "Whatcha got?"
"Yes! I love these!" and in the case of the hermits, "I know you brought them, where are they?"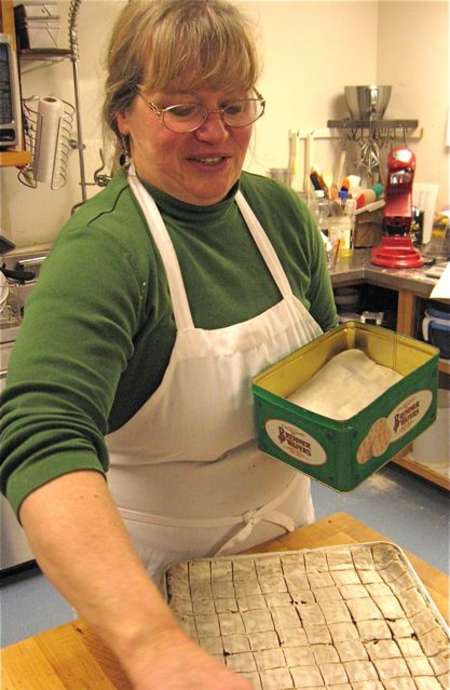 Soon, we'll have filled our canvas grocery bags with treats; all the things we can stir together that say love, tradition, comfort, and home.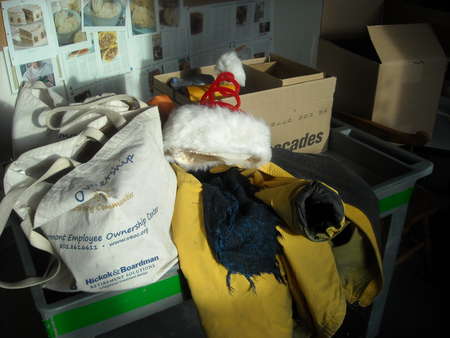 We hope all of you have a safe and happy holiday, enjoying all of those things with your families.
PJ Hamel, Susan Reid, Sue Gray, and Andrea Brown (the test kitchen crew).