Really, it's OK to play with your food
Pancake art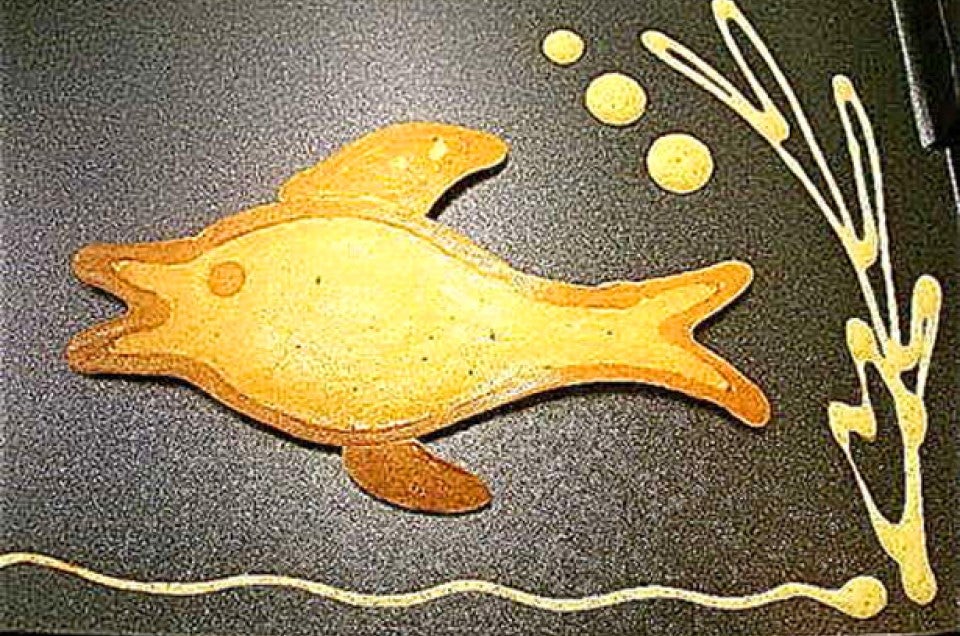 Sunrise in Vermont. Time to get up and get going with the Saturday chores of laundry, the dump run, returning those overdue library books... you know the drill. Best to start the day with a good breakfast.
I must confess, my husband is the pancake and waffle maker in our house. David is in his element when making big breakfasts with all the trimmings. He'll whip the egg whites for the lightest waffles, and heat the maple syrup so your pancakes don't cool too quickly. Not to mention the bacon and sausage.
I'm much more at home with muffins, quickbreads, and my super-famous cinnamon buns. So when the craving for pancakes hits, I usually cruise down Easy Street and get mine served to me.
But not this time—after seeing what can only be described as "pancake art" in a few different places lately, I just had to try my hand at it.
What might pancake art be? Using pancake batter, and a variety of squeeze bottles and imagination, ordinary pancakes become faces, fish, or even toys.  This activity is a great way to break out of the ho-hum pancake routine, introduce young bakers to the joys of baking, and bring the family together.
For the recipe, we used the Simply Perfect Pancake. This is one of our Guarantee Recipes and worked wonderfully. For step-by-step details on making the batter, see the recipe online. We enjoyed this so much, we also used a King Arthur Flour pancake/waffle mix; and I've included those step-by-step photos here.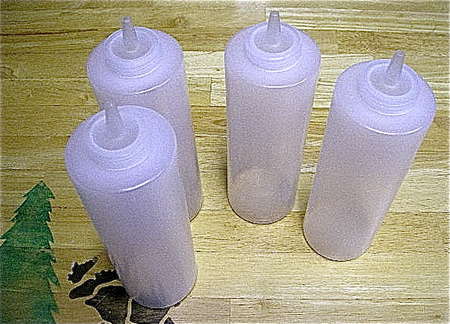 For squeeze bottles, I did have a couple of open-tipped bottles in my stash, bought at a local restaurant supply store. If you look in the local dollar store, you should be able to find condiment bottles fairly easily; you know, the yellow and red kind for picnics. Aand nowadays, many things come in squeeze bottles, so it shouldn't be hard to find a few bottles which, when washed out, will work wonderfully for this project. Let the creating begin!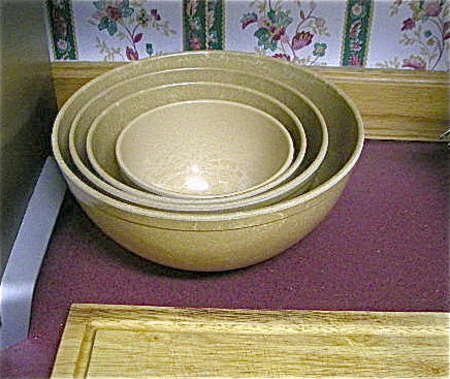 The one set of bowls that never gets put in the cabinet is my set of Wisconsin mixing bowls. They stay out next to the toaster, and are used every single day.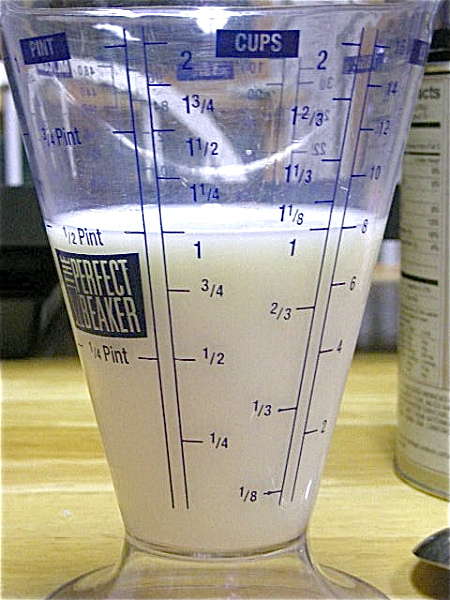 For my liquid measures, I knew I needed cups and tablespoons. Out comes the Perfect Beaker. It has several different units of measure on it, so you only dirty one cup. In goes the milk.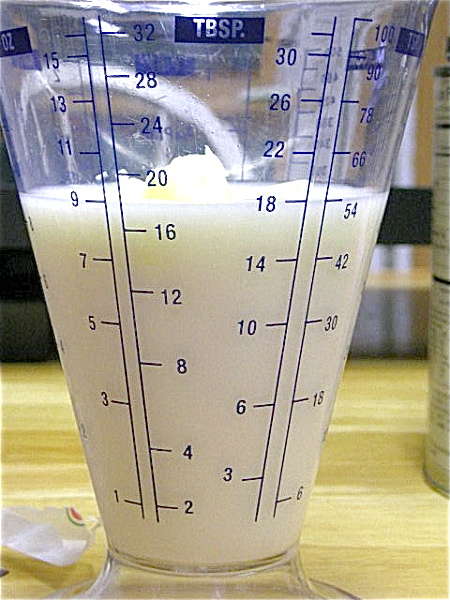 Now for the butter. I always have little bits and pieces of butter in the fridge, so by looking at the beaker's tablespoon scale, I can add small pieces until the measure increases by the 2 tablespoons I need. Remember science class, and displacement theory?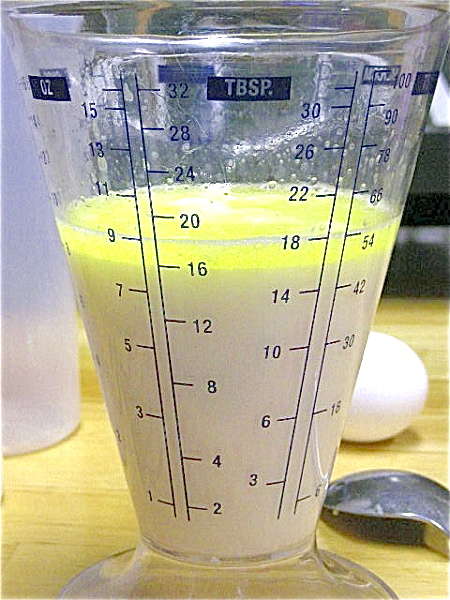 Into the microwave, for the milk to heat and the butter to melt.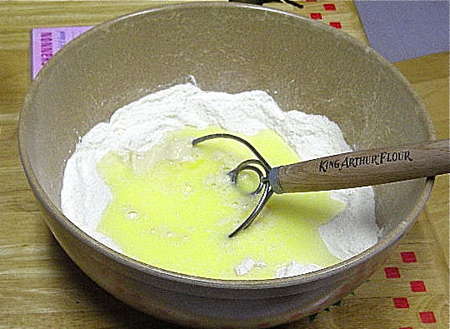 Add the egg. I did check the temperature of the milk, to make sure the egg didn't cook; it was just barely warm. Whisk just a little, then everyone into the pool! My dough whisk brings everything together with  just a few strokes.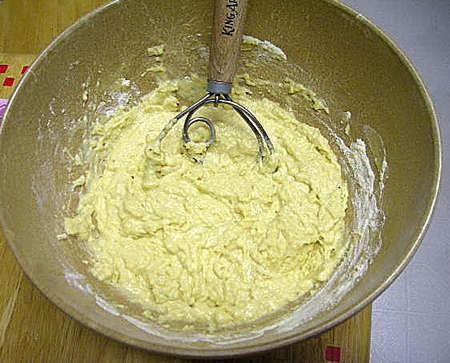 The batter has thickened a bit after its 5-minute rest.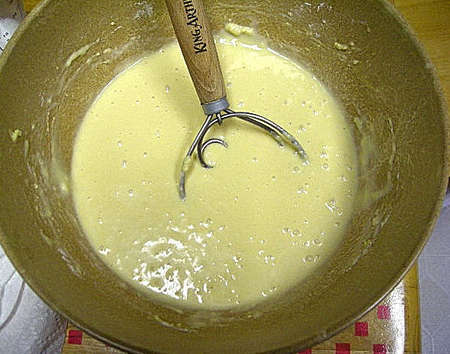 Add a little milk to thin, and we're set to go.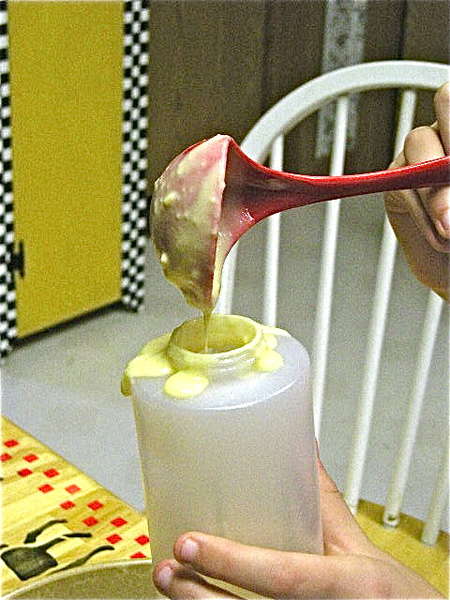 Here I had a choice when filling the bottles. Quick and dirty...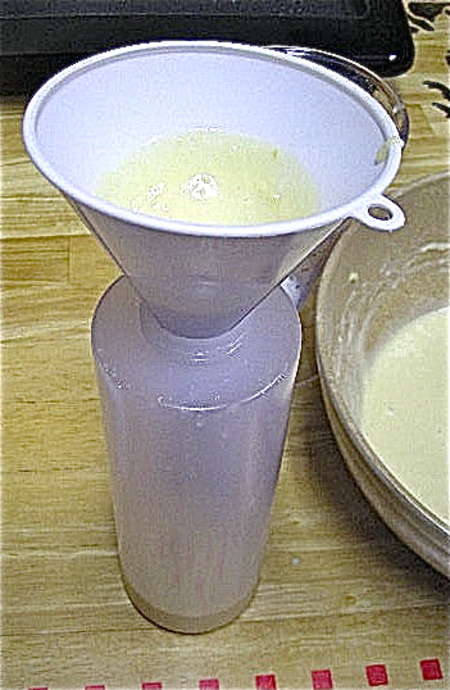 ...or slow and neat.
Shannon much preferred quick and dirty. I think next time I'd make a collar of paper towel BEFORE beginning to pour.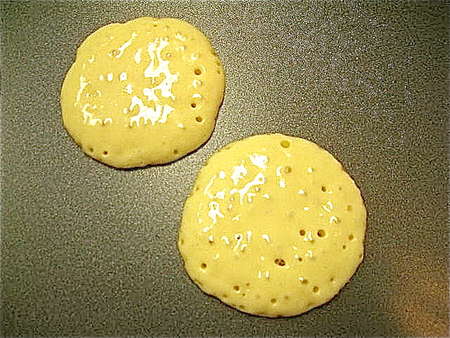 Let's start off with a classic: Silver Dollar Pancakes. Pancakes are ready to turn when the bubbles around the edges pop, and don't fill back in with batter.
Flip 'em over.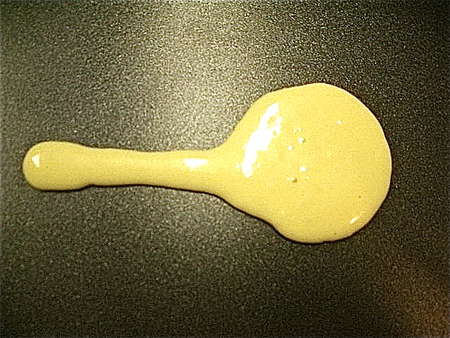 David wanted to try his hand with an updated inspiration of the Silver Dollar. Introducing the "pancake pop," complete with edible handle.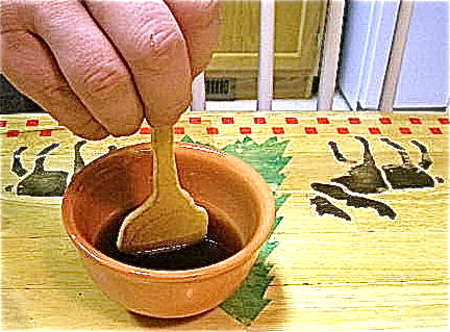 No more sticky fingers for those who love to dip.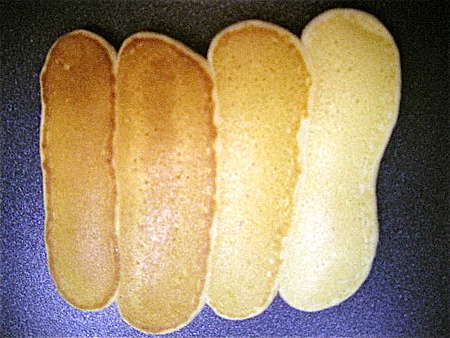 Shannon and I decided to test putting down a squirt of batter every 20-30 seconds, to see the differences in color.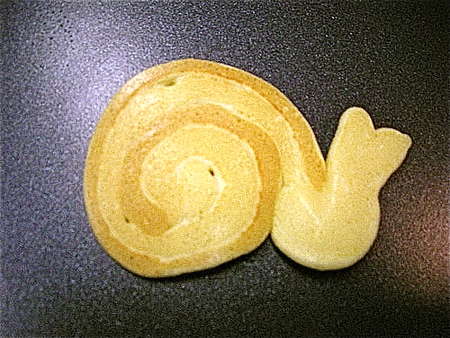 Next inspiration, one swirl, left for 20 seconds; followed by a second swirl and features. Voilà, snails the whole family will eat.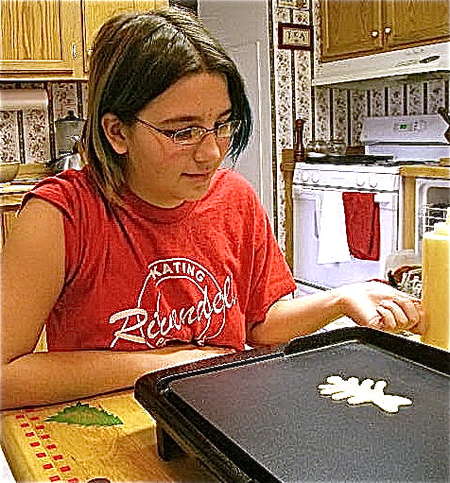 By this time we were really on a roll, and decided to go whole-hog. Shannon kicked it off with a lobster. Lucky for my wallet she doesn't eat the real thing!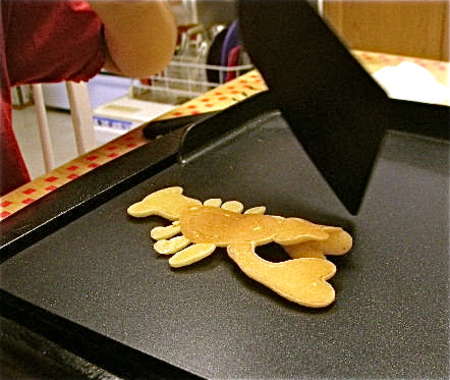 The fancier the design, the harder they became to flip, but most could be recovered. This lobster claw bent over, but was easy to fix with quick fingers.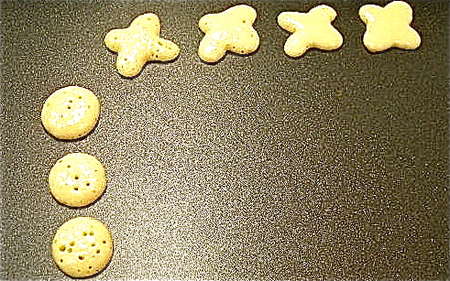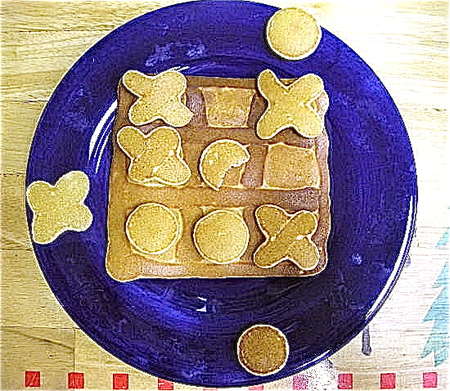 A comment from David about "playing with your food" led to our edible tic-tac-toe board. Even young members of your baking family can make the Xs and Os.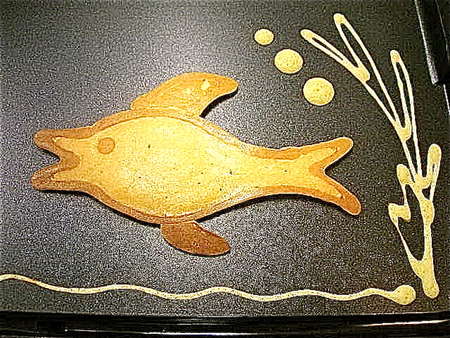 Man, we're cookin' now (pun definitely intended!) With such a large grill, we decided to use the whole space for an underwater scene. I was delighted to find out that the very thin seaweed and "wave" pieces cooked through without flipping, and were very crunchy. The malt in the recipe made them very similar in taste to malted milk balls. Delish!
With a final few sputters, we were out of batter, and there was nothing left to say but...