With this post we welcome MaryJane Robbins, a member of our Baker's Hotline team and a passionate cookie decorator!
Well, if PJ labels herself the "lazy" cookie baker, I guess I fall into the "other" category. I can spend hours decorating cookies at all times of the year, but especially the holidays. I was thrilled this year to be asked to help decorate cookies for the Baker's Catalogue's spring photo shoot, and to instruct the holiday cookie decorating class at our Baking Education Center here in Vermont.
Just like a kid in a candy store, I love the tiny sprinkles, colored sugars, decorating tips, and colored icing by the bowlful. Tweezers for sugar pearls, fine paintbrushes for cookie painting, and an iPod loaded with old-time radio mysteries, and I'm a happy girl.
PJ's recent blog on decorated cookies and an upcoming bake sale at my daughter's school inspired me to get out my tools and decorate away. One of the perks of working on the King Arthur Flour bakers' hotline is that we have access to samples of all the products in the catalogue, so we can take them home, test them out and be ready to answer customer questions with first-hand experience. I had been dying to try the large cookie cutters, so I signed them out, and armed with a copy of PJ's Holiday Butter Cookies, went home to bake.
The recipe was easily doubled, and the house soon smelled of Fiori di Sicilia. This citrus-y scent is so popular at our house we've been known to dab on a little for perfume, or add a few drops to our humidifier to scent the whole house. For detailed step-by-step photos on the cookie dough process, please refer to PJ's blog.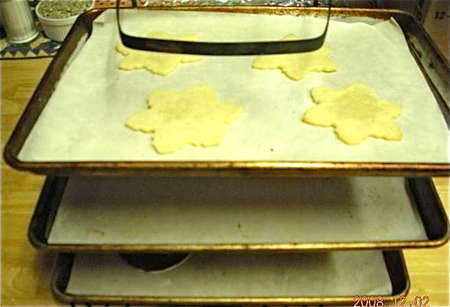 Though my kitchen is small, tools like a folding cooling rack and a 5' folding table really help with extra cooling space. Of course I don't bake anything without my parchment paper. For these large cutters, it was easier to roll the dough on the parchment, press the cutter on, and then peel away the extra dough. No need to try and move that delicate cookie with a spatula. Two cookies fit well on one baking sheet.
As the cookies cooled under the ceiling fan in the living room, we made a batch of icing. I wanted some icing thinner for glazing the cookies, so added a little more water, and beat for a few minutes until combined, but not whipping in much air.
I moved some to a smaller bowl.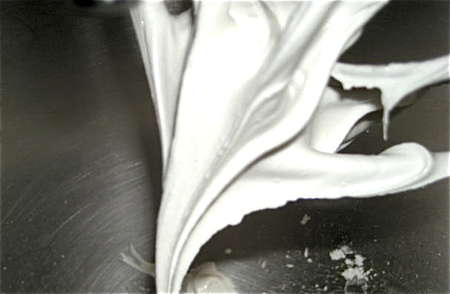 I finished beating the icing for 5 minutes on high, and had lovely stiff icing for piping later on.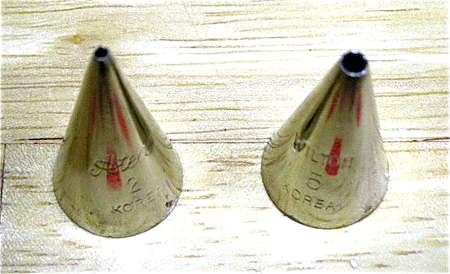 Although I have nearly as many piping tips as a small bakery, I chose just two round tips, a small round tip and a very small round tip.
I think new piping bags are definitely on my wish list. I've had mine since high school (no, I won't say when that was). I even used some disposable bags for this project.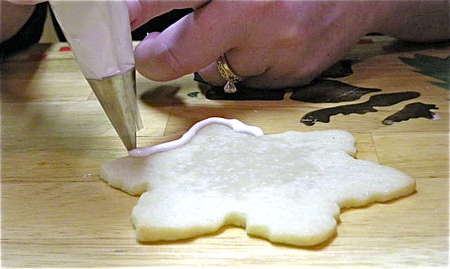 For icing the cookies to a smooth finish, I like to "flood" the cookie with the thinner icing. First pipe a border around the edge of the cookie. You can be very precise about following the lines, or a little more relaxed; just follow the basic shapes.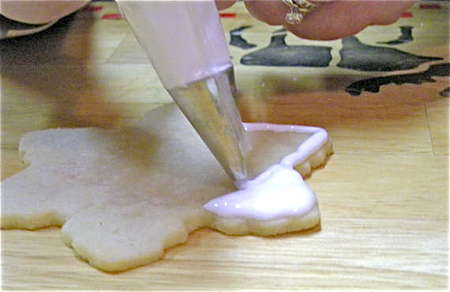 Once the outline is piped, use the larger tip to fill in the area.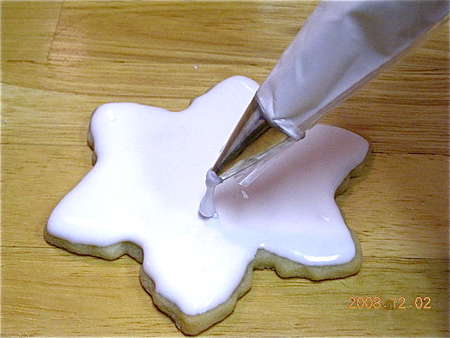 I did find with the large cutters, the piped edge would begin to harden before the flooding was complete, and that leaves a bit of a line. So pipe some border, fill in, pipe more border, fill in, etc. going around the cookie like a clock until it's all filled in.
These are set aside to dry. Drying time depends on your room temperature, humidity, etc. Our house is pretty warm and dry this time of year, with the wood stove going every day, so these firmed up within 20-30 minutes.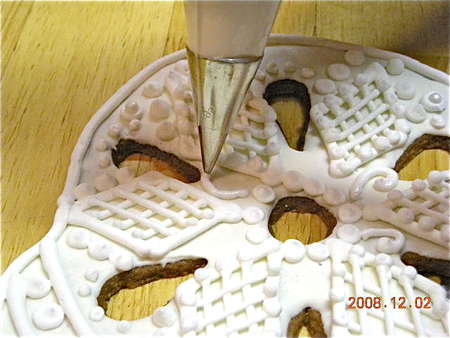 Now for the fancies. Using the stiffer icing, pipe your decorations. You can tell I'm partial to swirls and dots. I create pysanky (Ukrainian decorated eggs), and many of these designs are used in that art as well.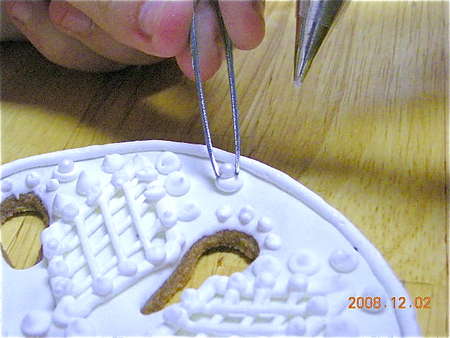 Sugar pearls or dragées need to be set as soon as you pipe the dot, or a crust will form.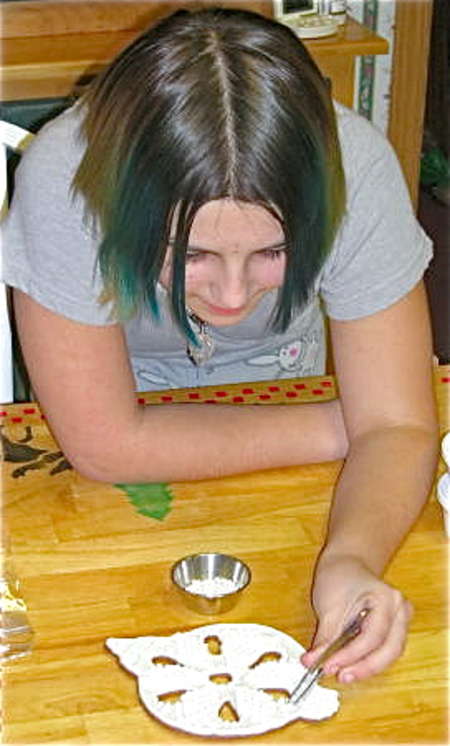 It's handy to have a helper do this, and it's a great job for older kids. Thanks, Shannon!
Sugars also need to be applied while the icing is wet. Matching colored sugar to colored icing is a subtle but lovely technique known as flocking.
It's especially nice on snowflakes, white on white; or to add sparkle against a darker background color.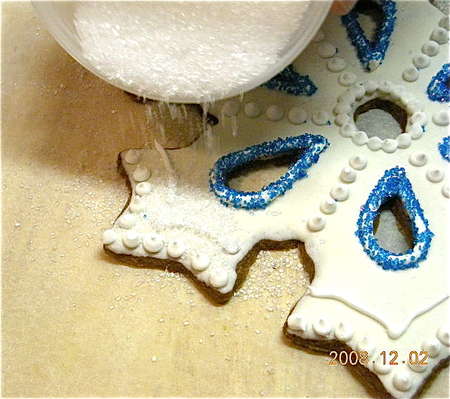 Pipe your decoration to be flocked, then cover with sugar.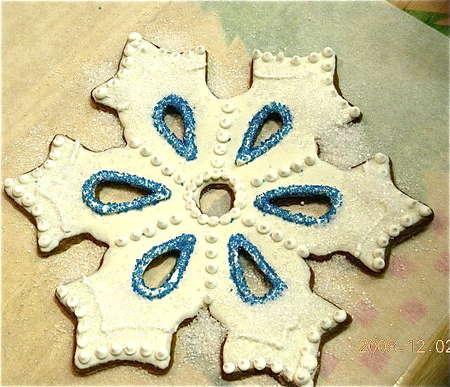 Pour the sugar or spoon it on, but apply it heavily.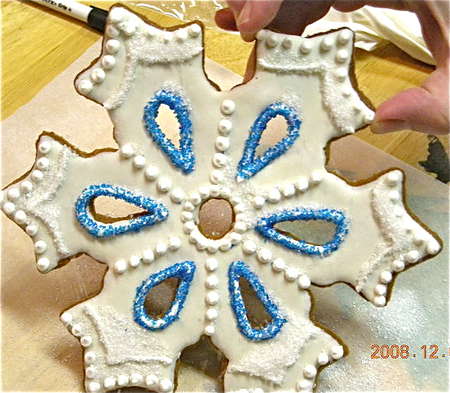 You want a good coating; the extra will fall right off. If you do this over parchment, you can collect and save the extra sugar.
To use two different colored sugars on the same cookie without mixing, pipe the first set of decorations, sugar, and set aside to dry. Later, return to the cookie to pipe and sugar the second designs. Let dry.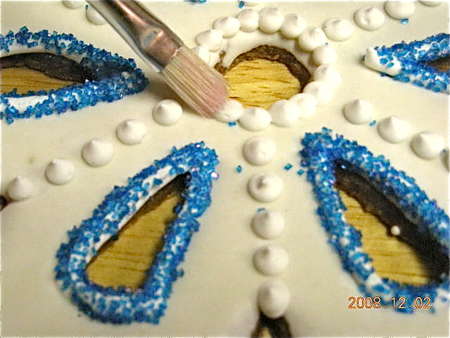 If you're really fussy (and sadly, I can be), you can brush off any offending crystals with a very small, dry paintbrush, preferably one just for baking.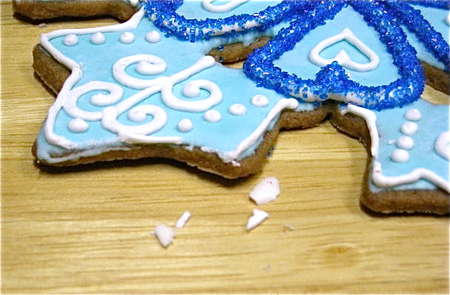 And there they are. Big cookies that taste and look amazing. But wait! There are cookies that smudged, or a bit of edge crumbled in transit. What's a fussy baker to do?
"Don't worry, Mom," says Shannon. "The 8th grade boys will buy those at the bake sale. They just want something to eat." I call that sweet success!