Stuffing Bread Bowls
Stuffed to the brim!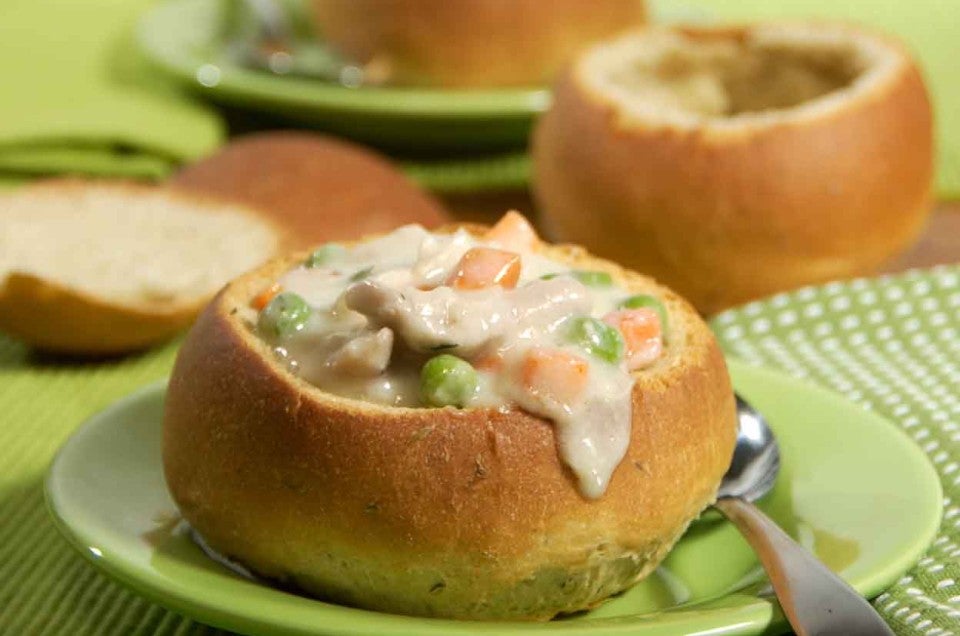 Ahhhhhhh…
If you're reading this Thursday afternoon, you're probably stuffed. With stuffing. With turkey. With good cheer of all kinds, from blueberry muffins first thing this morning, to Brie and Burgundy (beer?) preceding the Big Meal, to the main course itself: pumpkin bisque, the bird, biscuits, broccoli, Brussels sprouts, brown gravy, butterbeans… butterscotch pie and bonbons… whew, pass the bicarbonate!
Although it's tempting (and nearly inevitable) to go beyond the bounds of satiety on Thanksgiving, it's also possible—nay, probable—that despite how much everyone consumes, there'll still be plenty left over for sandwiches and soup and hot-plate specials à la microwave for days to come.
And that's a good thing, given the way we all rush around prepping for the holidays. It's nice to have a stash of MREs (meals-ready-to-eat, in military parlance) in the fridge or freezer.
One must-have is good bread—for mopping up gravy, but mostly for sandwiches. Turkey, stuffing, and cranberry sauce may sound odd (bread stuffing between two pieces of bread?), but it offers you a tasty memory of The Meal in every mouthful.
And then there's my favorite, enjoyed every year on our ride home to Connecticut from my grandmother's house in South Jersey: cold chunks of turkey, salt, pepper, and lots of mayo. I tell you, munching on one of those sandwiches even made motoring up the New Jersey Turnpike through pre-cleanup Secaucus almost bearable.
Looking for the perfect post-Thanksgiving bread? Our recipe for Stuffing Bread Bowls can be made into six large "soup bowls," perfect for bread-based turkey à la king. Or shape the dough into 12 smaller sandwich rolls. Pass the mayo, please.
Happy Thanksgiving, one and all.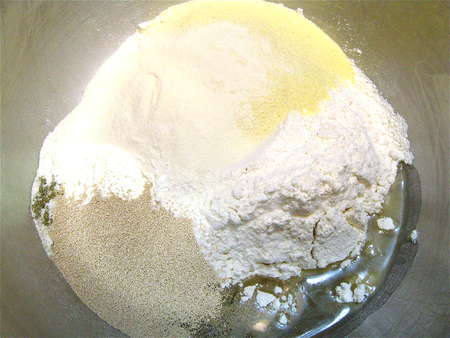 Here we go, bread bowls first. Combine all of the dough ingredients in your mixer bowl, or the bucket of your bread machine.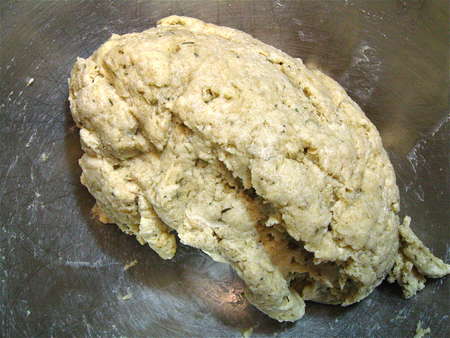 Use the flat beater till the dough comes together...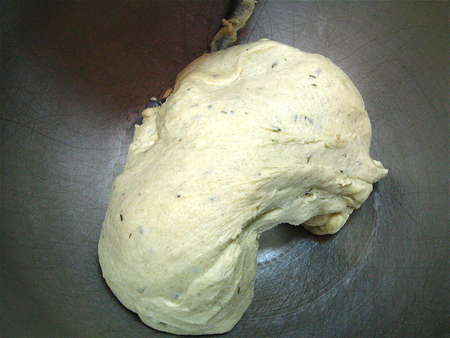 ...then switch to the dough hook and knead the dough till smooth, about 7 minutes at medium speed.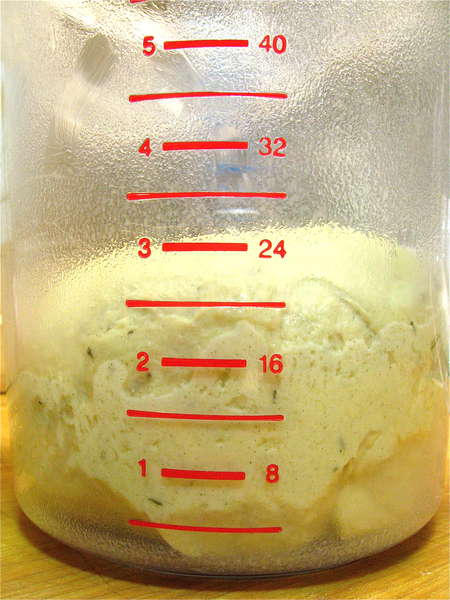 Place the dough in a lightly greased bowl or other container; I like to use an 8-cup measuring cup, so I can track the dough's progress as it rises.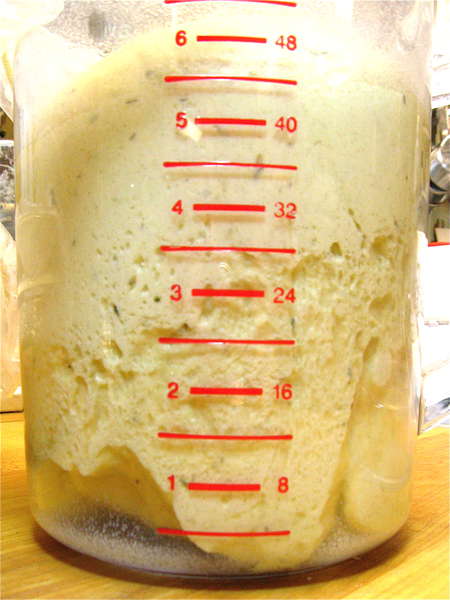 Let the dough rise till it's very puffy, 60 to 90 minutes.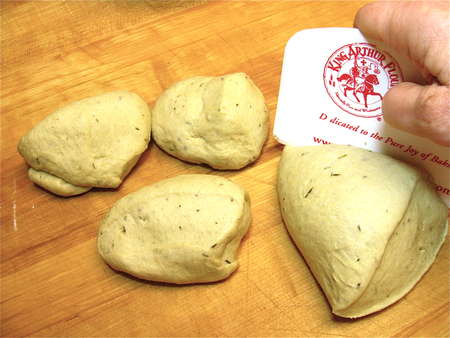 Gently deflate it, and divide it into six pieces.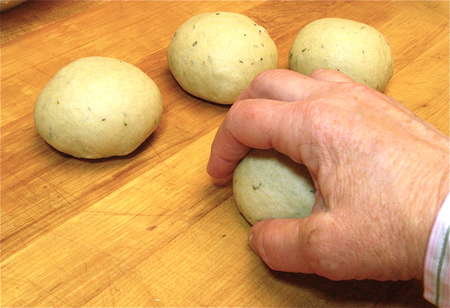 Round each piece into a ball by gently cupping your fingers over it, and rolling in a circular motion. Don't do this on a floured or greased work surface; in order to shape itself, the dough needs the traction of a bare work surface.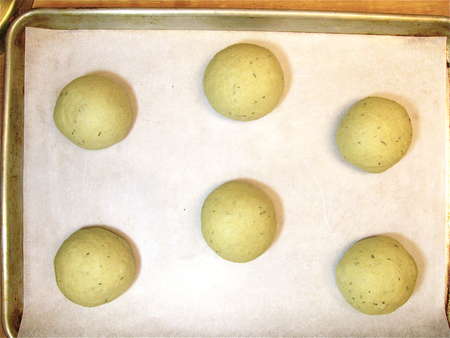 Stagger the balls of dough  on a lightly greased or parchment-lined baking sheet.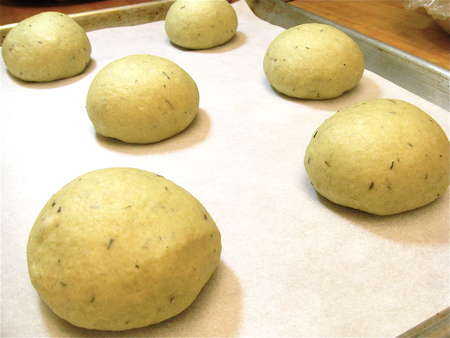 Here they are, ready to rise. You'll want to cover them.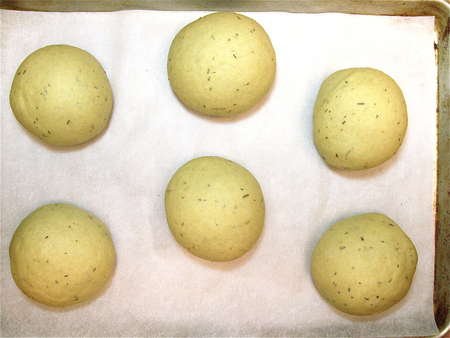 About an hour later, they will have become quite puffy.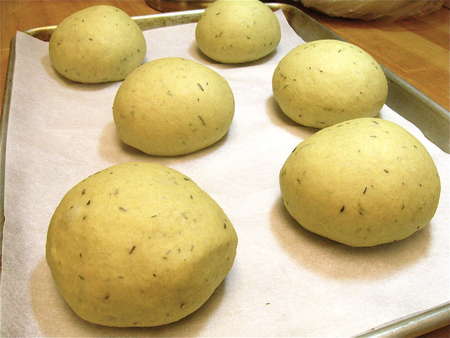 See?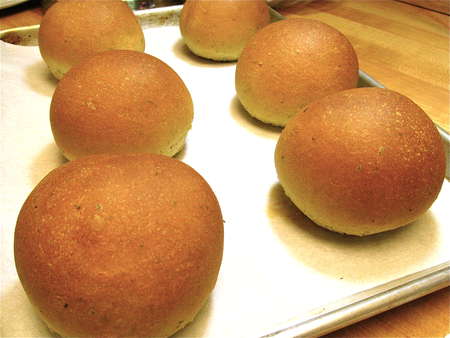 Bake the rolls till they're golden brown, about 25 minutes.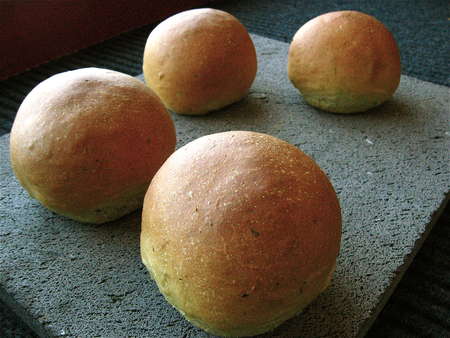 Remove them from the oven, and let them cool. Aren't these lovely?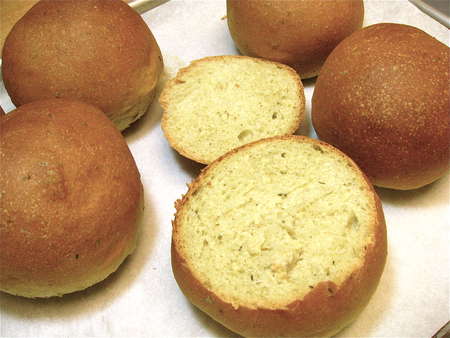 Cut a slice off the top of each loaf. Don't cut too much; just enough for you to get your fingers in there and pull out the insides. The bowl pictured above could actually have been sliced off closer to the top.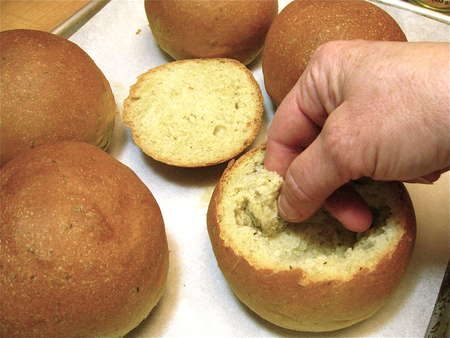 Scoop out the interior with your fingers; save what you've scooped and make breadcrumbs.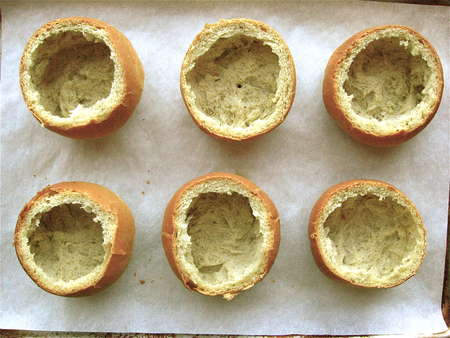 Here are the bowls, ready to go. Notice I've been careful not to make the outer wall too thin; we don't want to spring any leaks. Cover the bowls while you're making the filling. They store nicely for several days in a plastic bag at room temperature.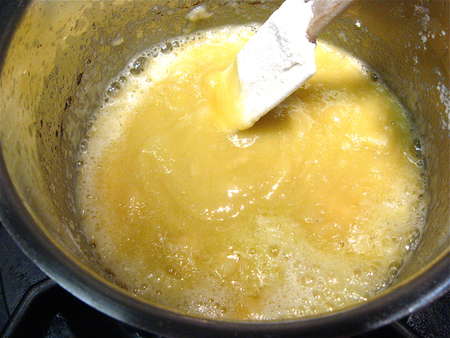 Melt butter, add flour, and stir till bubbly and well combined.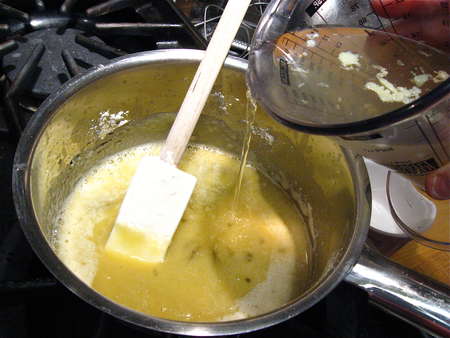 Gradually pour in chicken or turkey stock, stirring all the time to prevent lumps.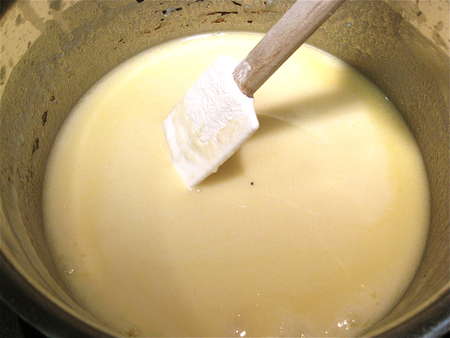 Once the stock is added, stir till the mixture is totally smooth, and is beginning to bubble around the edges.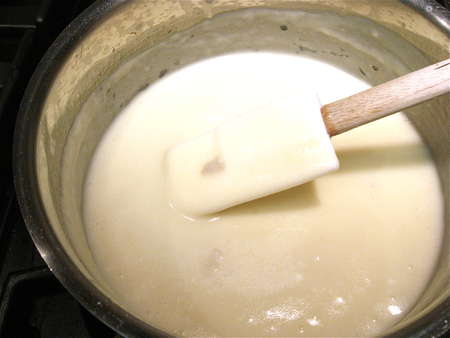 Stir in the milk. Bring to a boil, reduce the heat, and simmer for 5 minutes, stirring frequently.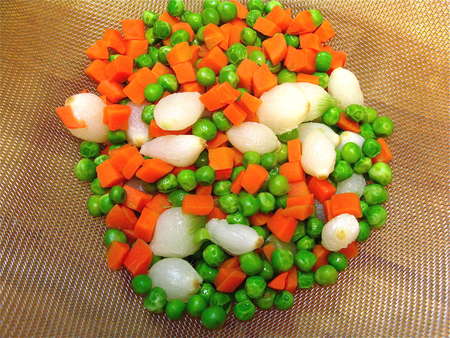 Make sure your frozen peas, carrots, and onions are cooked and well-drained. If you just thaw them, they'll continue to release liquid once you add them to the sauce, which will then become thin. So you really do need to cook the vegetables first.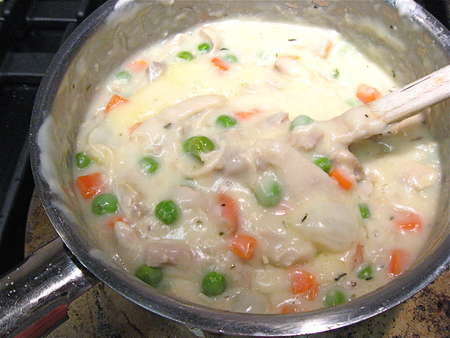 Add the veggies to the sauce, then stir in the chicken, salt, and herbs. Add pepper if you don't mind little black specks.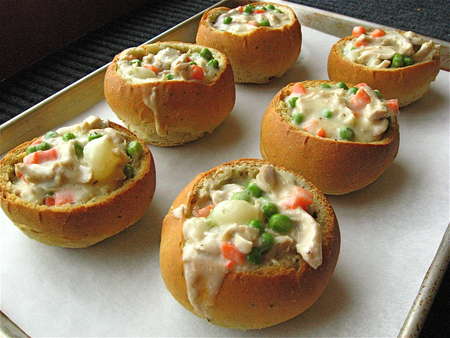 Put a heaping 1/2 cup of hot filling in each bread bowl. Serve immediately. Can you make the filling ahead, and reheat just before serving? Sure.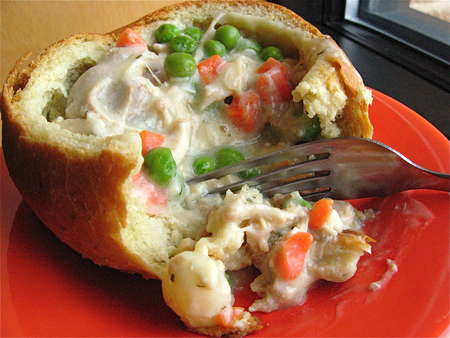 Just make sure the filling's nice and hot when you spoon it into the bowls. That way, it softens the herb-scented bread, making it easy to cut with a fork. Is this a great thing to do with leftover turkey (or chicken) and vegetables, or what?!
Read, rate, and review (please!) our recipe for Stuffing Bread Bowls filled with chicken or turkey pot-pie filling.
Jump to Comments