Baby cakes
Just a few sweet bites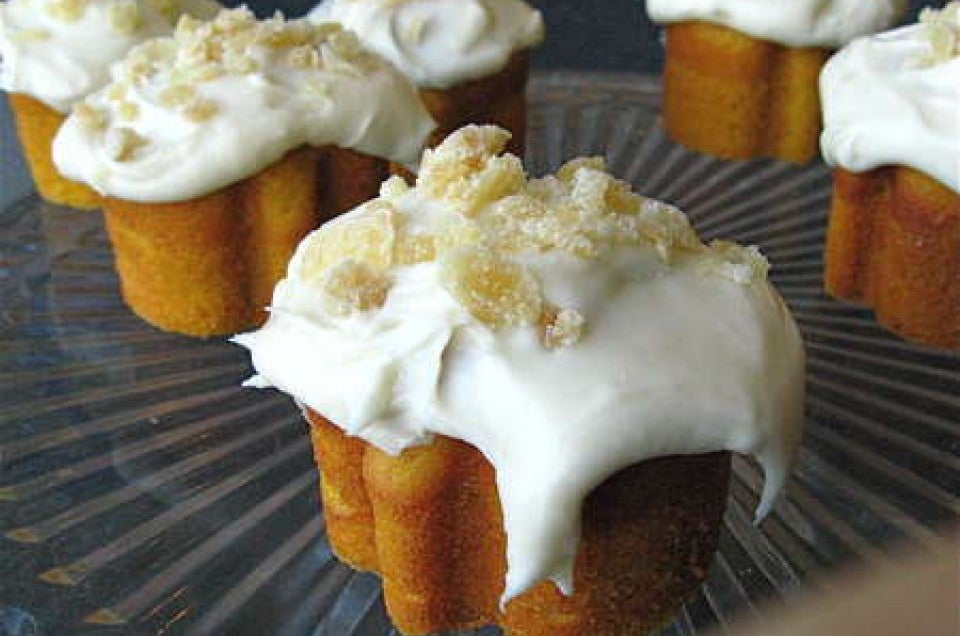 Ah, autumn! The frost is on the pumpkin.
And the frosting is on the pumpkin cake. Cream cheese frosting, to be precise.
What is it about rich, thick cream cheese frosting that sings so beautifully with anything pumpkin? I mean, they go together like movies and popcorn. (Or October and political ads.) There's just something about the slightly exotic, mildly spicy taste of pumpkin, and the temptingly tangy, sumptuous and creamy flavor of cream cheese that simply says YES to my taste buds.
Frankly, I'm not THAT big of a fan of pumpkin. Oh sure, the odd slice of pumpkin pie after stuffing myself with stuffing (the best part of Thanksgiving dinner) isn't amiss. And I love curried pumpkin soup. And the pumpkin seeds left over after carving a jack-o'-lantern get rinsed, tossed with olive oil, salted, baked, and thoroughly enjoyed
But pumpkin muffins, pumpkin cake… whatever. Unless cream cheese frosting is on top. In which case pumpkin "whatever" is a great intermediary between me and the icing on the cake. Especially if that icing has a shower of crunchy-spicy-sweet-hot crystallized ginger sprinkled on top.
If you happen to be one of those bakers who rushes to try every new pumpkin cake, muffin, bar, and cookie recipe, you'll love these moist, mildly spicy mini cakes. If pumpkin is more of a take-it-or-leave-it taste for you, try these anyway. I guarantee your opinion of this autumn standby will increase in proportion to the amount of cream cheese frosting piled on top!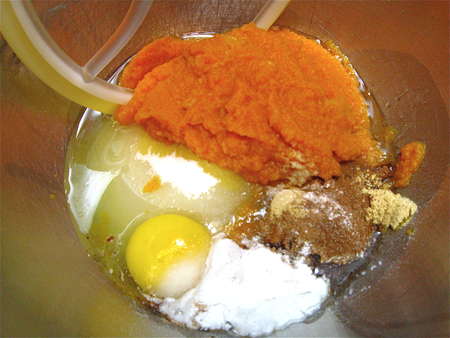 These are easy to make, because most of the ingredients are simply beaten together all at once. Put vegetable oil, eggs, sugar, pumpkin purée, spices, salt, and baking powder in a mixing bowl, and beat till smooth. This will be a quick process. Note: The recipe calls for granulated sugar. This was a version I tried with half granulated, half brown sugar; it worked out fine. Your choice.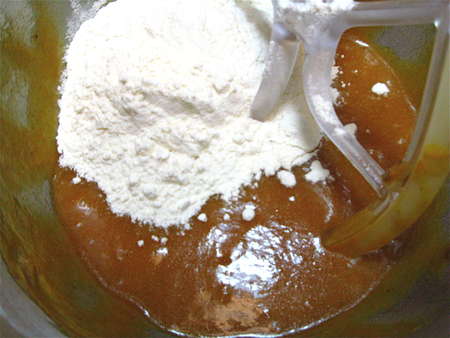 Add the flour...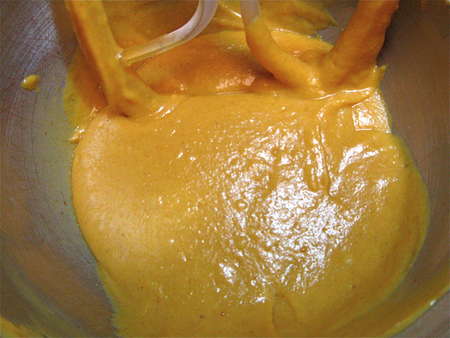 ...and beat gently, just to incorporate.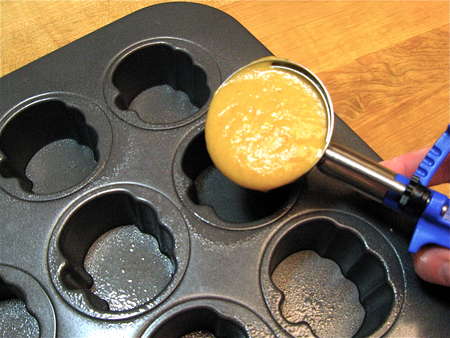 Next, use a muffin scoop to dollop the batter into a greased mini-pumpkin pan. Alternatively, scoop it into standard muffin cups, or a 9" x 9" pan.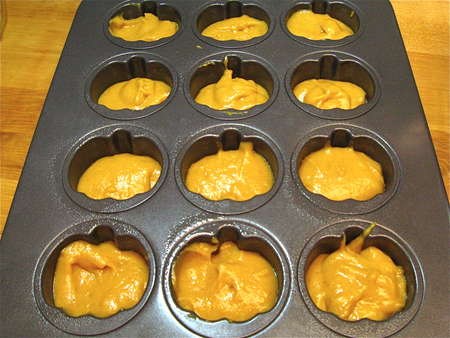 Fill the cups about 3/4 full.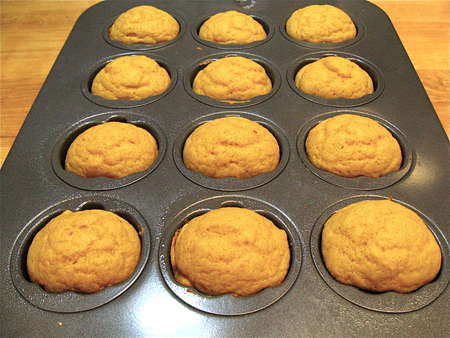 Bake till a cake tester inserted into one of the center pumpkins comes out clean.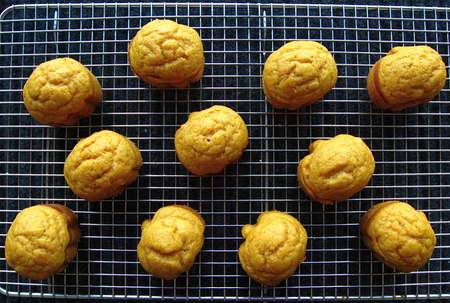 Remove from the pan, and cool on a rack. Awww, little baby pumpkins... Enjoy looking at them now, because we're about to lose their shape in a schmear of cream cheese icing. YUM.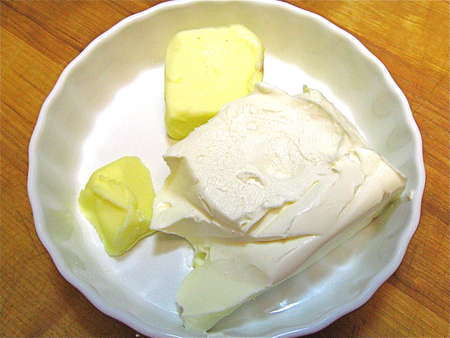 Your butter and cream cheese will go together more smoothly if they're at room temperature. If they're not, microwave them VERY briefly—like, maybe 10-15 seconds, just till they've softened a bit without showing any sign of melting.
Combine the softened butter and cream cheese with the sugar and vanilla.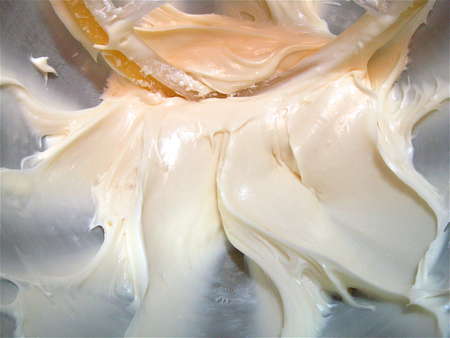 Beat till silky-smooth. Since the butter and cream cheese are soft, this happens quickly.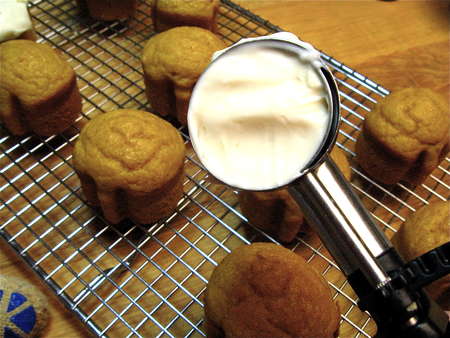 Fill a tablespoon cookie scoop level with icing; this helps you distribute the icing evenly among the cakes. If you don't have a cookie scoop, just eyeball it.
Scoop icing atop the cakes...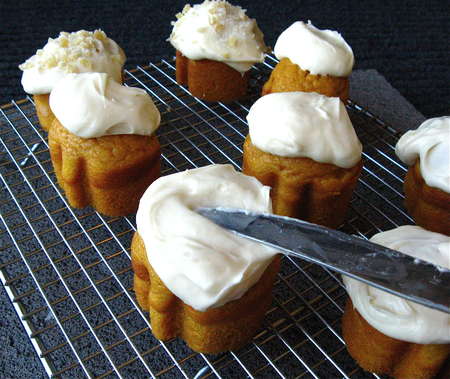 ...and smooth with a table knife.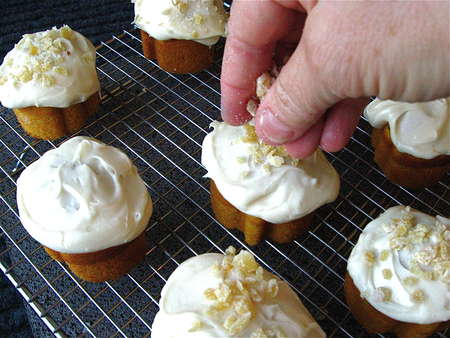 Sprinkle finely diced crystallized ginger on top, if desired.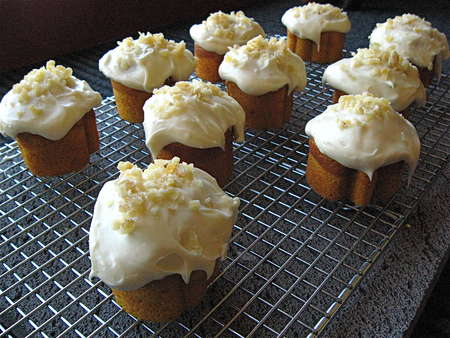 These are very, very tasty.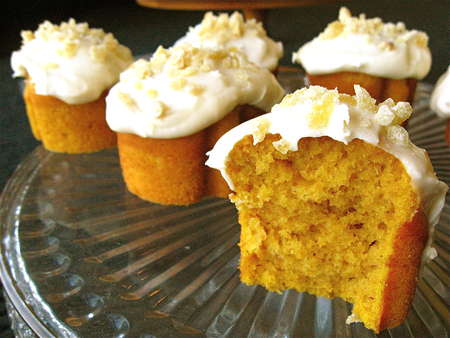 And pretty, too. Even though you can't see their pumpkin shape.
Read, rate, and review (please!) our recipe for Pumpkin Mini Cakes.
Buy vs. Bake
Buy: Cakes & Desserts By Melissa: 1 dozen pumpkin spice cupcakes with white chocolate cream cheese frosting, $24, $2.00 each
Bake at home: 1 dozen Pumpkin Mini Cakes with Cream Cheese Frosting, $5.10, 43¢ each