Hey, do these look like whole grain pancakes to you? Surprise...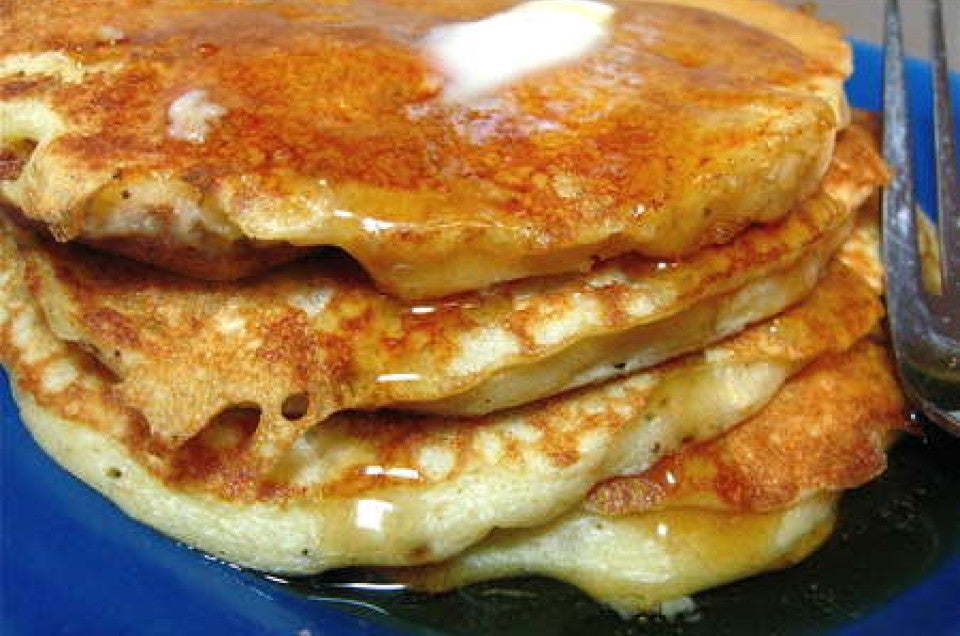 Attention, class—how many times do I have to say this?
Whole grains don't have to taste whole-grainy.
Whole grains can actually taste good. No, make that GREAT.
OK, true confession time. For years, I didn't like the taste of whole wheat flour. I was a white flour gal, contentedly enjoying grilled cheese and French toast on white sandwich bread, meat- and cheese-stuffed sandwiches on crusty baguettes, biscuits and scones and pizza made from King Arthur Unbleached All-Purpose Flour.
Which happens to be the first flour I ever purchased, about a million years ago when I was still in college and had no clue that someday I'd be working at this venerable "flour with the horse on the bag" company. Trust me, this is a sales pitch rooted in many long years of great experience. No brag, just fact: King Arthur Flour never lets you down. Why? Because our milling specs are SO tight, we produce the same flour month after month, year after year, no matter what vagaries of weather and growing conditions the wheat undergoes.
In the case of flour, consistency is neither foolish, nor the "hobgoblin of little minds," for all of you Ralph Waldo Emerson fans out there. All three of you.
Oh, whoops, back to the subject: whole grains. While working on King Arthur Flour Whole Grain Baking, our latest book, I was forced into baking with whole grains. And made a marvelous discovery.
Whole-grain doesn't necessarily mean whole wheat. Whole-grain can mean oats, which are just about the sweetest, nuttiest, most delicious form whole grains can take. I also discovered that the main thing I didn't like about whole wheat, its tannic bitterness, isn't its normal taste. It's the result of poor storage. Fresh whole wheat, stored in the freezer to protect its germ, has an unassertively "pleasantly wheaty" flavor that's perfectly innocuous, even welcome, in all kinds of baking.
And if you bake with white whole wheat—which is, make no mistake, 100% whole-grain and carries the same nutrition profile as red wheat—then you're totally set to slip all kinds of treats past your resident whole-grain unenthusiasts.
Not to say I reach for whole wheat every time I bake now; all-purpose white flour is still my best friend in the kitchen. But I've learned to use whole grains where I can, substituting white whole wheat for all-purpose flour in cookies, muffins, bars, and some cakes—including pancakes.
The following pancakes are based on oats and white whole wheat. They're 90% whole-grain, with just a bit of white flour for texture. It's simple simple SIMPLE to make a big batch of Whole-Grain Pancake Mix, and keep it in your freezer, ready to pull out on a weekend morning. And take it from me, a lukewarm whole-grain fan AND a very challenged pancake maker: these pancakes are simple to make and umm-UMM good!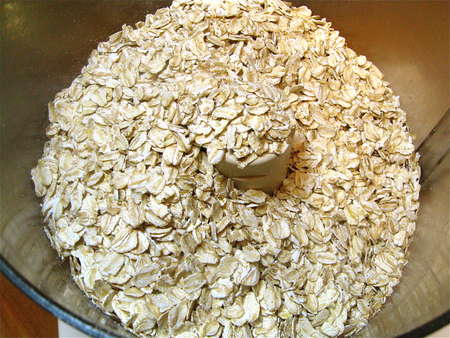 Let's start with oats. These are traditional rolled oats; you can also use the quick-cooking variety.

Whirl them in the food processor till they're a combination of powdery and flaky.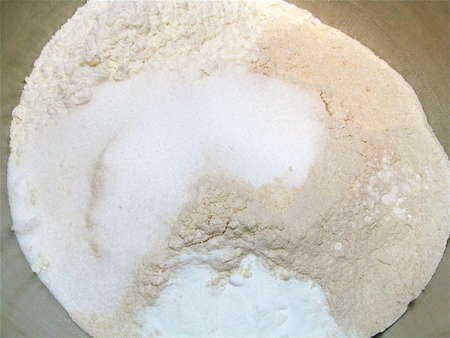 Put the oats in a mixing bowl, and add the white wheat flour and the remainder of the ingredients.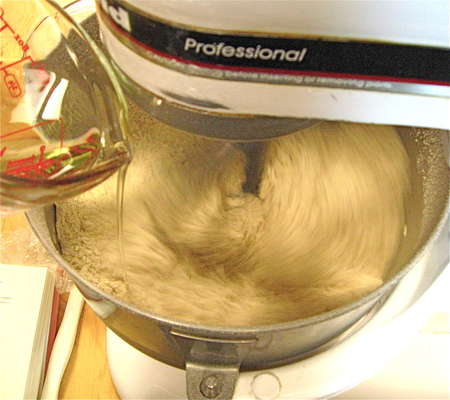 Mix the dry ingredients till thoroughly combined, then add the vegetable oil in a stream, with the mixer going. If you don't have a stand mixer, just mix the oil in thoroughly, so it's not clumped anywhere.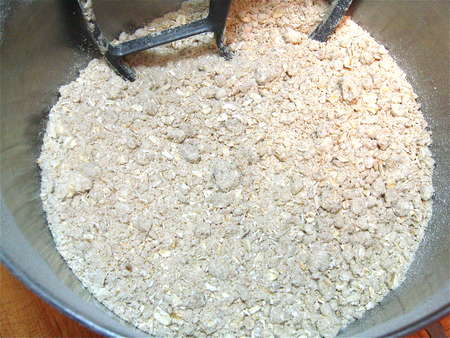 Here's what your finished mix looks like.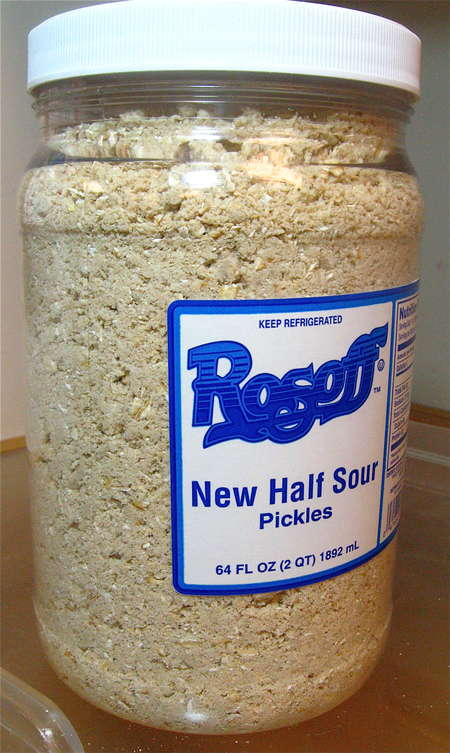 Put it in a 2-quart jar or other large storage container, and store in the freezer. And if you're using a pickle jar or other "aromatic" container—do yourself a favor, and air it out thoroughly first.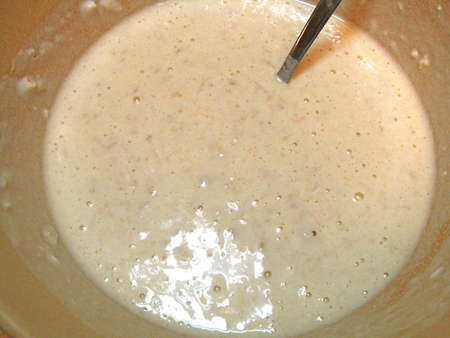 When you're ready to make pancakes, combine 1 cup of the mix with 1 egg and 1 cup of buttermilk (or a mixture of half milk, half plain yogurt). I also add a tablespoon of orange juice, which tames any residual whole-wheat bitterness the sensitive palate might detect. Let the batter rest for 30 to 60 minutes; this thickens it up, smooths out any lumps, and lets the baking powder start to do its stuff.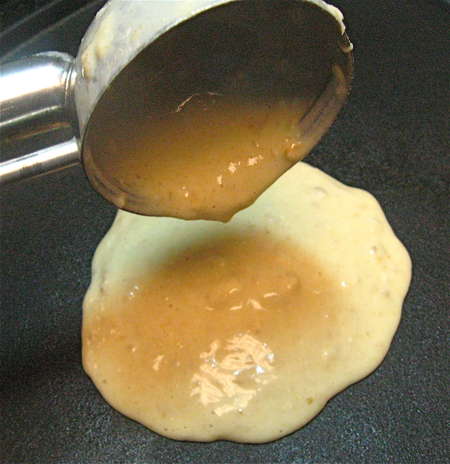 Pour the batter onto a medium (350°F) griddle, or into a frying pan over medium-low heat. I'm using our muffin scoop here, because it makes perfectly sized, all-the-same-size pancakes.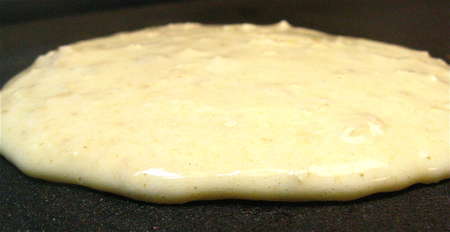 Here's what the pancake looks like freshly poured onto the griddle...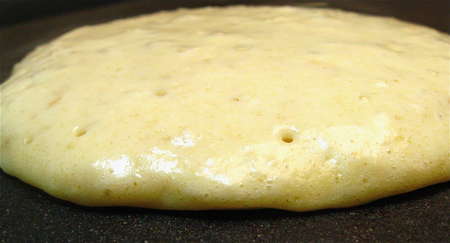 ...and here it is after 2 minutes. It's puffed a bit, seems drier, and has developed a few bubbles on top.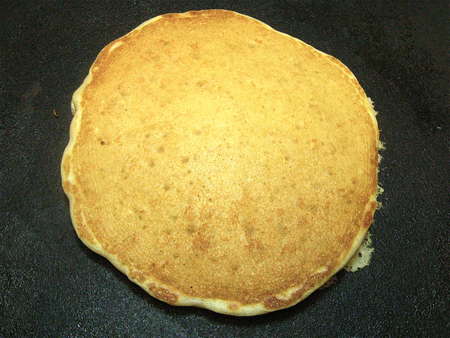 Turn the pancake over; you should see golden perfection. If not, adjust the heat.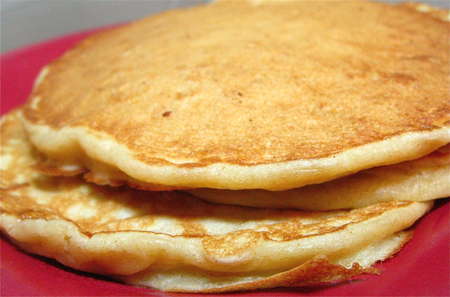 If you have a griddle, you can make the entire batch of 8 big pancakes at once. If you don't, you'll have to cook in batches. Layer the pancakes to serve. Again—do these look like whole grain pancakes? Your family will never know…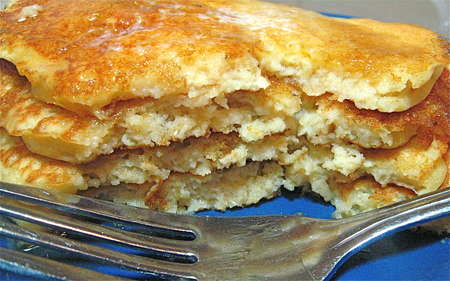 Especially once they take that first bite. Ahhh, good enough to eat! Enjoy.
Read, review, and rate (please!) our recipe for Homemade Whole-Grain Pancake Mix.
Buy vs. Bake
Buy: Adam's Mountain Café, Manitou Springs, Colorado: whole-grain pancakes served with pure maple syrup, 3 cakes, $9.00
Buy: Ed's Deli, True New York Experience, Dallas, Texas: whole grain pancakes served with whipped butter and hot maple syrup, $5.99
Make at home: Whole-grain pancakes, tall stack of 4 cakes, 50¢
With 1 tablespoon butter and 3 tablespoons pure maple syrup, $1.94