How to make grilled pizza
Give your oven a break
"Mom, what's for dinner?"
My first reaction, during these busy days of summer, is TAKEOUT. But having just gotten the first monthly bill for next year's heating oil—OUCH—I know we're eating in. Which is usually a pleasure; I like to cook. But not when the temperature in my kitchen is 92°F.
It's been searingly hot and breathlessly muggy here in Vermont's Connecticut River valley the past few days. This is our equivalent of global warming; 90°F days used to be infrequent, but are now a regular occurrence. Not regular enough, however, for everyone to have air conditioning. So when the heat descends, an awful lot of us move outdoors and light the grill for our evening meals.
Hotdogs, hamburgers, chops, chicken, steak, fish… pizza? Believe it or not, pizza is one of the easier, quicker supper dishes you can make out on the deck. You literally just slap the dough onto the grill, cook one side, flip it over, add the toppings, and wait about 5 minutes for everything to warm up. And while dinner's cooking, you're sitting in a deck chair, cold glass of (fill in the blank) in hand, enjoying whatever faint breezes happen to be stirring in the trees arching overhead.
I made pizza on the grill last night. My college-age son scoffed at the toppings. "Mom, come on—goat cheese?!" But my husband, a pizza omnivore, was happy to down quite a few slices with his bottle of beer. And me? So long as I could leave my hot, stuffy kitchen behind, I was overjoyed. Case closed.
Now, don't be skeptical—grilled pizza is quite simple. Just follow this step-by-step. The most challenging part is finding the right grill temperature, but once you've got that nailed, you're good to go for the rest of the summer.

First, put everything in a bowl. Good way to start, right? Where would we be without bowls? It doesn't bear thinking about. I use 100% Italian-style flour in this recipe, as it's extremely easy to pat into a very thin crust. If you use another type of flour, you'll find it more time-consuming to make a thin crust, as you'll need to stretch it, then let it rest; stretch again, then let it rest... You'll get there; just understand it'll take longer than if you used lower-protein Italian-style flour. Can you use pastry flour? I haven't tried it; give it a go, and post your comments.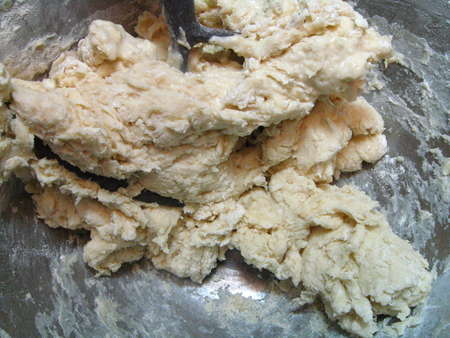 Next, mix up a rough dough. At this point, you can tell if you need a bit more liquid, or a bit more flour. it should be clay-like—everything hanging together, but not sticky.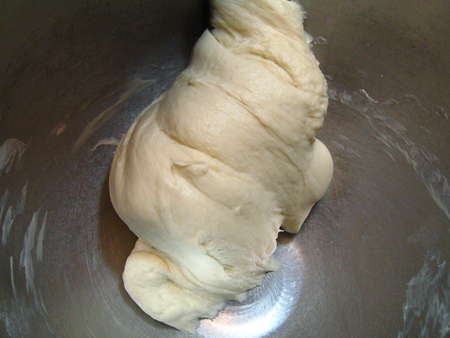 Knead for 5 minutes. The dough will become smooth and sinuous.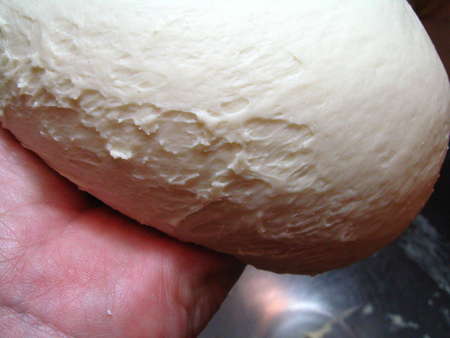 Notice, though, it's still a bit rough. That's OK; it'll smooth itself out as it rests.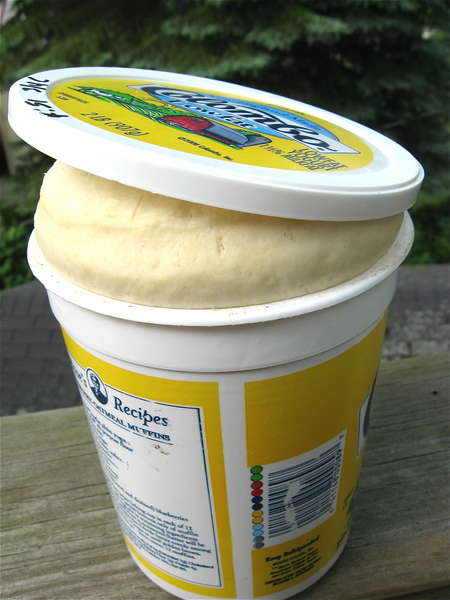 So, I made the dough at work, put it in a yogurt container, brought it home, and put it on my picnic table while I was slicing the cheese and tomatoes for the topping. WHOOPS—guess the container wasn't quite big enough.

See how nicely the dough has smoothed out? It's the miracle of fermentation!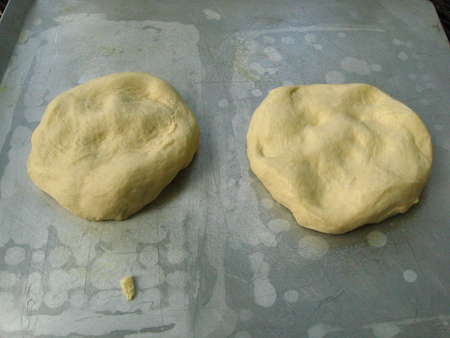 Divide the dough in half, and shape each half into a disk.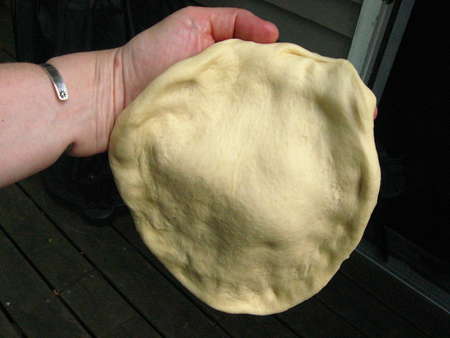 Stretch each piece of dough into a larger disk, letting gravity do some of the work for you.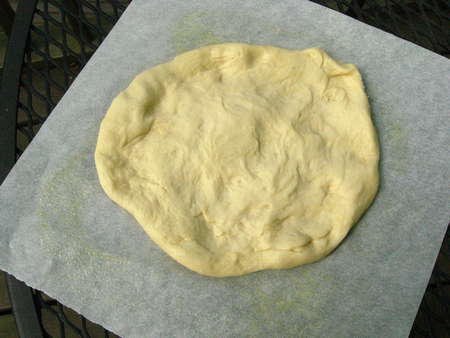 Tear off a 12" square of parchment, and spray it with olive oil. Put the dough on it. Wait about 5 minutes...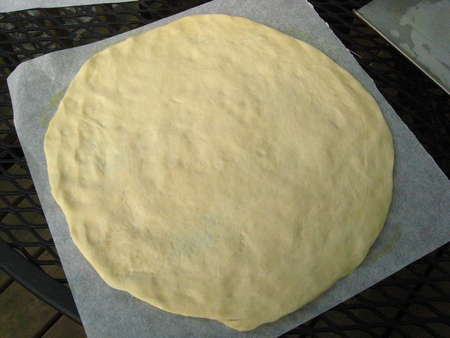 ...then stretch it out to the edges of the parchment.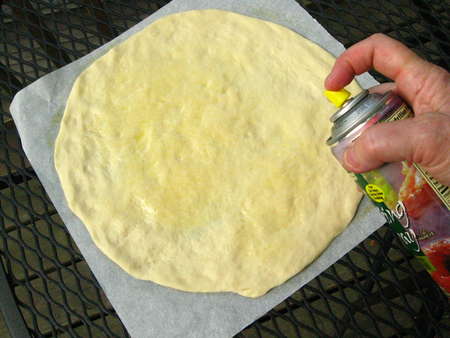 Spray with olive oil.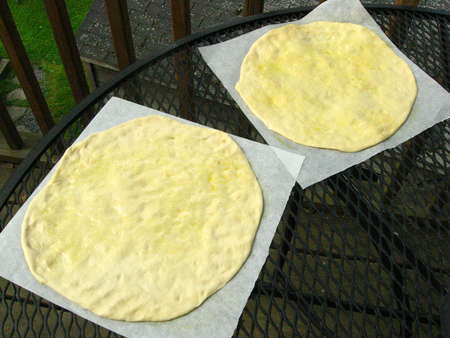 Repeat with the other piece of dough. Meanwhile, start getting your grill up to heat; medium-hot is good for ultra-thin-crust (about 1/4") pizza. Lower heat is appropriate for thin-crust pizza. Don't try to bake a pizza thicker than 1/2" on the grill; it's too tricky trying to get the heat right. Thin-crust pizzas are best for grilling.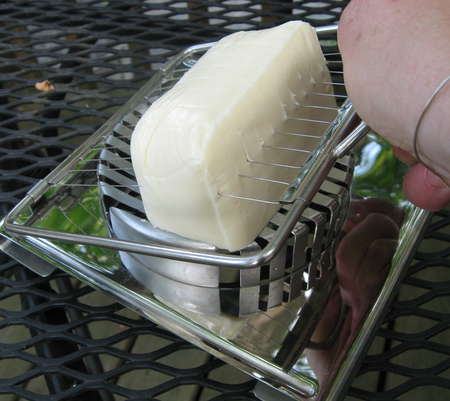 We have one of these mozzarella cheese slicers in our catalogue, so I grabbed one from our merchandise area and brought it home. Yup—made it REALLY easy to slice mozzarella...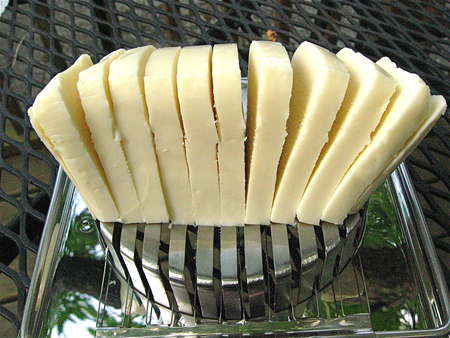 See? Might be too thick for you, but I happen to like big, chewy blobs of cheese on my pizza.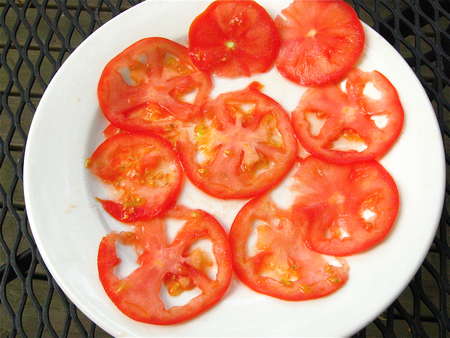 I sliced some tomatoes REALLY thin. We have a tomato knife in the catalogue that does a great job.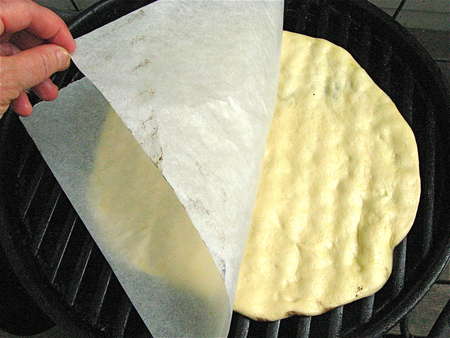 Let the fun begin! Take the dough on its parchment, and turn it over onto the hot grill. Peel off the parchment.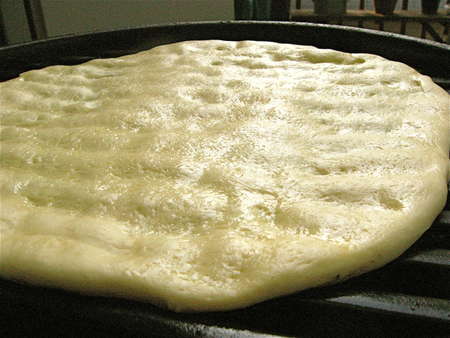 Isn't that pretty? The oil from the parchment is now atop the pizza crust.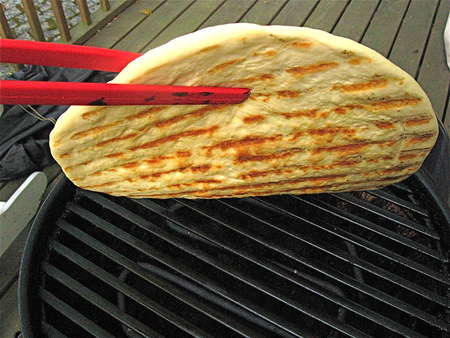 When the bottom is nicely browned (which can take anywhere from 1 minute to 5 minutes, depending on the heat of your grill), use a pair of tongs to flip the crust over. I like these red tongs we sell. They have a nice, sensitive feel to them.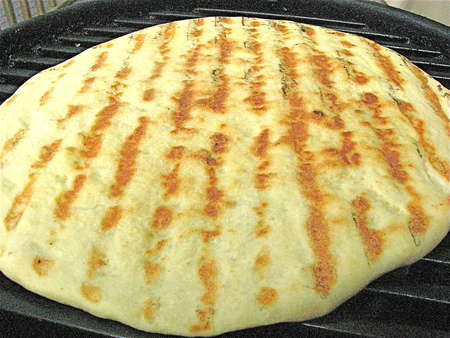 Bottom on top, top on bottom. At this point, your toppings should be all ready.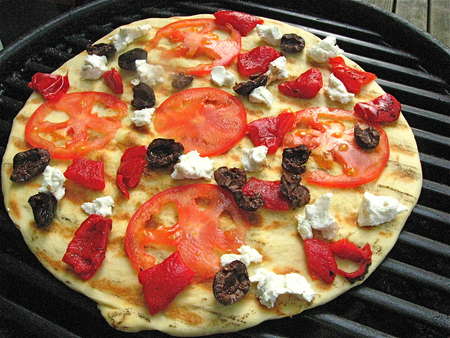 Here I've used black olives, tomatoes, marinated red peppers, and dabs of goat cheese.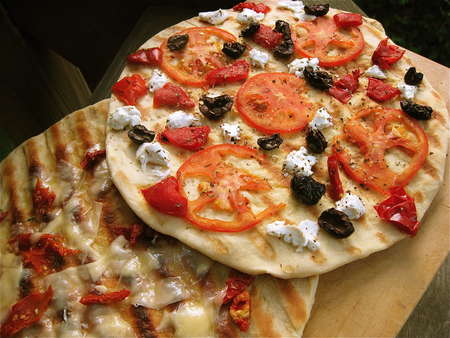 And here they are, a couple of finished pizzas. The one on the left is simply Parmesan and sun-dried tomatoes.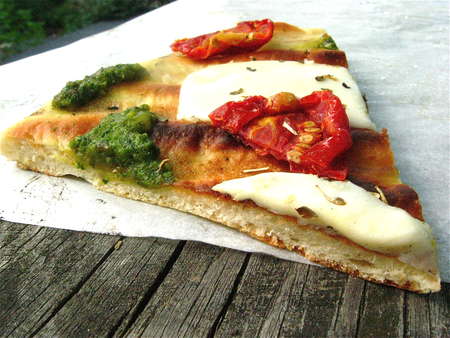 And this one is sun-dried tomatoes, the aforementioned mozzarella blobs, and homemade pesto. Notice how thin the crust is; this is just about the right thickness.
Having one of those sultry summer days? Think about pizza tonight. Read, review, and rate (please!) our recipe for The Fastest Homemade Pizza Ever, with an option for grilling at the end.
Buy vs. Bake
Buy: Lebanon, N.H. Pizza Hut—12" thin-crust pizza, cheese: $12.41 each
Buy: Lebanon, N.H. Pizza Hut—12" thin-crust pizza, two toppings: $13.91 each
Bake at home: 12" thin-crust pizza, with mozzarella cheese, roasted red peppers, and fresh tomatoes, $3.59 each
Jump to Comments