Imagine the William Tell Overture (a.k.a. the Lone Ranger theme song), pounding in your head. Hear the drumming hoofbeats (if you were a fan of the Ranger, Tonto, and Silver), or the lively violins (for you classical music buffs). OK, got that? Ready… Set… Go bake 32 dozen cookies—in 2 hours!
What possessed me to do just that this morning? Perhaps it was talk around the office recently of Project Graduation, our local high school's all-night supervised party. This community-wide event includes a pull-out-all-the-stops drive for donations ranging from boom boxes and bikes to pizzas and bagels and chips and Coke and cookies… And cookies, and more cookies.
Cookies are the fuel that drives these 18-year-olds through a night of substance-free partying. There can never be too many cookies at any event involving teenagers. The girls nibble, mindful of their diets; the boys, with metabolisms revving at about 200rpm, grab handfuls and inhale. Either way, trays of cookies disappear at an alarming rate, to be replaced, thankfully, by more trays of cookies.
I baked cookies for this Project Graduation several years ago, when my own son was a senior. Back then, I didn't have as many shortcuts up my sleeve as I do now. I've learned a lot about mass cookie baking, thanks to various potlucks, bake sales, and community events to which King Arthur donates. And somehow, it all came together early this morning, as I stood in the kitchen at 6:50 a.m. wondering where to start. How about—cookies?
I knew I wanted to write a blogpost. It's graduation time. There might be others out there having to bake zillions of cookies for hungry teenagers. How about a how-to on "sprint" baking?
Clearly, you folks at home don't have the facilities I do: two ovens, 16 cookie sheets, and a big rolling rack for cooling 16 pans of cookies at a time. But you do (or can) have the other key ingredients for success:

Tried-and-true recipes, ones that make non-fussy, sturdy (easily transportable) cookies. Today I made Snickerdoodles, and peanut butter cookies.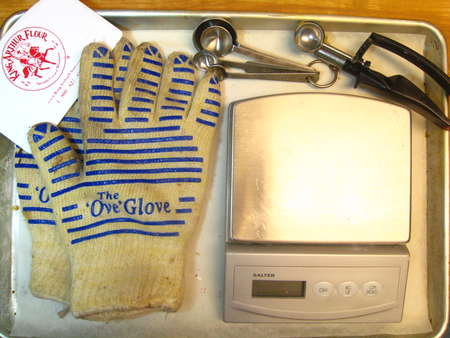 Oven gloves. A bowl scraper, to get every last bit of dough out of the mixer bowl. Four good baking sheets, so that you can have two in the oven and two ready to go. Parchment paper, to avoid doing dishes at the end. A scale, for fast, mess-free measuring. Measuring spoons. A teaspoon cookie scoop, which makes lovely 2" cookies, the perfect size for "grab and go" grads.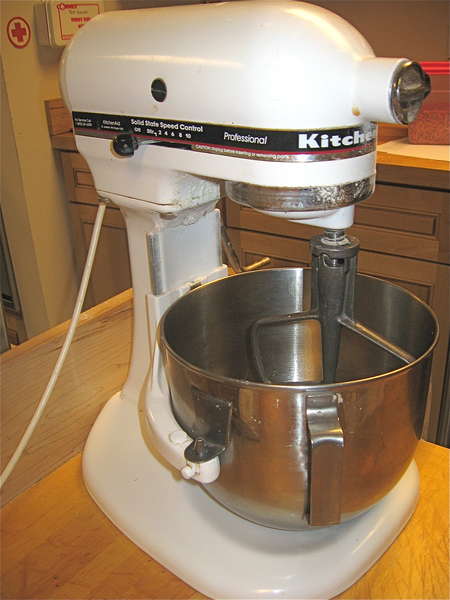 And a stand mixer. Or at least a hand mixer, though a stand mixer can handle a lot more dough than the hand-held models. I happen to love KitchenAid mixers, so that's what I use here at King Arthur—a 5-quart version. My KitchenAid at home is 30 years old and counting.
I started pulling ingredients off the shelf at 6:57 a.m. By 9:05 a.m., I'd pulled the final baking sheet out of the oven. In 2 hours, 8 minutes, I'd baked nearly 32 dozen cookies: 366, to be exact.
You probably don't need to bake 32 dozen cookies at a time. But how about 8 dozen (96 cookies)? That's just a single batch of dough, four pans' worth, two trips into and out of the oven... and a nice contribution to any potluck, bake sale, or Project Graduation. Here's how: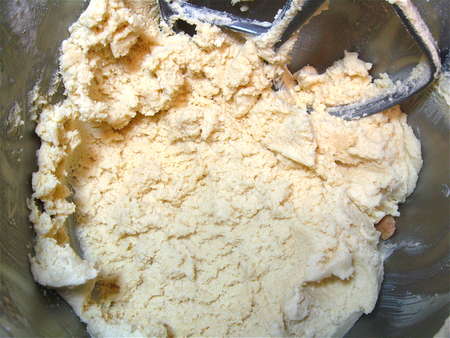 First, make the cookie dough—I made a double batch of Snickerdoodles; you could probably get away with a single batch (96 cookies). A stand mixer makes the job easy.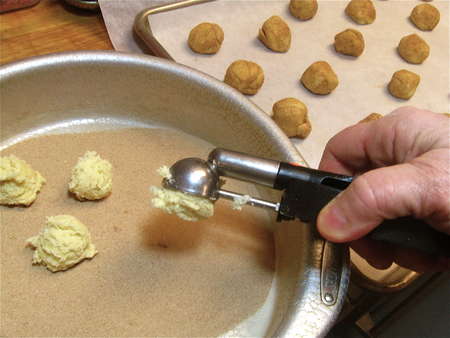 Snickerdoodles need to be coated in cinnamon sugar before baking. Use your cookie scoop to drop them into a pan of sugar.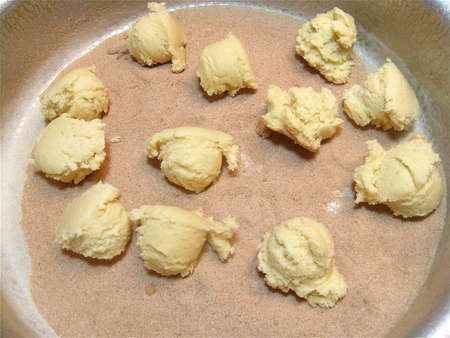 Since my baking sheet holds 2 dozen 2" cookies, I plopped a dozen balls of dough into the sugar at a time.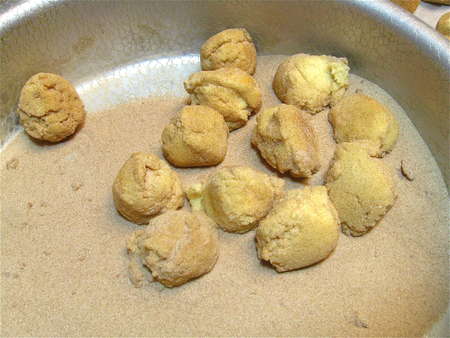 Shake till coated...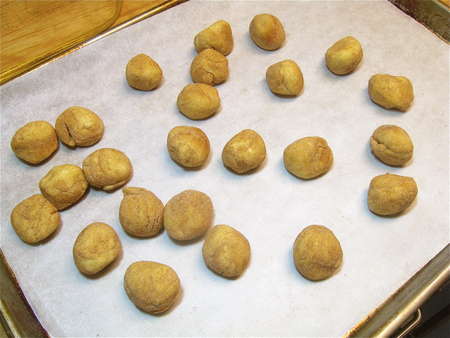 ...then toss onto the parchment-lined baking sheet. Literally. don't bother lining them up yet.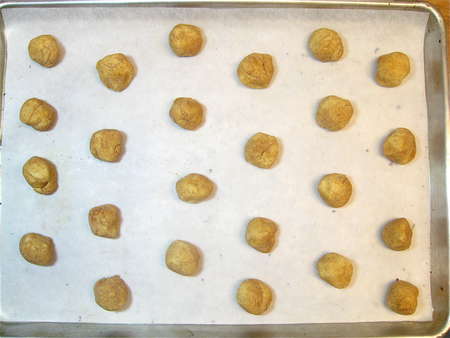 Once you have 2 dozen balls of dough on the pan, stagger them in six rows of four; staggering them allows you to utilize the space on the baking sheet more fully.

Flatten the cookies. I use the pusher from our Cuisinart food processor. It has a nice circular design in the top.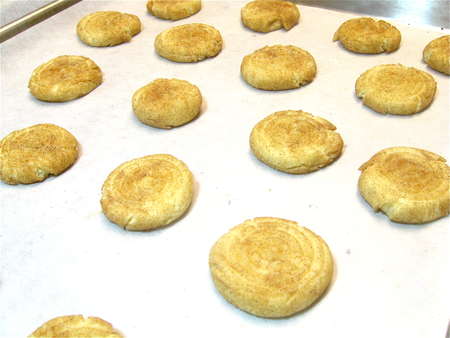 Here they are, ready to go into the oven. Since I have two ovens at my disposal, I prepared four sheets of cookies at a time. While four sheets were baking, I was getting the next four ready. After eight sheets' worth of cookies...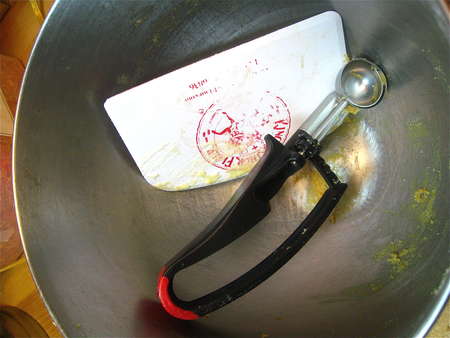 ...the bowl was bare. WHEW!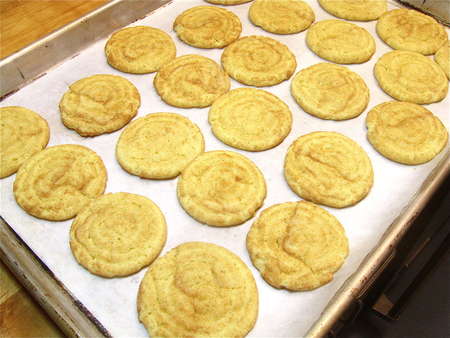 Here they are, cooling off. Look how perfectly they spread—I'd say I use the space on the baking sheet very efficiently, wouldn't you? That's one of the keys to sprint baking: efficient use of space. A teaspoon cookie scoop + 18" x 13" baking sheet (half-sheet pan) = VERY efficient use of space.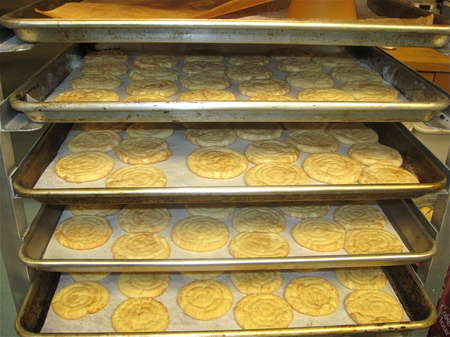 Cooling on the rack. I went through the same process with peanut butter cookies, and ended up with just under 16 pans of cooling cookies, pretty much filling the rack. If you do a double batch of either of these recipes, you'll have about 16 dozen 2" cookies. Plenty for most gatherings, wouldn't you say?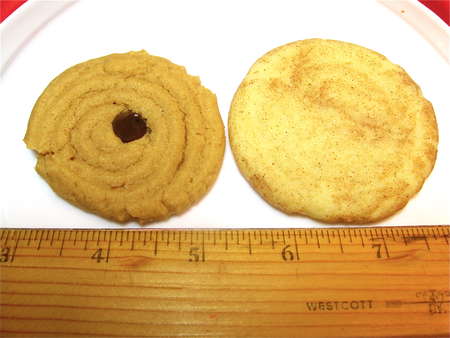 Notice the friendly size. When feeding a crowd, it's better to make a greater number of slightly smaller cookies; you'll find they last longer, and obviously feed more people.
Read our recipe for Snickerdoodles. And, for a delicious variation, read our blog post on Caramel-Stuffed Snickerdoodles.
Buy vs. Bake
Buy: Keebler Sandies Simply Shortbread cookies, 24¢/ounce
Buy: Supermarket in-store bakery sugar cookies, 18¢/ounce
Bake: Snickerdoodles, 9¢/ounce