Believe it or not, I think one of the driving forces behind baking is competition. As in, "I can make a better birthday cake than the supermarket." Or "My dinner rolls taste better than the bakery's." Or even "Huh, I didn't think her chocolate chip cookies were THAT good. I'll bring a batch of MY cookies to work and see how people react…"
Oh, sure, there's a lot more allure to baking than simple one-upsmanship. There's the creative process itself, which to most of us is the raison d'etre for long, lazy Saturdays spent checking the progress of rising bread dough, or enjoying the aroma of chocolate chip cookies ready to come out of the oven. There's the relaxation of sitting in a rocker with a cup of tea and a cookbook. The fun of braiding silken ropes of yeast dough into scali bread.
And then there's the unmitigated pleasure of a warm slice of cinnamon-y apple pie, a scoop of vanilla-bean ice cream melting in rivulets over its buttery crust. Or a chunk of baguette, hot from the oven, dipped in garlic-infused olive oil. Sharing and enjoying the fruits of your (pleasurable) labor is definitely baking's high point, for most of us.
But back to the competition. Once you've progressed past the basics (e.g., making the better birthday cake), it's time to move onto the challenges. And that's what this week's project is: a delicious challenge.
Inspired by a version created by pastry chef and bakery owner Joanne Chang of Boston (whose Flour Bakery + Café is featured in King Arthur Flour's Baking Across America initiative), I decided to try toaster tarts. You know, those flat pastry rectangles filled with jam or brown sugar/cinnamon, iced or not. Pop 'em in the toaster, and out they come, warm and soft and ready to scarf down. They were my high school savior; I could easily down two as I jogged the 2 miles to the bus stop, late as always. And I've loved them ever since. But I'd never tried to make them—until now.
And it's been quite an experience. "Lots of moving parts" is how I think of a recipe like this. How much flour in the filling? Too little, the brown sugar oozes out; too much, it stiffens up. Is it really necessary to chill the dough twice—once before rolling, once after assembling the tarts? Let's see what happens with no chilling… whoops, forgot to adjust the baking time and they burned. And poking just a few holes in the top of each tart before baking is prettier than a whole lotta holes… but without enough holes, BALLOONS!
Anyway, I hope I've worked all the kinks out, and that you enjoy these toaster tarts. Because there's another reason for baking your own homemade stuff, one I haven't mentioned yet, but one embodied in this particular recipe. Compare the list of ingredients in your own homemade toaster tarts—King Arthur Flour, butter, salt, eggs, milk, sugar, and cinnamon—to the list of ingredients in supermarket toaster tarts: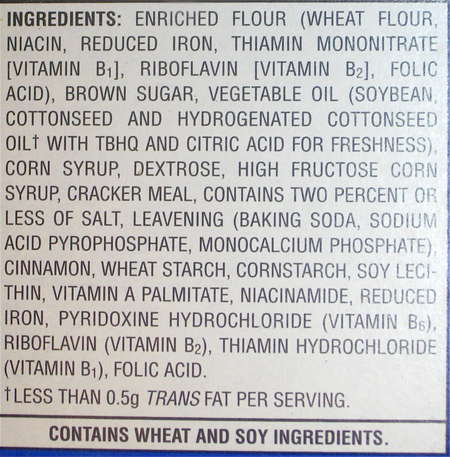 Whew! Let's get started on our homemade version.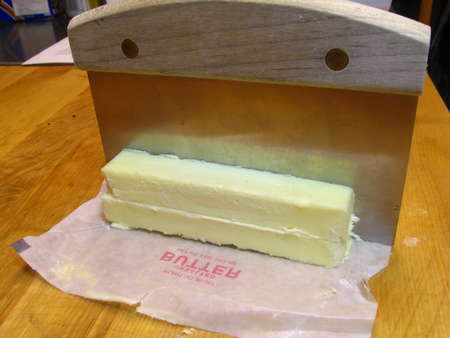 To cut butter into little cubes, perfect for easily integrating into flour, make three lengthwise cuts in a stick of butter. Turn it 90°, and make three more lengthwise cuts. If you look at the end of the stick, you'll see nine little squares.

Cut the butter crosswise into 3/8" slices, to make little cubes.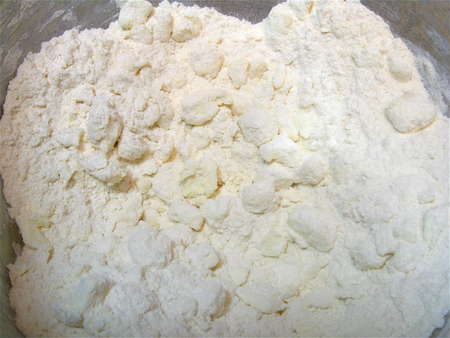 Toss with the flour, working them in with a pastry blender or fork, your fingers, or a mixer.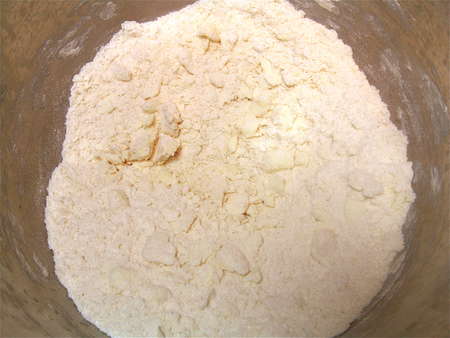 Don't keep working the butter till the mixture is evenly crumbly; it's good to leave some bigger chunks, like this.

Add the milk and egg, and toss to moisten everything.

Then squeeze it all together. See the patches of butter? Again, this is good! It helps make a flaky crust.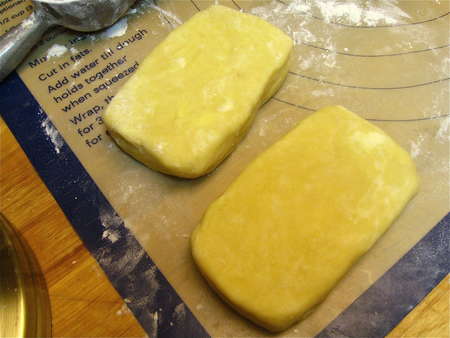 Divide the dough in half, and shape each half into a thick rectangle. Since you're going to be rolling the dough into a rectangle, you might as well start with a rectangular shape, right? At this point you can chill the dough... or not.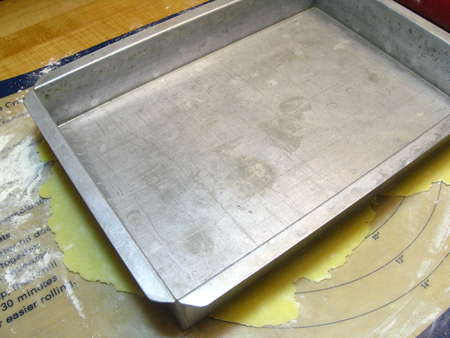 You want to roll each piece of dough into a 9" x 12" rectangle. Once you're pretty close, lay a 9" x 13" pan on top to see how much more you need to roll.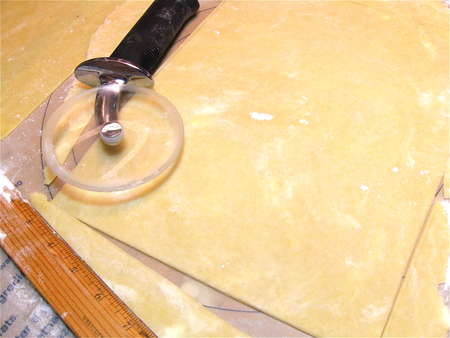 Cut the rolled-out dough into a nice straight 9" x 12" rectangle. Save the dough scraps; you'll bake them later. Set the rectangle aside, and roll the other piece of dough to the same size.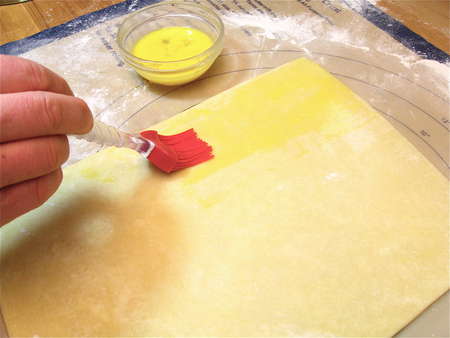 Brush the dough with beaten egg. This will help the top and bottom crusts stick together.

Score the dough into nine 3" x 4" rectangles. Just press a straight edge into the dough to mark it; you don't want to actually cut through it yet. Sprinkle a heaping tablespoon of the filling into the center of each rectangle.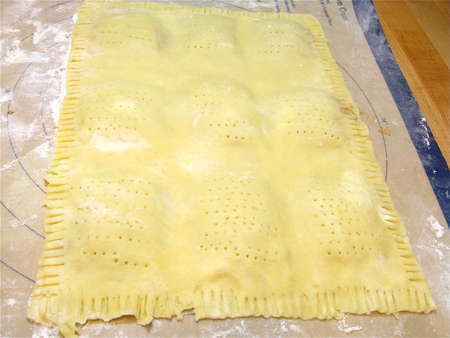 Cover the filling with the first rectangle you rolled out, pressing down with your fingers between the mounds of filling. Press the outer edges closed, and press again with the tines of a fork. Use the fork to prick the dough over the filling, to let steam escape. Make multiple holes; be generous.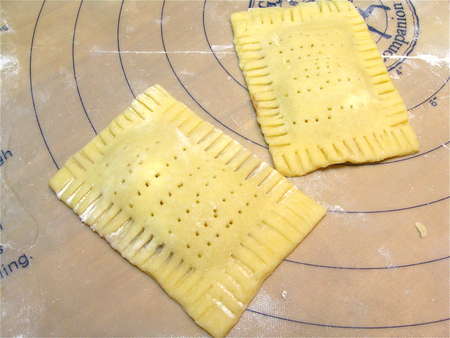 Cut the rectangles apart, seal the cut edges, and press with a fork. You want to prevent the filling from oozing out as much as possible.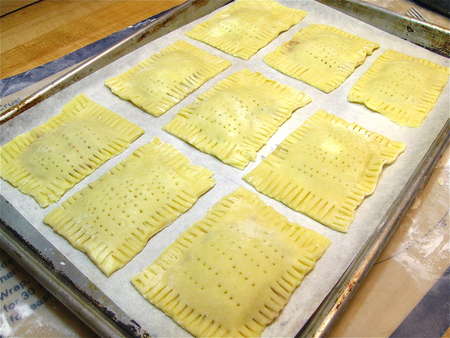 Lay the tarts on a lightly greased or parchment-lined baking sheet. Parchment will make cleanup easy, when/if the filling escapes. Refrigerate the tarts for 30 minutes, while you preheat the oven to 350°F.

Bake the tarts for 25 to 35 minutes, until they're a light golden brown. Don't overbake; the filling may become stiff and hard, if you do.

And here they are: flaky, buttery toaster tarts.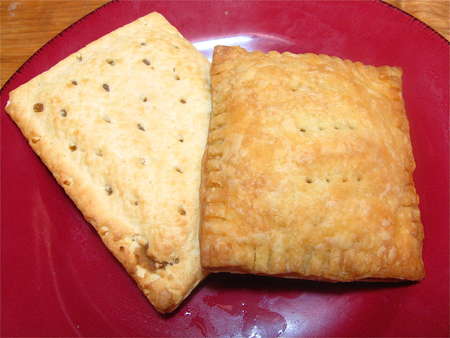 Here's the store-bought version on the left; yours on the right. Nice, huh?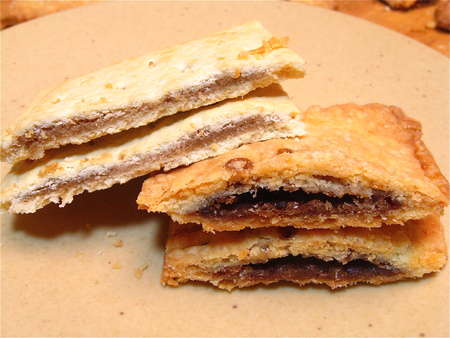 And here they are cut crosswise, to show the filling. Again, store-bought on the left; yours on the right. I can actually see serving these as dessert, warm from the oven (or rewarmed in the toaster), topped with vanilla ice cream... wow. Guess I'd better test them one more time to be sure...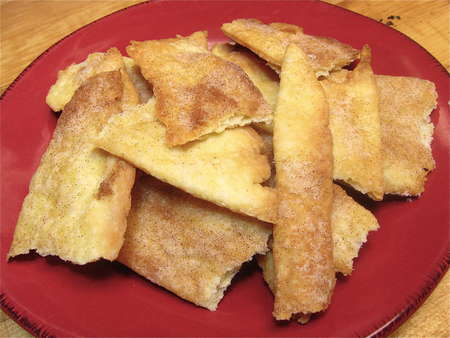 Hey, don't forget to bake all those dough scraps you trimmed from the 9" x 12" rectangles. They make wonderful snacks; sprinkle with cinnamon-sugar, and bake for 13 to 15 minutes (while the tarts are chilling in the fridge).
See our recipe for Tasty Toaster Tarts.