Fried dough. The words alone conjure up luscious memories of the places I've enjoyed fried dough over the years. McCoy Stadium in Pawtucket, R.I., home of the Red Sox' triple-A baseball team, the PawSox. The Great Escape amusement park in New York. The Fryeburg Fair in Fryeburg, Maine, where the last week in September is devoted to 4H exhibits, ox pulls, and harness racing. AND, nestling under trees brilliant with autumn foliage, a row of "fried" booths: French fries, sausage and peppers, hamburgs and hotdogs, and fried dough.
Classic fried dough, its golden, blistered/bubbly surface glistening with a faint sheen of oil, is a plate-sized round of plain dough (yeast or baking powder) that's been deep-fried, then showered with confectioners' sugar. Or drizzled with maple syrup or honey. Some even dip it in marinara sauce and sprinkle it with cheese.
Me, I'm a maple syrup fan. Lightly crisp on the outside, the syrup soaking into the hot, doughy interior… As they say in Maine, "I tell you, Mr. Man, it doesn't get any better than that!"
There's one major problem with fried dough: the bubbling cauldron of deep fat. Once a mom, always a mom, and the thought of deep-fat frying immediately starts mental red flags waving: DANGER! DANGER! Hot fat and little kids (and dogs, and unaware spouses) in the kitchen absolutely do not mix. Ever. No matter how careful you are. To me, deep-fat frying in an open pot just isn't worth it.
Enter shallow-fat frying. I've found that a mere 3/4" of simmering oil in an electric fry pan is sufficient for both crackly-soft disks of fried dough, and doughnuts. Or, since I'm often lazy and always in a hurry, doughnut holes—never mind the rolling and cutting, let's just plop that dough directly into the pan!
April in Vermont doesn't have much in common with April in Paris—unfortunately. It's cold, it still snows, but most of all, it's just plain muddy. Thus the moniker for this month: Mud Season. Snow that's blanketed the ground since December melts. Add April showers, and the earth quickly becomes saturated. Take a step on grassy ground, and sink to your ankles. Take a step on bare ground, and find yourself shin-deep in sucking, ice-cold muck.
Then what? Drag those muddy feet into the car? Go back to the house or office, take your boots off outside (in the process turning your hands totally muddy), grab the doorknob (getting that muddy, too), and walk through to wherever your clean clothes are, trailing bits of black earth and smearing mud on everything in your wake?
The choices are limited, and none very attractive. And I haven't even mentioned Vermont's myriad unpaved roads, some of which have been known to swallow a small car whole… My fellow blogger Susan Reid will tell you more about that soon. At any rate, dealing with this "earthy" challenge does tend to put one in the mood for self-pampering.
Thus my longing for fried dough—or, in this case, REALLY easy to make doughnut holes. Make batter; drop it in hot oil; 4 minutes later, fish out crunchy-soft, hot doughnut holes, ready to dip in maple syrup.
Luckily, you don't have to wade through mud to enjoy Vermont Doughnut Holes. They're easy as 1-2-3!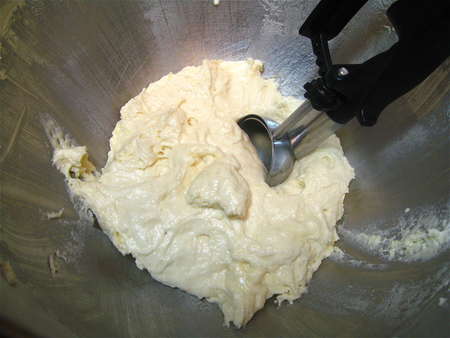 1. Stir together milk, egg, butter, King Arthur Flour, sugar, baking powder, and salt.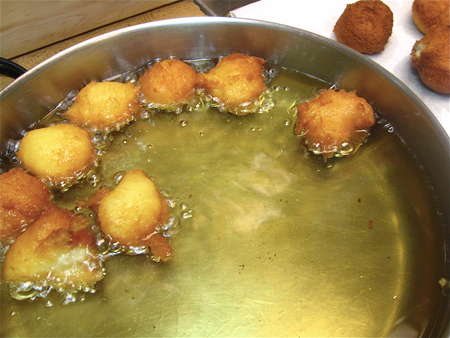 2. Drop batter in 1" balls (a teaspoon cookie scoop works well here) into 3/4"-deep vegetable oil (peanut oil is a good choice), which you've heated to 350°F. Fry for 2 minutes on each side, or until golden brown.

Drain on a baking sheet lined with paper towels. Sprinkle with confectioners' sugar, or dip in maple syrup or honey. Doughnut holes are best enjoyed warm, but are easily reheatable in a 350°F oven for about 10 minutes (drape loosely with foil). Serve with your choice of sweetener. (Mud on your shoes is optional.)
Click here for our recipe for Vermont Doughnut Holes.