So, what, you think it's smooth sailing every day here in the King Arthur Flour test kitchen? Like, every cake turns out of the pan without shedding a crumb—let alone a chunk the size of Minnesota? That whole wheat bread rises like a charm? That melted chocolate NEVER seizes up, and ALWAYS dries shiny?
Trust me; we have disasters just like you. And if you never ever EVER have a kitchen disaster, give me a call—we'll keep your name on file for the next time one of us King Arthur test kitchen habitués finally gives up the ghost and disappears (along with the smoke generated by an overflowing cherry pie in the oven).
In honor of April Fools' Day, I've rustled together photos of some of our latest projects. Yes, we're happy to be fools in the kitchen, if it means saving YOU from making these same mistakes!
Andrea, this buttercream looks like it might be too much for the bowl. I think it's, like, getting pretty fluffy. Andrea, you'd better come look at this. Uh, Andrea, do you want me to turn this mixer off, or are you conducting an experiment in the physics of fat and sugar…?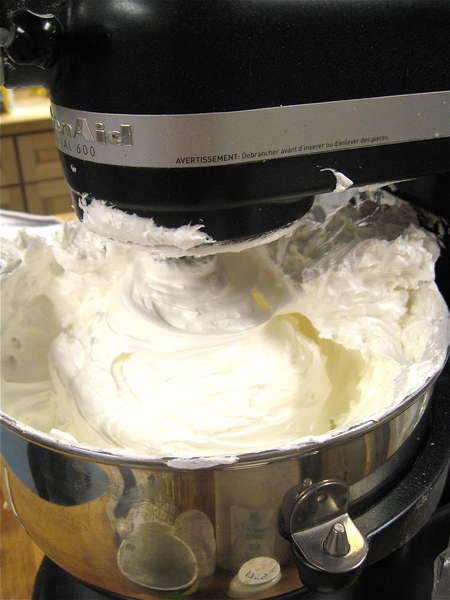 WHOA, ANDREA!!!!
Part of my job is to test recipes coming in "over the transom," e.g., recipes from other companies we partner with in one way or another. Sometimes the recipes aren't too good about specifying pan size. Or sometimes they DO specify pan size, and I think to myself, "Hmmmm, I really don't think that's going to work…" But in the interest of a fair test, I use the questionable pan anyway.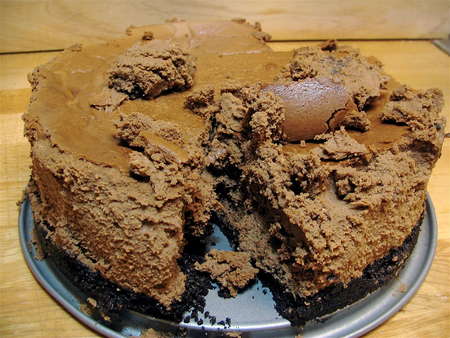 And end up with the Chocolate Cheesecake That Ate Manhattan.
I wonder if this pan is big enough to boil sugar syrup. It's my favorite pan; it's the only non-stick one we have. I'd sure love to use it for this gooey syrup, because whatever pan I use, it's going to be a bear to clean up….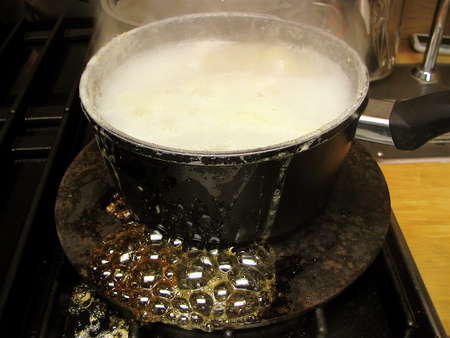 Yup. It was a bear to clean up, all right.
Sue and Monte spend a lot of their time developing new mixes. Part of the process is to constantly test what's already available out in the marketplace; we want to make SURE King Arthur mixes are always the best. This competitor loaf was… well, let's call it enthusiastic.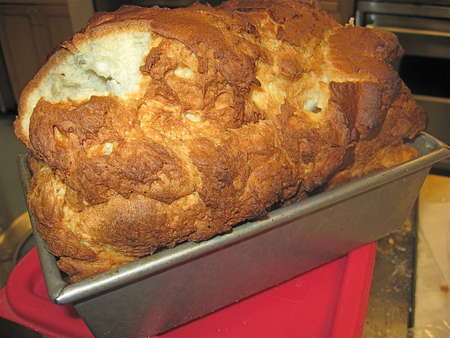 Don't think it would make the best PB &J in the world, but it was fun to watch its antics in the oven.
Ah yes, one of my favorite labor-saving practices. Late for a meeting, trying to save time by squeezing too many cookies onto the pan…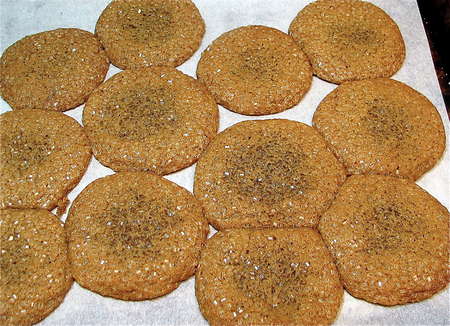 …and there you have it: molasses sheet cookies.
Theme of the day: packing and shipping cookies. You know, to kids in college, your mom, that kind of thing. Brilliant idea: empty Pringles cans! Brilliant idea: a tablespoon cookie scoop, to make the PERFECT size cookie to fit in said Pringles cans!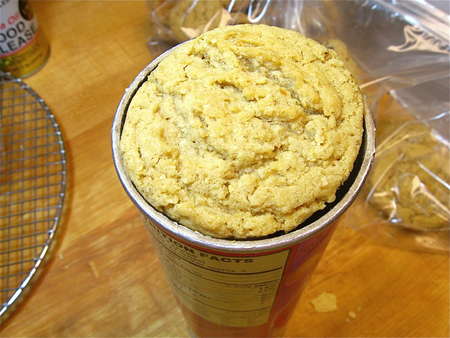 Brilliant idea: didn't work! Cookies 1/16" too wide!
I'm tired of blah cinnamon bread with just some skimpy little swirl of cinnamon. How about a really lusty bread, a cinnamon-lovers' dream, with a really thick layer of brown sugar and cinnamon and vanilla. Sounds great!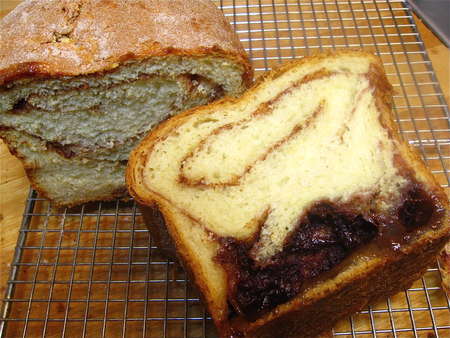 Looks awful! Somebody please get this poor loaf some support garments…
Not content to give up on my sugar and cinnamon and vanilla quest, I thought I'd give it a try in toaster pastries. Never mind that thin, bland layer of filling you get in store-bought pastries; let's make a really over-the-top tart stuffed with brown sugar and cinnamon and yeah, a little cornstarch to keep it from bubbling out…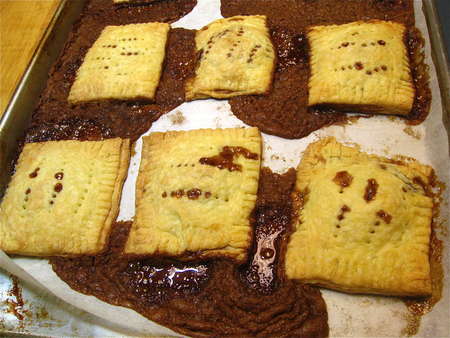 Awwwwww…… rats. I can truthfully say, though, this was one delicious disaster!
Happy April 1. Have you been a "fool" in the kitchen? Post a comment and share.