How to put the hole in the bagel
And other good bagel stuff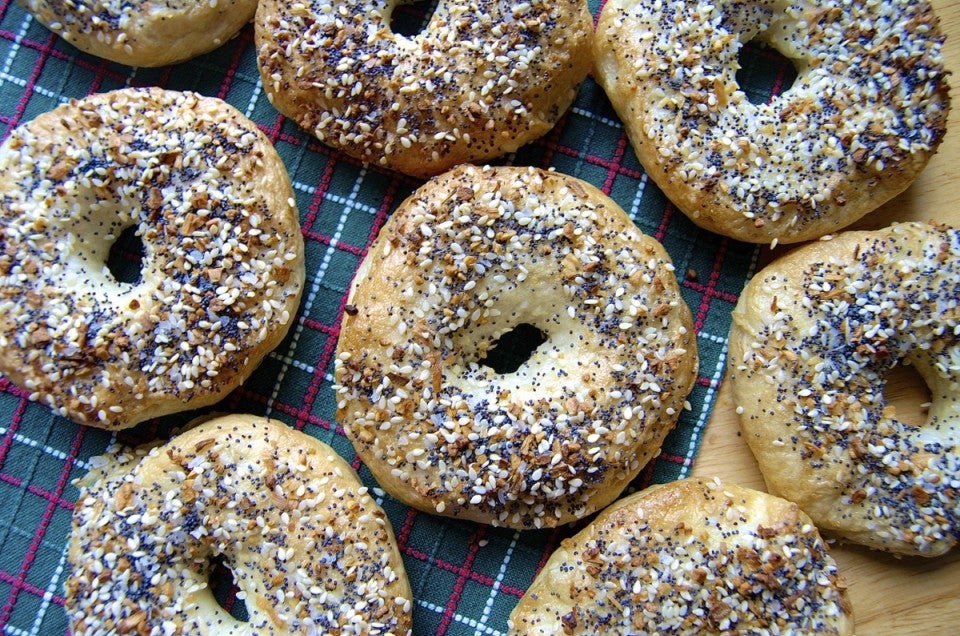 Remember the "bagel boom" of about 20 years ago, when bagels suddenly left their traditional urban environment and spread across the land, literally from sea to shining sea?
Never mind Manhattan's famous H&H Bagels, with its big, fat, doughy treats, offered right out of the oven in a tiny Broadway storefront on the Upper West Side. National chains like Bruegger's and Einstein introduced the bagel to Peoria and its counterparts in every state. Meanwhile, Lender's frozen bagels became a fixture in the supermarket.
And these weren't just any bagel; they were fancied up with additions like blueberries and apple bits, or made in whole wheat or rye varieties, or swirled with cinnamon, or topped with a mélange of seeds and onion bits, a variation that quickly became beloved as the "everything bagel." One problem: lots of these bagels just weren't very good. They were too light and airy, a Wonder Bread type of bagel. Or, aside from their toppings, tasteless. They weren't at all chewy. In fact, the only thing that distinguished these lackluster imitations as bagels was the hole in the middle.
Whenever I spot a growing trend, especially one that results in a great original bakery version followed by mediocre imitations in the supermarket, I feel like a gauntlet has been tossed down… and I rush to pick it up. Home bakers CAN make very, very good versions of professionally made treats; we just need to know how, right? So, back in March of 1992, King Arthur devoted a section of our print newsletter, "The Baking Sheet," to bagels. We were one of the first to show home bakers how to bake their own bagels–and to let them know it's pretty darned easy.
Since then, bagels have become firmly established in our breakfast culture. And while it's easier these days to find really good bagels, there's something about making your own… well, you know what that "something" is. It's part challenge ("I can do better than THAT"); part avocation ("Ahhh, what am I going to bake this weekend?"); maybe a bit of knowing exactly what's in the food you feed your family; and a whole lot of "ummm-UMMM" as you take a bite of a freshly baked, freshly toasted bagel, spread with cream cheese. Or not. Fresh bagels are so yummy, you can simply tear them into chunks and eat 'em naked, fresh from the oven. (Uh, that would be naked bagels, not naked… never mind, to each his own!)
So, without further ado, here's my favorite easy bagel recipe. With just four simple ingredients–flour, water, salt, and yeast–they have more complex, yeasty flavor than you'd expect. And go ahead, add the cream cheese; that's called gilding the lily, and why not? If you're not heading for H&H anytime soon, you might as well create your own Total Bagel Experience at home.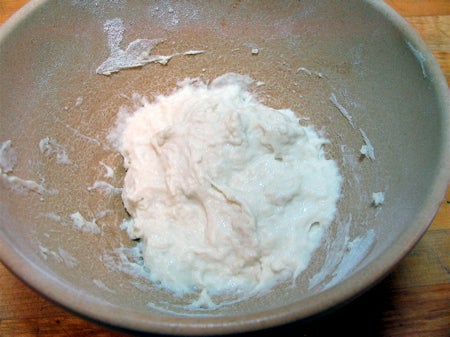 The night before you want to make bagels, stir together a starter of cool water, King Arthur bread flour (bread flour gives baked goods extra chewiness, compared to all-purpose flour), and a pinch of yeast. Cover and leave at cool room temperature.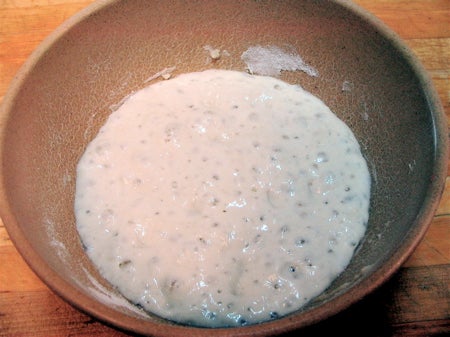 The next morning, the starter will have bubbled up and thinned out. It'll smell wonderfully yeasty and slightly alcoholic when you uncover it.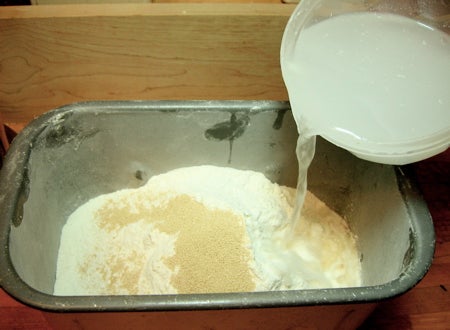 Put the starter and the rest of the dough ingredients into a bowl, mixer bowl, or bread machine bucket, as I'm doing here. Measure the water into your starter container and whisk it around, scraping any leftover starter into the water. Then pour the water with its bits of leftover starter into the bowl (or bread machine). Hate to leave any of that good starter in its overnight rising container!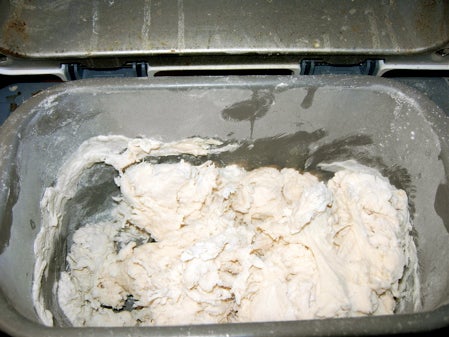 The dough will look rough and a bit dry at first...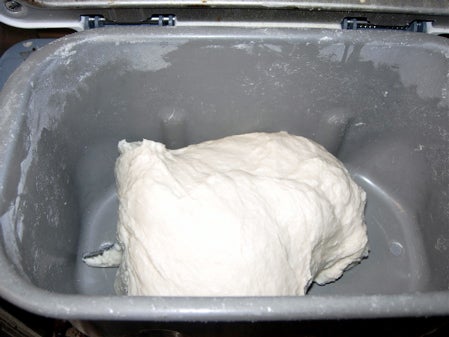 ...but by the time it's fully kneaded, it will have smoothed out. Note that this is a stiffer than usual dough, though it's not dry and "gnarly."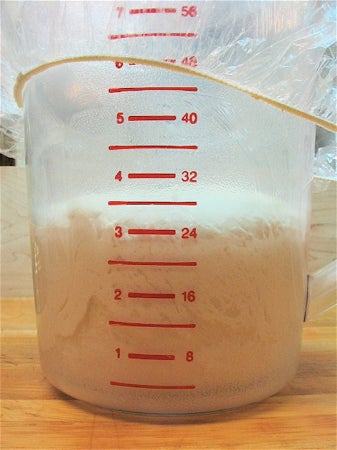 I like to let dough rise in a big measuring cup topped with a clear plastic shower cap, so I can keep my eye on its progress.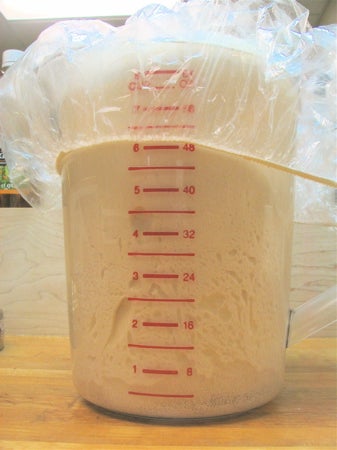 WOW! The starter sure gave this dough a head start! After just 1 hour, it's more than doubled in bulk.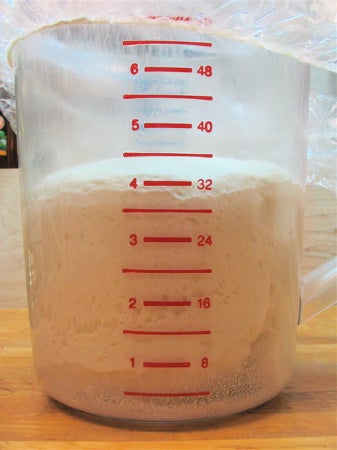 Gently deflate it, and put it back into the cup or bowl to rise for another 30 minutes.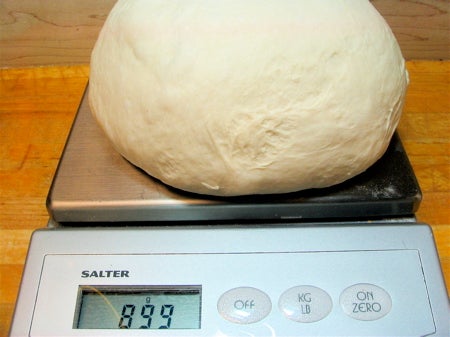 Now you'll divide the dough into 12 equal pieces. This is most easily accomplished with a scale, but if you don't have a scale, divide the dough evenly as best you can.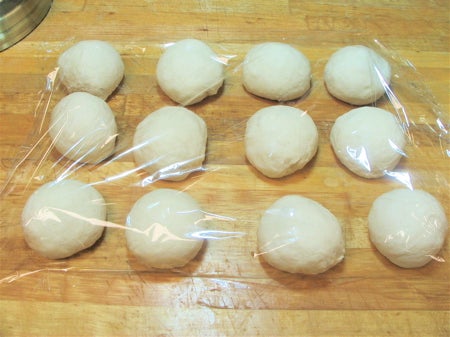 Round each piece into a ball, cover with plastic wrap (no need to grease it), and let them rise for 30 minutes or so.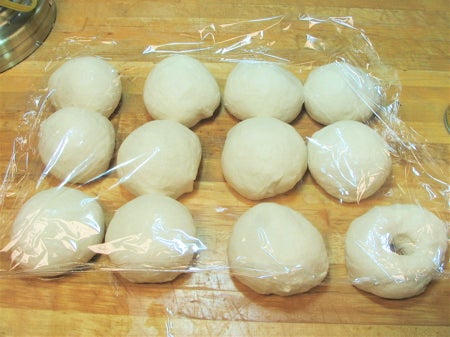 As you can see, the dough balls don't double, but they do become puffy; see how they've spread out to nearly touch one another. Also, notice I jumped ahead and already made a hole in one of them...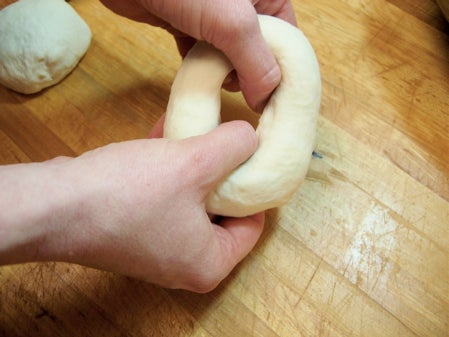 Now, how DO you get the hole in the bagel? The easiest way is simply to punch a hole with your finger, and gently pull it apart...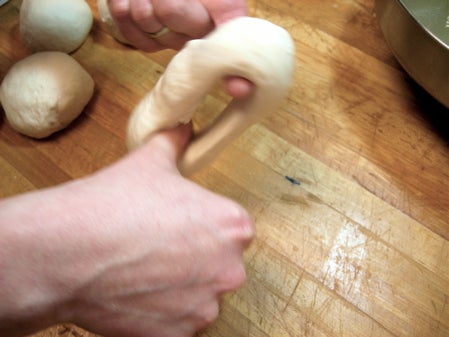 Then twirl the bagel around two fingers, stretching the hole till it's about 2" across.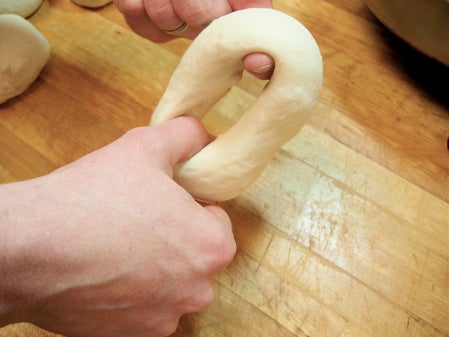 See? It should look like this.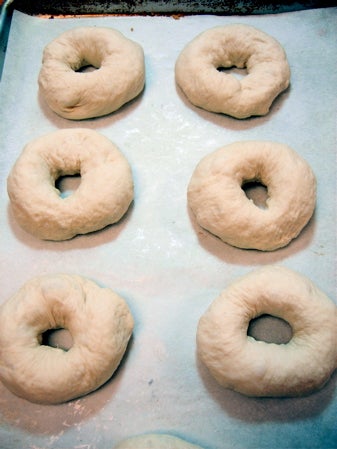 Place the bagels on a baking sheet lined with lightly greased parchment. Or simply grease the baking sheet. The bagels will be about 3" across, and the holes will close up to about 1" as the dough relaxes.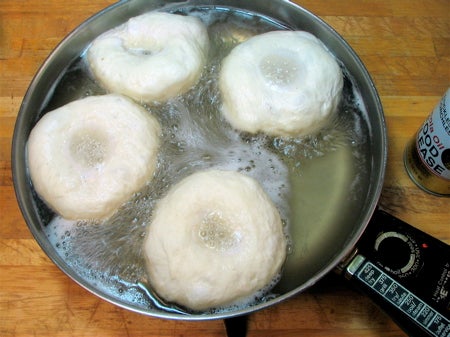 Bring a shallow pan of water, which you've enhanced with a couple of tablespoons of non-diastatic malt or brown sugar, to a gently rolling boil. Add the bagels 3 or 4 at a time; don't crowd them. Simmer for 2 minutes on the first side; turn them over, and simmer for 1 minute on the second side.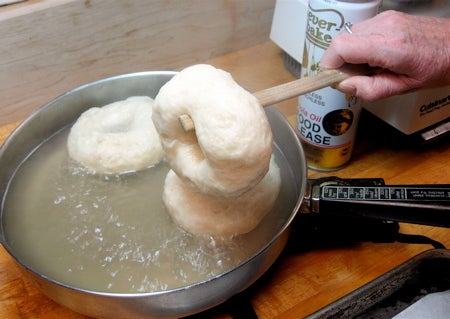 Poke a pair of tongs, the end of a spoon, or anything handy through each bagel's hole, and lift them out of the water, setting them back on the baking sheet. Repeat with the remaining bagels.

Bake the bagels in a preheated 425°F oven for 15 minutes. If you want to coat them with seeds, remove them from the oven, spray with water or Quick Shine, and sprinkle with seeds. Bake for an additional 10 minutes, until they're golden brown.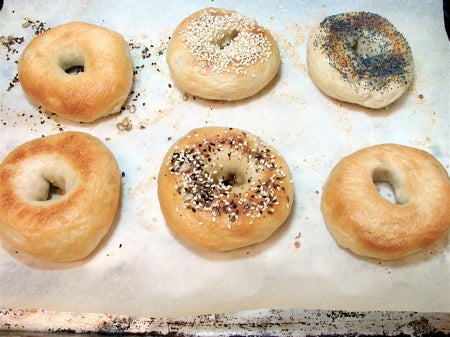 Remove from the oven, and cool right on the pan. Nice, huh?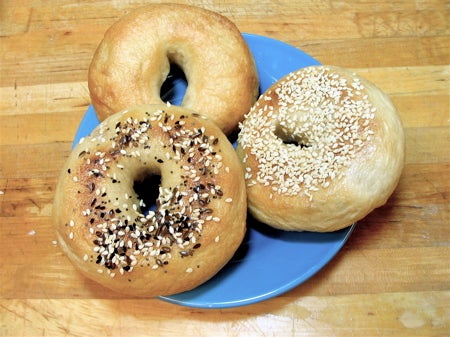 Now where the heck's the cream cheese when you need it?!
* * *
Here's another in our series of kitchen disasters, this one from Yvonne Lewis via e-mail: "I would like to share one of my baking disasters with you. I always loved to bake–even as a teenager. I think I might have been 15 or 16 at the time and was pretty confident as a baker of killer brownies. So I decided to bake up a batch of brownies–from scratch, as always! I started mixing all the ingredients together and only paused when I stopped to get out the flour. Mom kept everything in these neat Tupperware buckets–all together in the bottom kitchen cupboard. I grabbed what I thought was the flour bucket and measured out the required amount and finished the recipe and placed the brownies in the oven to bake. I set the timer and went to read a book at the kitchen table.
"When the timer went off I inspected the brownies and was shocked to see that they were a mass of bubbling volcanic ooze. I left them in longer, thinking it would help. It didn't. I ended up removing the mess from the oven after about an hour and a half. I showed my mother and she looked alarmed and asked which bucket I'd used for the flour. It turns out that I used dried milk in place of the flour. The next day my mother labeled everything in the cupboard. The 'brownies' weren't a complete loss. My younger brother saw the pan on the porch and ate the whole thing! Teenagers!"