Time to introduce you to the other two baking wizards in the test kitchen. Sue Gray and Monte Petersen perform a very special kind of alchemy every day. They imagine textures and flavors, then bring a fantastic array of ingredients to bear to make those ideas come true. It happens step by step, with all kinds surprising twists along the way.
Here's how it works. First, recipes are designed and perfected in small batches. This can take a number of tries, with lots of consultation about which ingredients to adjust or add, and many instances of thoughtful chewing from Sue and Monte.
Then, they're entered into a computer program called "The Mix Module", and scaled up to production run amounts. Downstairs, the grain room blends the ingredients and does a test batch. This is Barb in the grain room.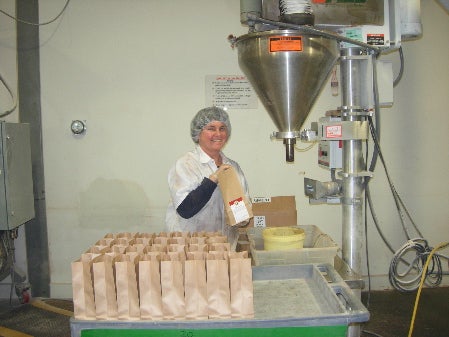 These are sent back upstairs to us in the test kitchen, where a sample is baked according to the directions we've written. This gives us a chance to try out the instructions as well as the mix itself. We often find the wording could be more clear during this step, and make changes to the directions as necessary. Sometimes we hand-blend the original small formula and bake it next to the test mix, to have them side by side for taste testing. Test mix bags come upstairs with these green labels on the front.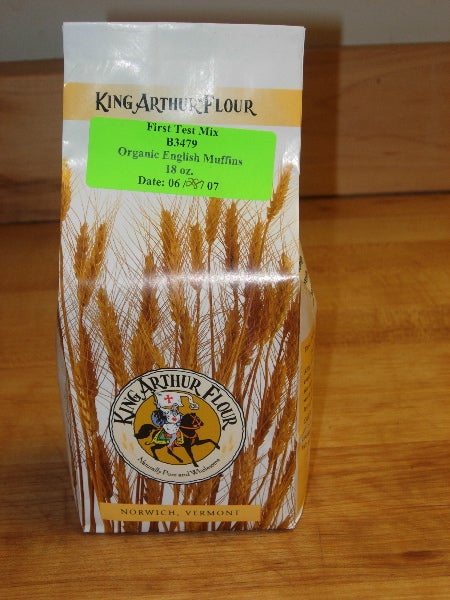 Next, we put the mixes out for scrutiny in our break room. We can be our own toughest critics. Most of the people who use the upstairs break room are bakers, and they're not afraid to let us know what they think. In the case of this almond pound cake, we were making an ingredient change (sometimes suppliers reformulate, or we find a better one to use). We got the tasting results we were hoping for (no perceived quality drop between old the formula and the new, with a slight preference for the newer version).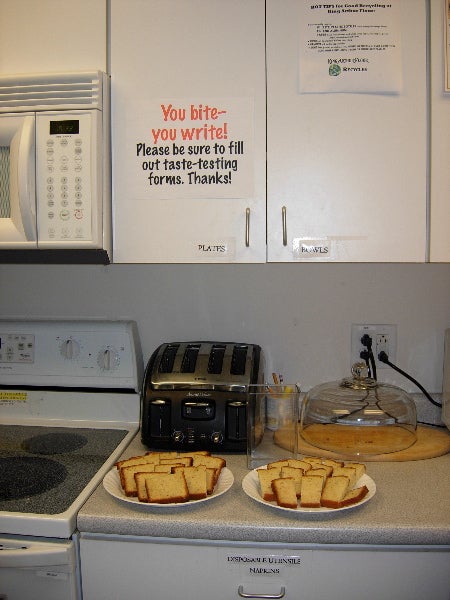 What happens when it doesn't go smoothly? Sometimes we have to diagnose what's missing or not right. (More thoughtful chewing.) Did baking soda get mixed up with baking powder? Is there too much or too little orange flavor? More salt? More vanilla? What's that gummy line at the bottom of the quickbread slice? Too much liquid, or too much sugar? The only way to find out is to test.
What's in the hopper now? We're working on a line of gluten-free mixes, that will bake up to King Arthur Flour's standards. That's a tall order, and it'll take some time and a lot of testing, but we're well on our way.