Ever make a batch of pizza dough, tip it out of the mixing bowl or bread machine, and have a semi-rectangular blob that completely refuses to be rearranged to anything resembling a circle? Here's a tip we taught our line cooks in the restaurants I've run. Once your pizza dough is made and has had its first rise, put it on a work surface and round it up to a ball.
Now go hunting for a large stainless steel or glass bowl, one with no ridges or coatings on the bottom. Turn it upside down, and spray the bottom with oil or give it a good schmear with your fingers.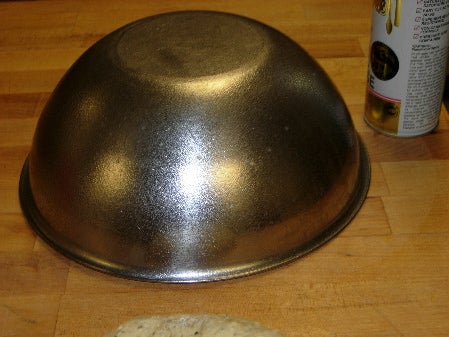 Plop your dough on top of the inverted bowl. It'll look like a bad toupee.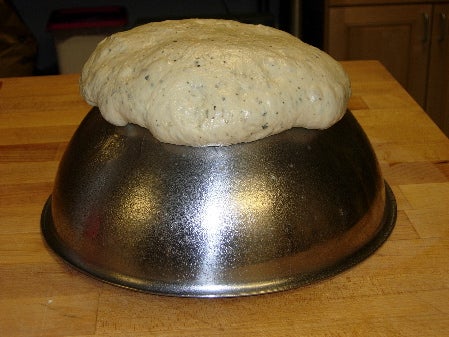 Now you can put gravity to work for you. Grease your hands and gently stretch the dough down over the bowl all the way around. It should be an even thickness all over.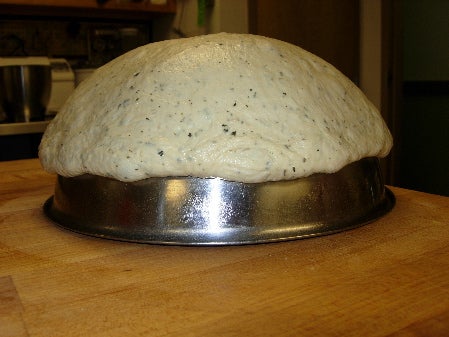 Now place some parchment paper on a pizza peel. Tip the bowl over and let the dough land on the parchment.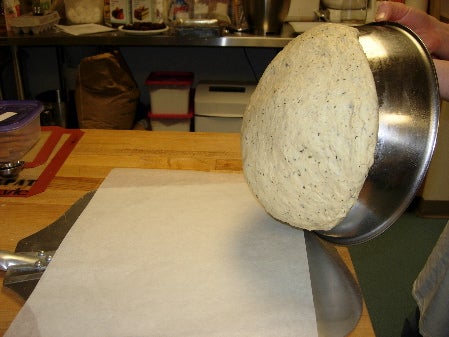 You'll have to do a little rearranging, but the end result will be a nice, round pizza crust.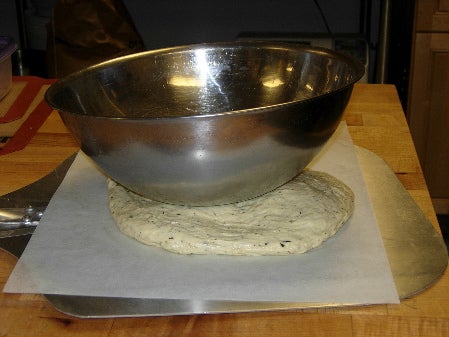 Now you're ready to top it any way you like and bake away.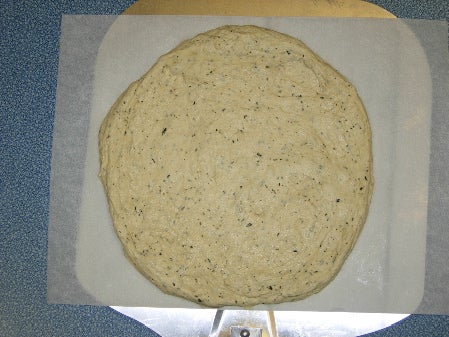 Read on for the recipe for my favorite pizza dough.
—Susan Reid
This recipe is the one I make in the middle of the afternoon, when I can't decide what to make for dinner. My pizza is one of the foods that made my fiancée fall in love with me, so it's never a bad idea to put it back into the dinner rotation. I also have the distinct advantage of living 45 minutes away from the office. If I mix up the dough and put it in a greased bag, it has its first rise on the drive home.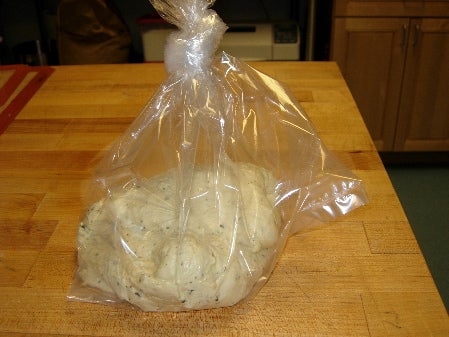 When I get there all I need to do is fire up the oven, form the pizza, and throw together a salad. Everybody's happy and fed in a very short time.
What's for dinner? Pizza dough
1 1/4 cups (10 ounces) water
1/2 cup (2 7/8 ounces) semolina
1 1/2 teaspoons instant yeast
1 teaspoon salt
2 tablespoons (7/8 ounce) olive oil
2 teaspoons dried herbs or Pizza Dough Flavoring
2 1/2 cups (10 5/8 ounces) King Arthur Unbleached All-Purpose Flour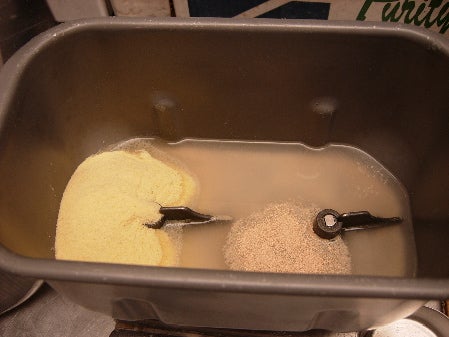 This is my bread machine bucket on the scale, with the first four ingredients measured out.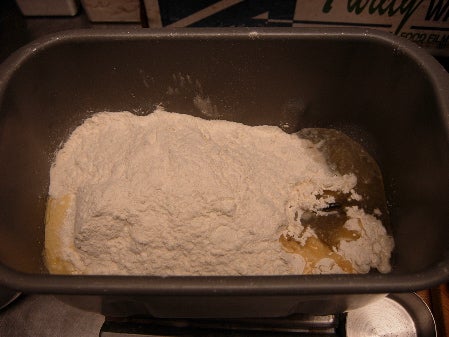 Now the rest of the ingredients.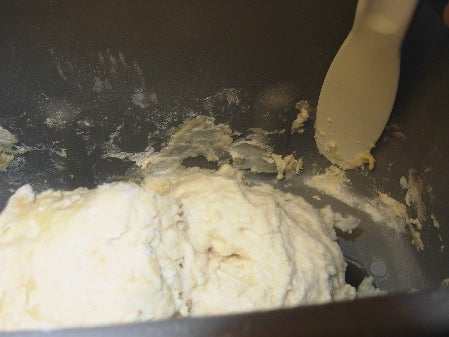 Once the machine gets going, it's important to scrape the corners to make sure all the ingredients join the party.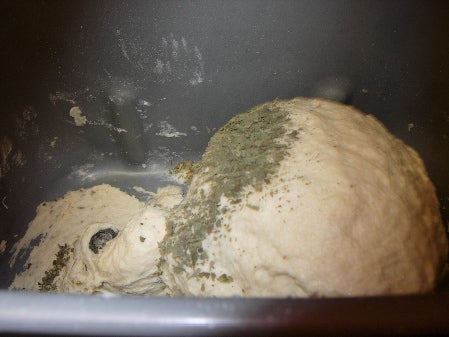 Oops; forgot the herbs.
Once the machine has finished kneading, you can either let it finish the dough cycle, or just cancel out like I do and plop the dough in a large bag that's greased inside with some spray olive oil. Make sure you leave some headroom so the dough can grow. You can refrigerate it for up to a day before using it.
How do I finish the pizza at home? Fire up the oven with the pizza stone in it to 450°F. Pull frozen 1 cup container of sauce out; microwave to thaw. Also take two parcooked turkey Italian sausages from freezer. Saute mushrooms in olive oil, season with salt and pepper, pour in some individually quick frozen chopped spinach. Smear sauce on pizza dough, sprinkle mushroom/spinach mixture on top, sprinkle the sliced sausage about, dust with Parmesan. Bake the pizza for 18 minutes. While the pizza is baking, slice fresh mozzarella to have ready when the timer goes off. At 18 minutes, put the mozzarella on and bake for 6 to 8 minutes more. Supper's ready!