Long ago and far away, in a land where there was no email and your teacher sent a note home from school with you if there was a "problem;" where kids played dodgeball on the playground because it hadn't yet been ruled dangerously war-like and damaging to a child's self-esteem; and when your mom didn't want to know where you were and who you were with every second of the day; back in that far-away land, I was a Girl Scout.
Yes, truth be told, I wore that homely (in retrospect) green uniform. Wore it to school on meeting days. Had the sash with the badges, the whole thing. Back then, it was something girls did. Like, something MOST girls did, at least in my town. It wasn't ultra-cool, but neither was it considered slightly out-of-step, as it is now in many places.
Don't get me wrong, all of you current Girl Scout leaders; I respect the Scouts. My son is an Eagle Scout. I learned a lot of neat stuff in Girl Scouts, like how to wash dishes in a pot over a campfire, and the words to a bunch of good songs to sing on bus trips. But perhaps the longest-lasting lesson I learned is (drum roll, please)–how to make chocolate buttercrunch.
For those of you who aren't familiar with this ancient and revered candy, think Heath bar, but homemade: more, darker chocolate; more nuts, and thicker toffee crunch. I learned to make buttercrunch at some long ago December Girl Scout meeting, and I've made it at Christmas every year since. It's over-the-top delicious. King Arthur Flour's Web project manager (now there's a job title that didn't exist back in the day, huh?) deemed it perhaps the best chocolate-type thing she'd ever put in her mouth–and this from a woman who eagerly samples all of the chocolate creations coming out of the test kitchen every day. (She's only doing her duty; we made it part of her job description in an effort to lure her away from her previous place of employment.)
So, what exactly IS buttercrunch? It's sugar, butter, a touch of corn syrup, and water, boiled till golden brown and poured over chocolate chips and toasted nuts (said chips and nuts being sprinkled on top, as well). The result is a thick smear of chocolate enclosing buttery-sugary-caramel-y crunch, with a shower of aromatic toasted nuts coating the whole thing. It takes about 25 minutes to make; overnight to firm up (or just a couple of hours, if you refrigerate it); and not much time at all to wrap in gift bags for all your chocolate-loving friends. Combine it with cookies, bars, or other candy, and you've probably got enough here for 8 to 10 people.
OK, are you ready? I'm going to walk you through my secret Girl Scout recipe for Dark Chocolate Buttercrunch.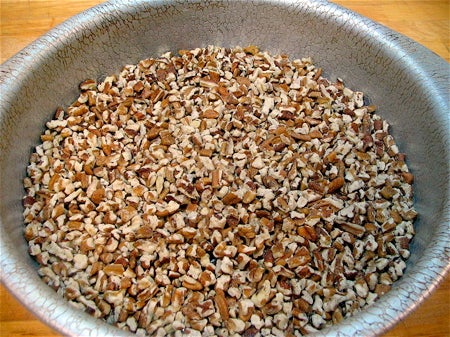 First step: toast the nuts. Toasted nuts taste ever so much better than untoasted. Pour diced nuts (pecans or almonds are both a good choice) in a single layer into an ungreased pan.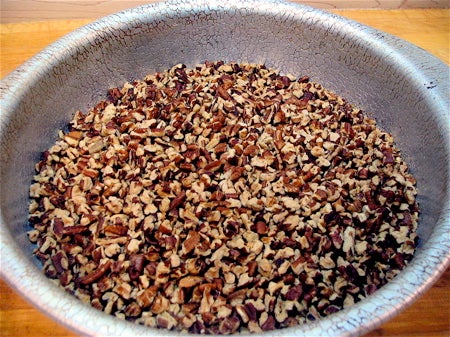 Bake in a preheated 350°F oven for 10 to 12 minutes, until they smell toasty and have darkened in color. Be careful towards the end of the baking time; they can go from perfect to burned within just a minute or so.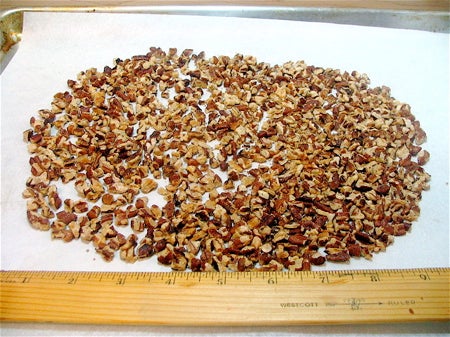 Spread half the nuts in a single layer on a lightly greased or parchment-lined baking sheet.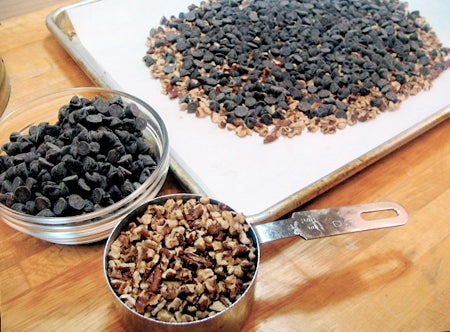 Spread half the chips atop the nuts. Have the remaining chips and nuts close at hand and ready to go. You don't want to be scrambling to find them on a crowded counter once you've started working with the boiling butter/sugar mixture.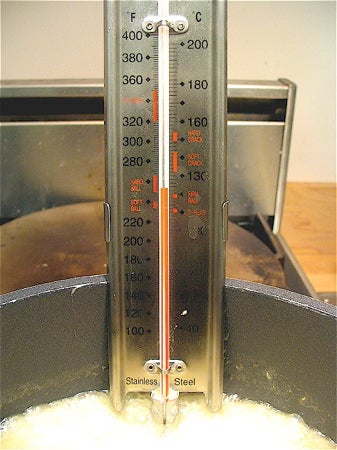 Melt the butter in a saucepan, and add the sugar, water, and corn syrup. Bring to a rolling boil; you're going to boil this mixture till it gets to 300°F. A candy thermometer helps, either the clip-on variety (as pictured), or a good all-purpose instant-read thermometer. I use a Thermapen, as it's SO fast that it makes it easy to get an accurate reading quickly, thereby not having to hold your hand endlessly over a pot of hot, boiling syrup.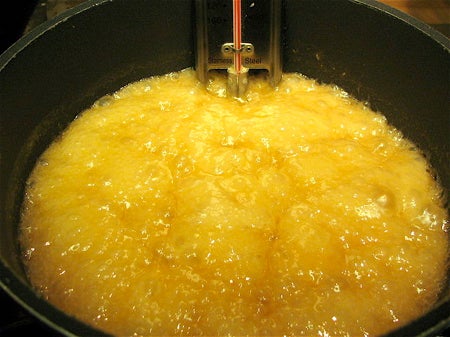 The mixture will gradually darken as it boils...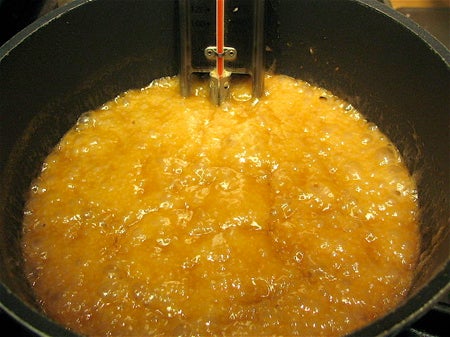 And finally, after about 20 minutes, it'll become a golden mahogany color, and reach 300°F (hard crack stage). Watch closely towards the end; like the nuts, the sugar syrup can go from perfect to bitter and burned with a minute.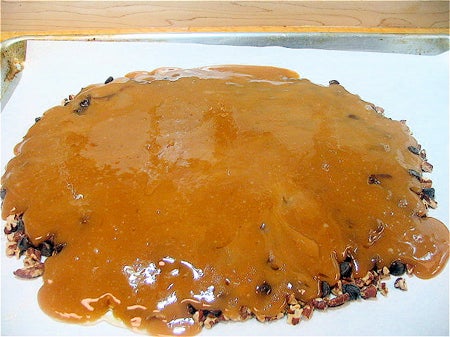 Working quickly, pour the sugar/butter syrup over the nuts and chocolate.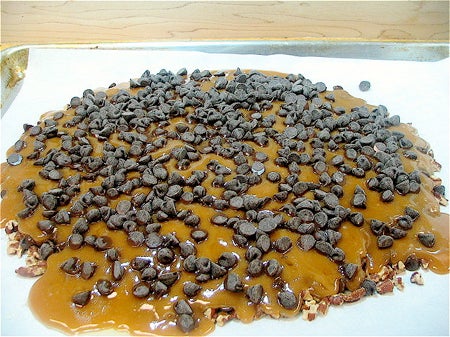 Immediately sprinkle the remaining chips atop the hot syrup...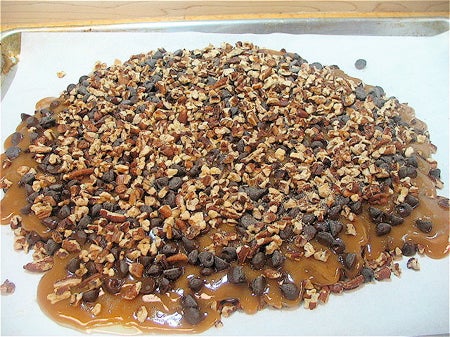 ...then spread the nuts atop the chips. After a minute or so, gently press the nuts and chips into the toffee with something heatproof, like a silicone spatula.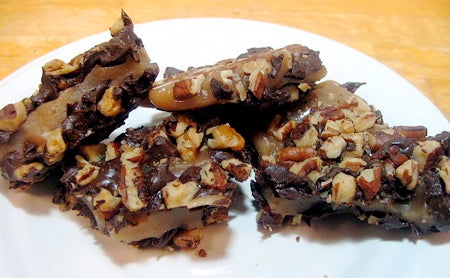 Let the candy set, either for a couple of hours in the fridge, or overnight at cool room temperature. Then break it into pieces. (The cook gets to eat the crumbs!) Distribute to grateful friends, who'll certainly call and ask you for the recipe. Tell them it's a Girl Scout secret...