OK, I'm just going to come right out here and say it: I'm not a crafty person. No, not the "crafty as a fox" kind of crafty; I mean I don't possess the gene for quilting, or scrapbooking, or decorating cakes. I once knit something, I think; it was probably 40 years ago, and I recall pulling out crooked rows and starting over, endlessly. While I like to look at Martha Stewart Living magazine, it would never occur to me to actually DO any of those things she suggests. I mean, making a centerpiece reindeer out of candy canes and brown felt and pom-poms? What's the point? A vase of flowers is the extent of my "skills," and even then my husband has to do the arranging.
So when it comes to fancy finger food, all that luscious stuff that's just perfect for holiday buffet grazing, I'm somewhat at a loss. I can put potato chips in a nice bowl and stick another bowl of dip alongside. I can even slice cheese evenly, and arrange it on a plate with crackers. But rolled puff pastries encasing a spiral of ham and cheese? Tiny quiches, each garnished with a perfect dab of sour cream? Forget it. I like to eat. I DON'T like to decorate my food.
But wait–there IS one "fancy" thing I know how to do. And it stands me in great stead at the holidays. I can make puff shells–big ones, medium ones, little ones, any size. These airy, crisp shells with their meltingly soft interior are the perfect vehicle for sweetened whipped cream or pastry cream; for ice cream (profiteroles) and, on the savory side, for cheese spread, hummus, curried chicken salad, or any number of special-occasion fillings. Like a rich slice of paté. Or a cube of rare roast beef with a dab or horseradish sauce. You get the (taste-tempting) picture, right?
Puff shells are made from dough called pâte â choux–the French "choux" meaning "cabbage," a reference to the cabbage-like shape of the baked puffs. The dough itself is just as fast and easy to make as cookie dough; and, like cookie dough, you simply drop the puff dough onto a cookie sheet, bake, and pull out beautiful golden puffs, ready to split open and fill. Trust me; you can do this. Even I, the anti-Martha Stewart, can make puffs.
And here's the very best part: you can make the dough, dollop it onto the cookie sheets, and freeze. Wrap the frozen unbaked puffs in a plastic bag, and pop them–FROZEN–into the oven when guests arrive unexpectedly. Half an hour later–bring on the ice cream, or cream cheese with hot pepper jelly, or melting little cubes of baked Brie. Serve to praise and accolades. And never again believe that YOU don't have the crafty gene.
Check out our recipe for Easy Mini Puffs. Here's a step-by-step lesson that'll convince you just how simple and non-threatening they really are.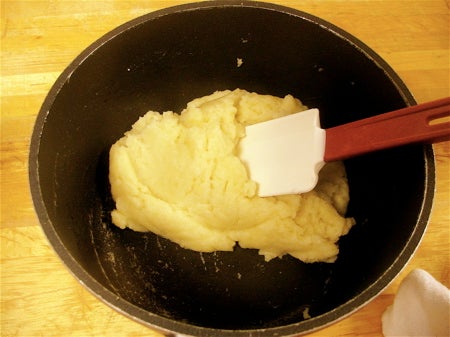 Bring water, butter, and salt to a boil, dump in flour and stir with a heatproof spatula for about 30 seconds. The mixture will quickly come together and follow the spatula around the pan. Transfer it to a mixing bowl, and cool for about 10 minutes.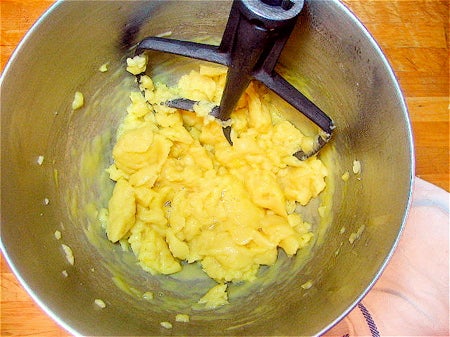 Beat in the first egg. Don't panic! The mixture will look like a slimy, stringy mess.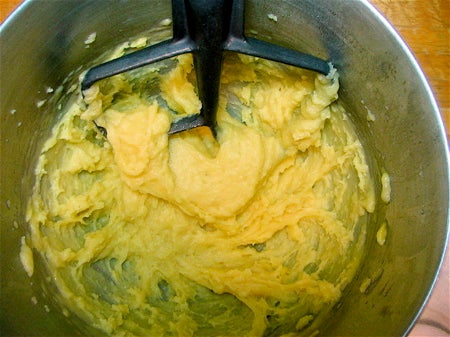 Keep beating; it'll smooth out...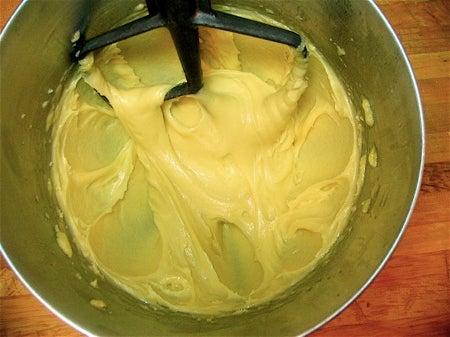 ...and by the time you've added the final egg and beaten for an additional minute or so, the mixture will be smooth and glossy.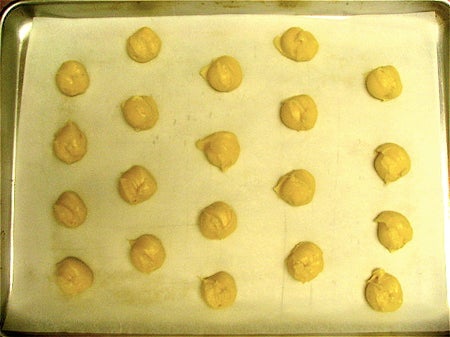 Use a teaspoon cookie scoop to dollop chestnut-sized mounds of dough onto a parchment-lined or lightly greased baking sheet.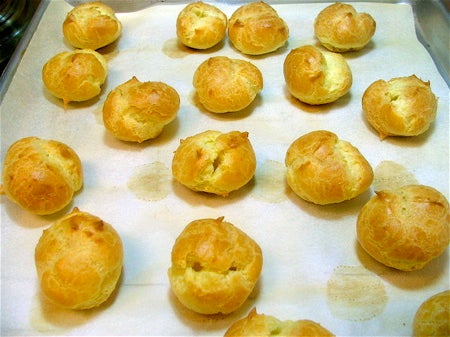 Bake the puffs till they're golden brown. They will have expanded quite a bit...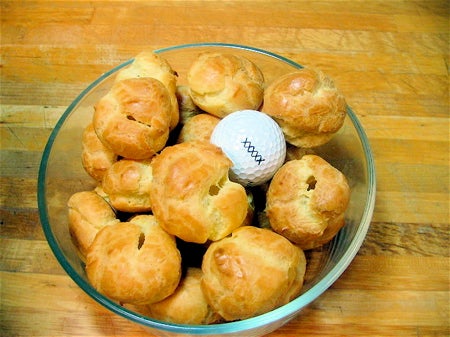 ...and will be about the size of a golf ball. Attention: Don't eat the Max-Fli. It's kinda tough.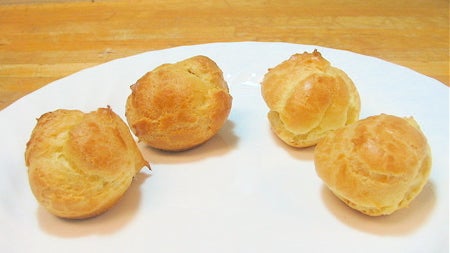 See these four puffs? The two on the left were frozen before being baked; the two on the right were baked immediately . Notice any difference? No? Good! I didn't either. Don't you love stuff that you can store in the freezer and bake right when you need it?
That's all folks. Add ice cream or whipped cream and fruit for a sweet little dessert, or anything savory for an appetizer. Instant gourmet!