Here we are, less than a week before Christmas (and Kwanzaa); post-Chanukah; and just prior to any solstice-related celebrations. (Bear with me, folks, I'm being politically correct and trying to cover all of the bases here!) This is a frantic time of year, to say the least; so much to do, so many to remember, so much to bake… so little time! But let's not embrace the negative and lose sight of the positive. Positive energy abounds at this time of the year, if you'll only take the time to recognize it. Now, take a deeeeeep, relaxing breath, and spend a couple of calm minutes reading the following few short paragraphs.
Many of us complain about these darkest, shortest days of the year. Yes, we drive to work in the dark; and it's pitch-black when we travel home at night. But why not look at darkness as the perfect backdrop for light? Consider the beautiful lights you see at night: the moon turning bare tree branches into a dark pen-and-ink drawing; the soft glow of Christmas candles in the window; even the brilliant red, yellow, and green of stoplights reflecting off an icy intersection.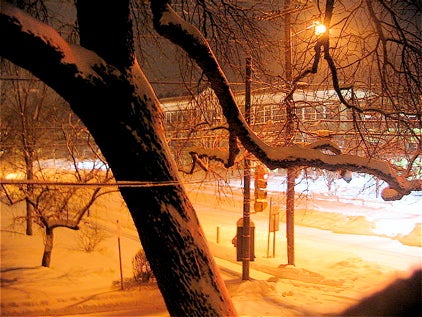 Maybe it's the "rush of responsibility" that hits you hardest at this time of the year. You're doing everything you usually do; adding a layer of holiday preparation; and, for many, dealing with the sheer physical challenge of winter: snow, ice, cold; furnace, antifreeze, boots and mittens. Is it any wonder there comes a point when even the most positive among us yells "uncle"?
Realize when you're approaching this point, and ask yourself these questions: Will I be stressed about this in six months? How about next week? Tonight? If you're worried about something that won't be a problem next week or tomorrow, then it's something so small it's not worth troubling with. After all–do you have a roof over your head? Heat? Health? Food? Friends and family? Add a positive attitude, and you've got everything you need. Truly.
Comfort is something we all crave in these final weeks before the New Year. Be it the simple pleasure of a soft pillow and warm blanket at night; kind words from a friend, or a hug from a child, comfort is a welcome blessing. Personally, I derive much comfort from certain foods–the cranberry cookies I make especially for Christmas; warm bread dipped in herb-infused oil; or the hot-from-the-oven, savory breakfast casserole I've been baking on special occasions for over 20 years.
This Breakfast Casserole–a.k.a. savory bread pudding–is comfort food at its best. It feeds a crowd, is easy to put together the night before, and will please even finicky kids, who cotton to its warmth and soft texture (think French toast). For those of you who've never made a bread pudding/breakfast casserole, here's how–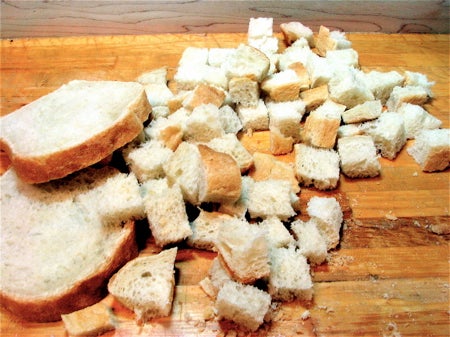 First, take a 1-pound loaf of stale bread and cut it into 3/4" to 1" cubes. Don't be fussy; they can be different sizes, and don't have to be perfectly cube-like. I usually bake a loaf of bread in the bread machine, then let it sit out uncovered overnight, to get stale.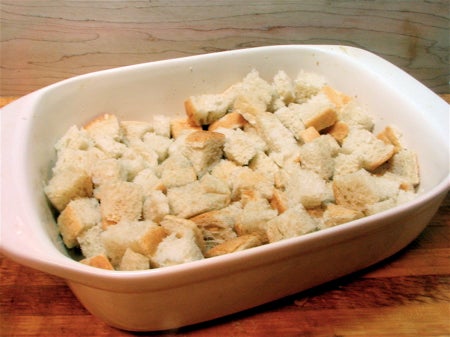 Place half the cubes (about 8 cups) in a nice 2-quart or larger greased casserole dish. A 9" x 13" pan will suffice if it has sides that are AT LEAST 2" tall. But since you're going to be serving this at the table right from the dish–why not use something nice?

Now, layer on some cooked (or thawed frozen) vegetables. Broccoli or asparagus, mushrooms or caramelized onions–all are a good choice. If the kids object to veggies, simply use additional sausage or ham, or even extra cheese.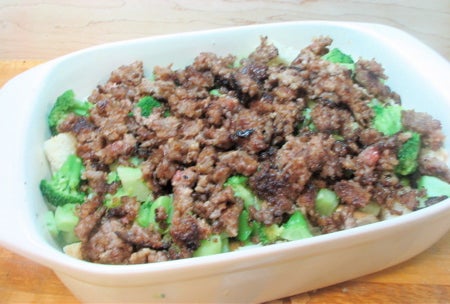 Next comes the cooked meat. I used crumbled breakfast sausage here, but ham, bacon, or even sliced Italian sausage are all tasty.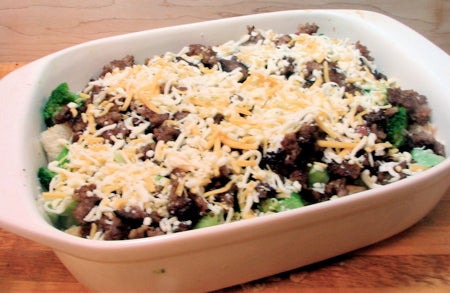 Sprinkle on a layer of cheese...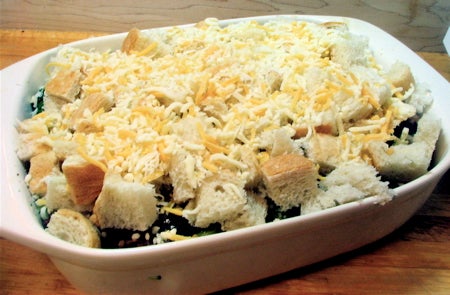 Then add the remaining bread, and more cheese.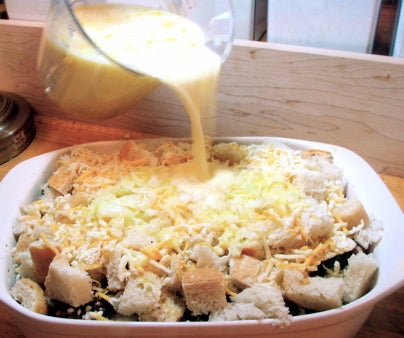 Pour the milk and egg mixture on top.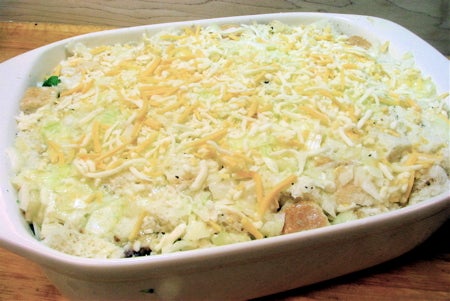 Push the bread down into the milk. It won't be completely submerged; but the level of the milk in the pan should be within 3/4" or so of the top of the bread.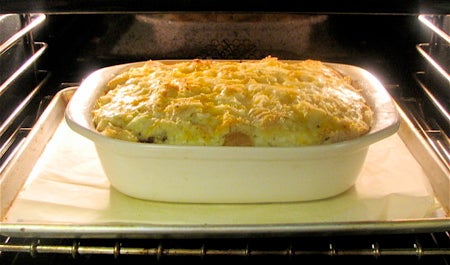 As the casserole bakes, it puffs nicely.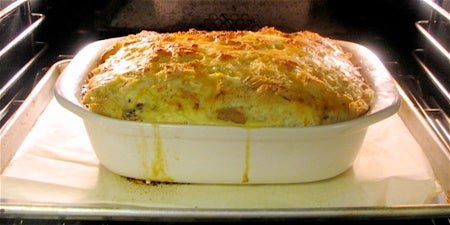 Nearly done... Notice it's on a baking sheet lined with parchment. That's to keep any overflow contained, and cleanup to a minimum.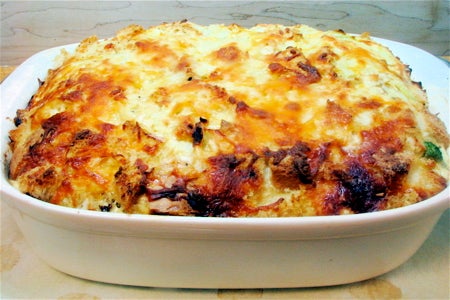 Out of the oven, but not quite ready to serve. Let the casserole rest at room temperature for 15-20 minutes to firm up, before you dig into it. Then–enjoy!
As the countdown to Christmas continues, remember: happiness is all around. Sometimes it finds you, but at other times you just have to open your eyes and look for it. Tidings of comfort and joy to you all–