Fruitcake
For those times when you just gotta go there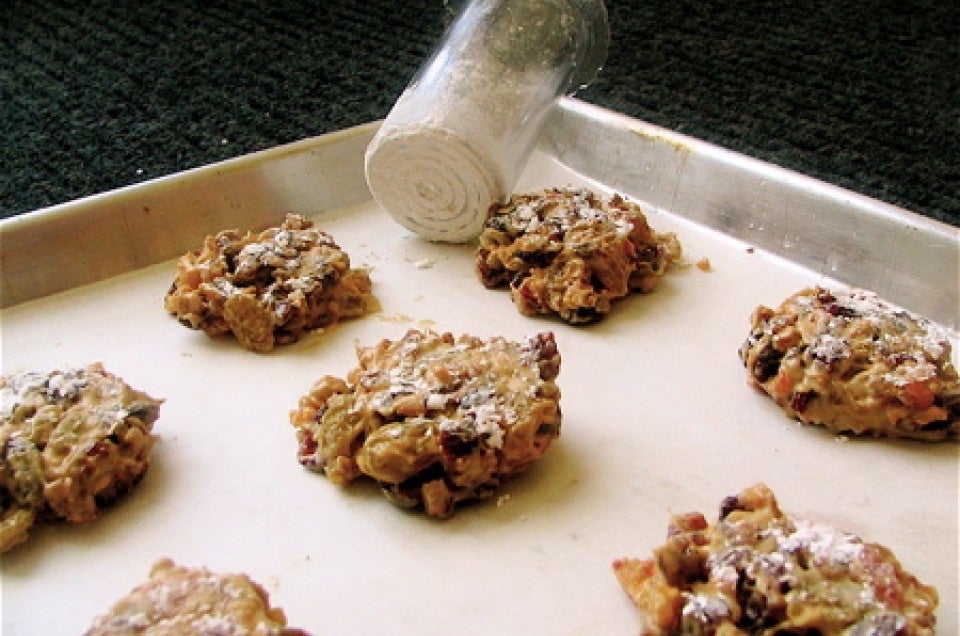 Believe it or not, fruitcake–the butt of so many holiday jokes–has its fans. And I've discovered, since working here at King Arthur, that it's not fruitcake I didn't like all those years; it's that icky tasting candied peel and citron people usually throw into it. There are apparently those who love citron...
I myself am not a masochist, thank you very much.
When I HAVE to make fruitcake (e.g., my husband demands it every Christmas), I use our recipe for Fruitcake Even Non-Fruitcake Lovers Will Love. Because, let's face it, you can't go wrong with tangy-sweet dried apricots and cranberries, aromatic dried cherries, the brown-sugariness of golden raisins… Dried pineapple, with its sweet/acid aura of waving palm trees and white sandy beaches. The All-American nostalgia of chopped dates and dried apples. And the beloved fruit of 5-year-olds everywhere: sweet, sticky candied cherries, blood-brothers to the maraschinos crowning your banana split. Put 'em all together, season with ginger and cinnamon and nutmeg, add a tiny bit of batter so the center will hold, and bingo! Faster than you can say Carmen Miranda, you've got the tastiest treat this side of a double fudge brownie. So long as you like dried fruit, that is.
Still, making fruitcakes is a hassle. What size pan do you use? Like, do you want to make one massive fruitcake to give to someone you KNOW is a fan? Or a bunch of smaller ones, to give to people that MIGHT like them but you're not quite sure… Or a couple of medium-sized loaves? And then how long do you bake each of those? And they're so sticky anyway… how do you know when they're done in the center?
I finally got tired of all those mental machinations, and this year went the easy route: fruitcake cookies, a.k.a. tiny little individual fruitcakes. Just three-bites big, they're a good come-on for folks who say they hate fruitcake. I used this ploy on one of my friends last night.
"Come on, try one cookie; just take a bite. You'll love it."
"No, no thanks. Hey, did you know there's actually only one fruitcake in the world, and it keeps getting given over and over again…"
"Really. Please. I need to write about these. It's your duty as a friend to try one."
The furrowed brow. The reluctant face.
"Pleeeease……."
"Well, OK. It doesn't have weird stuff in it, does it?"
"No, Frank, just dried fruit. Promise."
Frank finally takes the bait–literally. His face relaxes; he breathes a sigh of relief.
"Hey, not bad. Actually, they're good. They don't taste like fruitcake. What did you say was in these?"
Uh, that would be dried fruit… without the candied peel and stuff.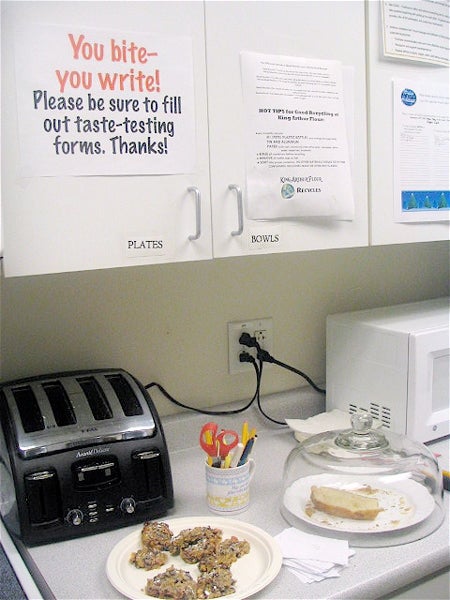 This is our taste-testing area. Cookies (nearly gone) are in the foreground.
Next day, I put the cookies out in our taste-test area. It was 6:30 a.m., and Mary came by for a cup of coffee. She grabbed a cookie; here at King Arthur, it's NEVER too early for cookies. She took a bite. "Oh… my… God. These are SO good. They're so… so…." She wandered away, ultimately speechless. Perhaps it was early-morning sugar stupor. Or the reaction of a dedicated fruitcake lover. But later on Mary emailed me asking if I had a secret stash of those cookies anywhere, since the ones in the test kitchen were gone…
Maybe you've been considering making some last-minute fruitcakes, out of a sense of duty. But you just… keep… putting it off. Try these cookies: they're fast, easy, and you can dole 'em out to people based on the strength of their feelings: lovers get a plateful; lukewarmers a small gift bag; non-fans a "just try one" serving. But watch out: next year, both the lukewarmers and non-fans might have moved to the top of the scale!
Check online for our Fruitcake Drops recipe. Here are some visual aids to help you follow along.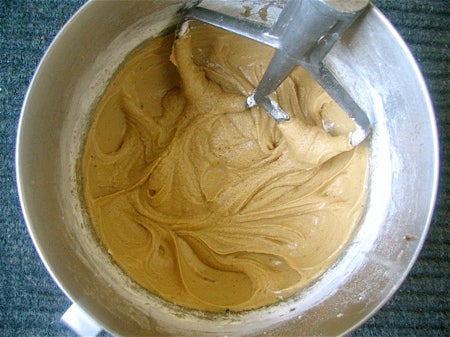 The batter you start with will be smooth and creamy.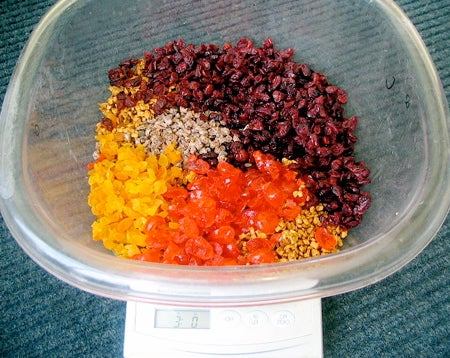 Measure or weigh out your fruit. Clearly, weighing with a digital scale is a LOT easier. Rather than measure a cup of this and 1 1/2 cups of that, you can easily customize the amount of each fruit to taste by simply pouring it into the bowl till you reach 3 pounds.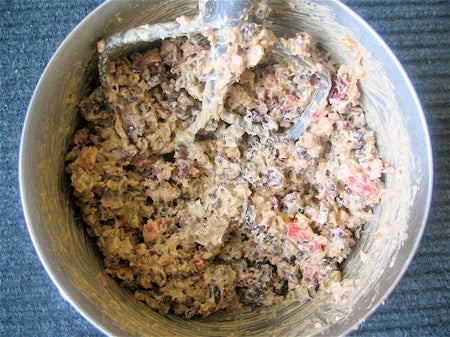 That nice, smooth batter is now jam-packed with fruit.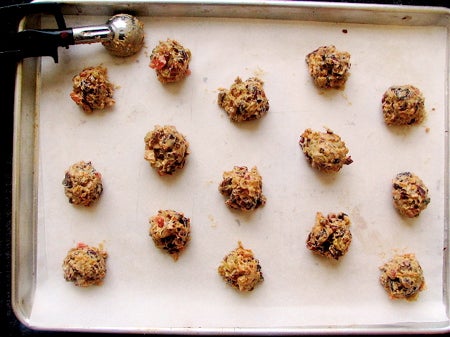 Use a tablespoon cookie scoop to plop nice, round balls of dough onto a parchment-lined baking sheet. Notice how they're staggered, and you can get 15 onto a sheet...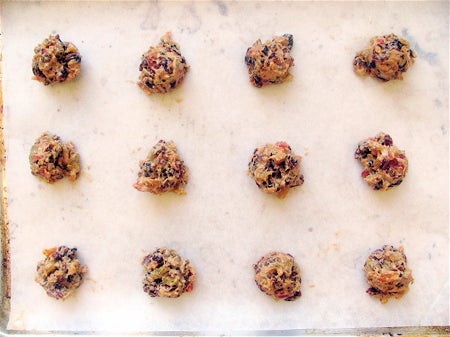 ...as opposed to straight-across rows, which allows only 12 cookies to a sheet.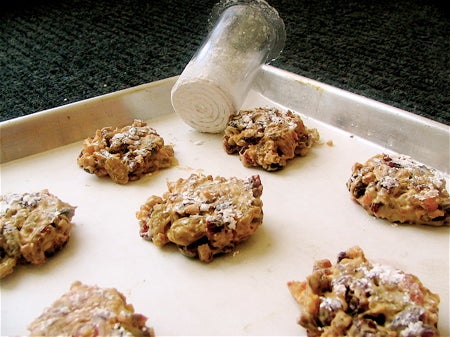 Press the cookies down gently with the bottom of a drinking glass or other flat surface that you've dipped in confectioners' sugar; or you can skip the sugar, and just dip in water first. Here I've used my favorite "presser"–the pusher from my food processor.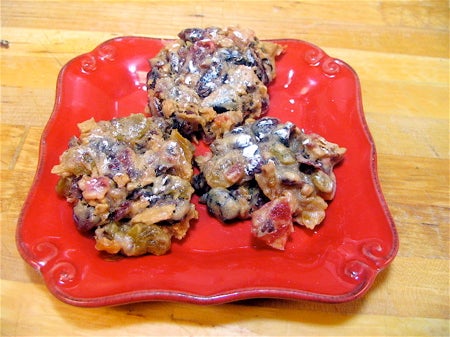 Bake for 15 minutes... and force all of your friends who say they don't like fruitcake to at least give 'em a try. Or delight those who DO like fruitcake. And convert those who aren't quite sure...