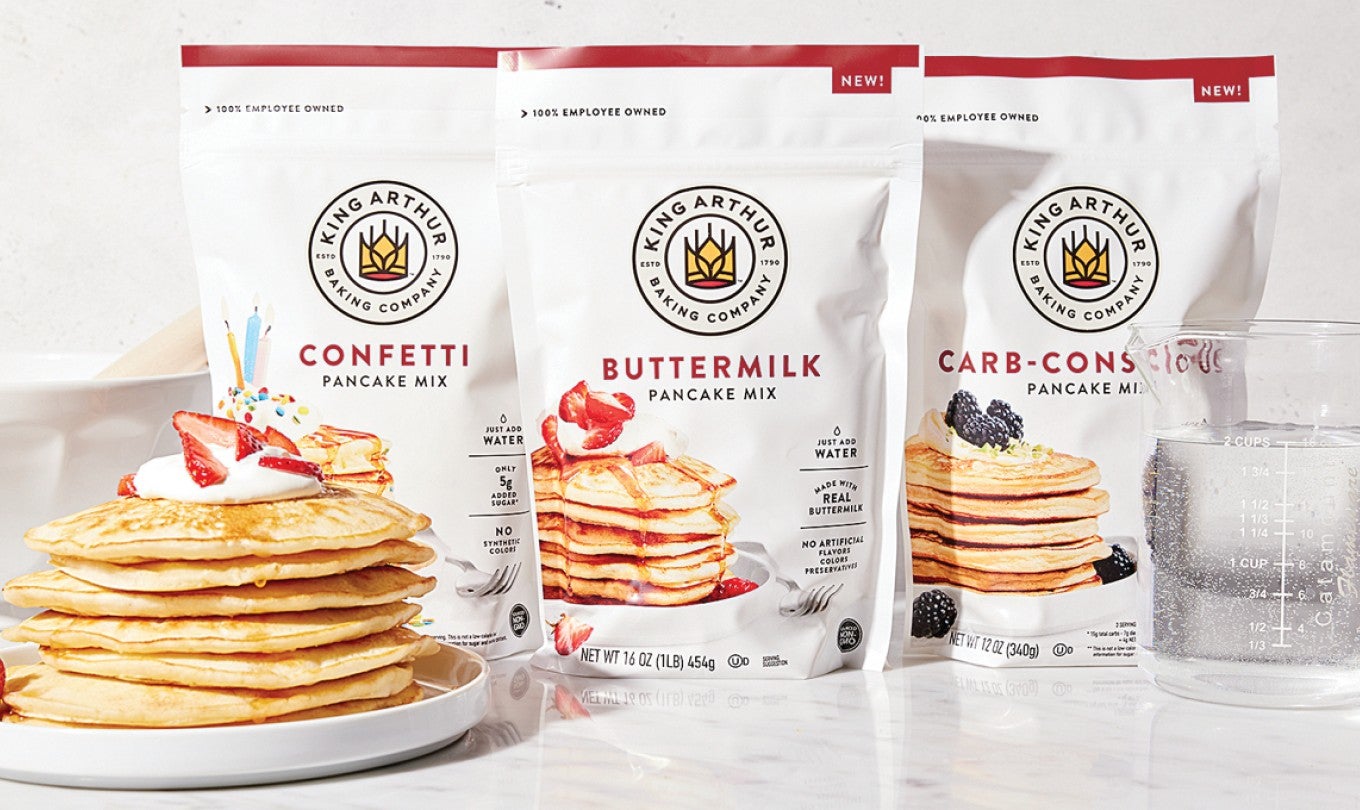 Pancake Mix Rebate
Buy two, get $5 back
Buy two King Arthur Pancake Mixes and get $5 back​
Since we love pancakes so much at King Arthur (like, seriously) we decided that everyone should be able to enjoy their pancake of preference, without any hassle. And for a limited time, we're offering you the chance to try two of our delicious and easy pancake mixes and get a $5 instant rebate.​
Rebate is eligible on these 5 pancake varieties:
A Paypal or Venmo account is required. A mobile phone will also be required to complete the process. This offer is valid on the purchase of TWO (2) packages of King Arthur Baking Pancake Mixes. Please review eligible pancake mix items above. Limit ONE (1) rebate per receipt and household. The rebate must be claimed within 14 days of purchase. CHOP is acting on behalf of King Arthur Baking to process the rebate. CHOP's terms and conditions apply.​
How long will it take to receive my rebate?

In most cases, the processing will be immediate; however, depending on whether or not your receipt needs Manual Review, it may take 24-48 hours for the review to be completed. If you have not received any update in 3 business days, please contact us at contactus@chop.today.

What is a manual review?

Sometimes the photos are taken in bad lighting, or all the information is not clear for any number of reasons. If we don't have all the required information for the software to confirm the validity of the receipt, it will be reviewed manually.

I have a different issue, can you help me?

Please email contactus@chop.today, we will be happy to help you out!

Can I get $5 back for a KingArthurBaking.com purchase?

Yes, you can. For purchases on KingArthurBaking.com, you must upload an image of your receipt. Acceptable file formats include jpeg and png files.

Can I get $5 back for a purchase on Amazon?

Yes. You can get $5 back on eligible King Arthur Pancake Mix purchases made on Amazon.

How is my rebate issued?

You will receive a $5 digital rebate. You can select your rebate of choice: PayPal or Venmo.